Chicagoans take pride in many of our city's celebrated traditions. One of those traditions is definitely our Chicago Blackhawks hockey. Left wing Bryan Bickell was a part of the Chicago Blackhawks organization for 10 years and played with the team for six. He won two Stanley Cups in the 2013 and 2015 seasons with the Blackhawks before being traded to the Carolina Hurricanes for the 2016-2017 season. In April, he announced his retirement from the National Hockey League.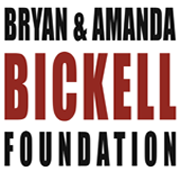 Besides hockey, one of Bickell's passions includes the protection, care, and perception of pit bulls and "pit bull"-type dogs. After having a pit bull, Bailey, Bickell and his wife Amanda knew the myths surrounding "pit bull"-type dogs were only that – myths. When living in Canada, a ban on "pit bull"-type dogs was placed. This meant Bailey couldn't visit the dog park, puppy classes, or go out in public without being muzzled. After moving to Chicago, where there was no legal ban, they still noticed a negative attitude towards "pit bull"-type dogs.
The idea to protect and change the negative stigma around pit bulls began as the organization Chicago Loves Pits. Stemming from that, the Bryan and Amanda Bickell Foundation was created in 2013. Located in both Chicago, IL and Ontario, Canada, the foundation's mission is "creating awareness for 'pit bull'-type dogs and working with them to assist formerly abused children."
The foundation incorporates various different programs to help realize their mission. Chicago Loves Pits, one of the original programs, spreads awareness for the proper ownership of "pit bull"-type dogs with two programs: "Pit Bull" Health Clinics and Bick's Adoption Ambassadors. The program goes into lower income neighborhoods and provides free spade, neutering, and vaccines for "pit bull"-type dogs.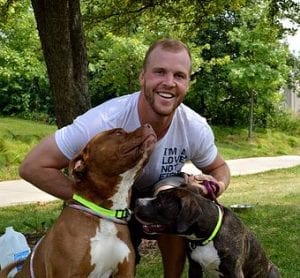 Bick's "Pits" highlights one of the numerous dogs up for adoption every month. Paws for Strength includes a partnership with The Hephzibah House in Oak, Park, IL. The program focuses on aiding abused children with a certified therapy "pit bull" every Sunday for an hour.
The newest program announced this month is the MS Service Dog Program. The program provides free, trained "pit bull"-type service dogs to those living with MS. Applicants meet with a therapist and based on their specific needs, the dogs they receive are trained up to nine months. Applications are now open for the service on the foundation's website.
On Friday, July 21 the foundation will host their signature fundraiser, Fetching Affairs, at Moonlight Studios in the West Loop. The gala will include both silent and live auctions, dinner, and appearances by Bryan and Amanda, Blackhawks players, and other celebrities.
Take part in the action this summer at the Paws for a Cause 5K on Sunday, July 23 at Burnham Park. Sponsored by Tito's Vodka, the proceeds go toward the new MS Service Dog program.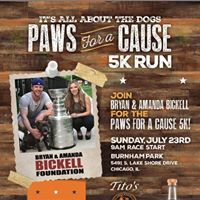 "The walk is for all ability levels and ages. It's not competitive and people can feel free to bring their dogs as long as they're leashed," said the foundation's Executive Director, Rikki Rae. There will be different booths set up at the end of the walk with some of the dogs up for adoption. To sign up, visit Paws for a Cause 5K.
Can't make either event? Stay up to date on their Facebook page: Bryan and Amanda Bickell Foundation, as they post more events throughout the year. Volunteers are always welcome and you can reach out to info@bickellfoundation.org for your chance to get involved.