Queen Bey Pregnant With Twins
You've probably heard the news. Beyonce is pregnant with not one but two babies! The pop goddess is having twins. There's been a lot of hype surrounding the pregnancy, including reports that she will be performing pregnant at the Grammy's in 2017. She is also headlining Coachella in April 2017, leading people to question whether Queen Bey will be performing.
To announce the news, Beyonce posted a photo on Instagram wearing a thin veil up against a floral background.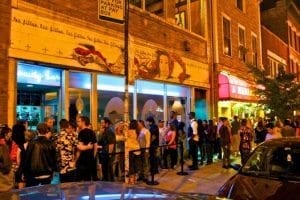 People were pretty darn excited when they heard. So excited, in fact, that a venue in Chicago is hosting a baby shower for all of Beyonce's fans to attend and celebrate the new additions to the Carter family.
The venue is called Beauty Bar, a "hair saloon" concept that is located at 1444 West Chicago Avenue near the Chicago Blue Line stop. The event will provide drinks and play a compilation of Beyonce's songs from 7pm to 9 pm this Friday, February 10. Happy hour specials include a 32-oz. mini-pitcher of Old Style and two shots of Malort for $10. The event will also feature baby shower decorations and custom manicure decals.
If you are a Beyonce super fan and have a free night this Friday, consider going with friends to this party at Beauty Bar. Girl power!