Spring is finally here, and after months of snow and freezing temperatures, Chicagoans are wandering outside again to experience the sunshine and fresh air. Escape the hustle and bustle of city life with a walk off the beaten path. Secluded parks and trails are located all throughout Chicago for the perfect urban oasis. Keep reading to discover the city's best hidden parks and trails for a spring walk, or head over to a forest preserve for a weekend getaway.
1700 S. Wentworth Ave. Chicago, IL 60616
Tucked away between apartment buildings, Ping Tom Memorial Park features breathtaking views of the city skyline. The Chinatown park sits beside the south branch of the Chicago River and includes a natural area with native prairie and wetland habitat. Drawing from the surrounding neighborhood and its distinct heritage, the park, named after a prominent Chinatown civic leader, highlights Chinese design elements with a sweeping pagoda-style pavilion.
1521 S. Linn White Dr, Chicago, IL 60605
Located directly south of Adler Planetarium and east of Soldier Field, Northerly Island is often overshadowed by the significant Chicago landmarks of Museum Campus. But if you make the trek out to this secluded peninsula, you'll be rewarded with unique eastern views of the Chicago skyline framed by prairie grassland. This urban oasis is truly a hidden gem with 150 different varieties of native plants and plenty of birdwatching opportunities. 
125 W. Fullerton Pkwy, Chicago, IL 60614
Lincoln Park may be known for its expansive zoo and conservatory but venture a little further north to discover the tranquil Alfred Caldwell Lily Pool. With a gentle backdrop of a soothing waterfall, the park is designed to mimic the flow of a melted glacial river cutting through limestone rock. Walking trails provide the perfect way to meander this contemplative space.
200 W. Montrose Harbor Dr., Chicago, IL 60660
Just north of Belmont Harbor, tens of thousands of migratory birds flock to a natural area of prairie, shrubs, and woodland to rest and take shelter during the spring and fall months. Birdwatchers will find thrushes, woodpeckers, sparrows, owls, and many other species at this hideaway. A 1.5-mile walking trail loops through the sanctuary giving hikers the perfect vantage point of the city skyline and numerous types of birds.
598 E. Grand Ave., Chicago, IL 60611
Adjacent to Navy Pier and Ohio Street Beach, Milton Lee Olive Park offers phenomenal city views, broad grassy areas, and circular fountains. Although neighbored by famous Chicago landmarks, the park is tucked away and often overlooked.
5491 S. Jean-Baptiste Pointe DuSable Lake Shore Dr., Chicago, IL 60615
Promontory Point is a man-made peninsula jutting out into Lake Michigan from Hyde Park. Encircled by a walking trail, benches, and fire pits, this secluded park gives spectacular views of downtown and Lake Michigan. Grab a spot on the limestone rocks guarding the peninsula against Lake Michigan's waves and let your mind wander.
5801 N. Pulaski Rd., Chicago, IL 60646
At this 46-acre nature preserve, explore numerous Illinois habitats, including wetland, woodland, prairie, and savannah. Walking the trails at dusk, you may even spot a deer or two!
2700 S. Halsted St., Chicago, IL 60608
Concealed within the Bridgeport neighborhood, Palmisano Nature Park has undergone extensive transformation. Once a coral reef, the park became a quarry and then a landfill before changing into its present-day form as a park. The park promises a pleasant spring stroll with a fishing pond, 1.7 miles of paths, and an open meadow to enjoy.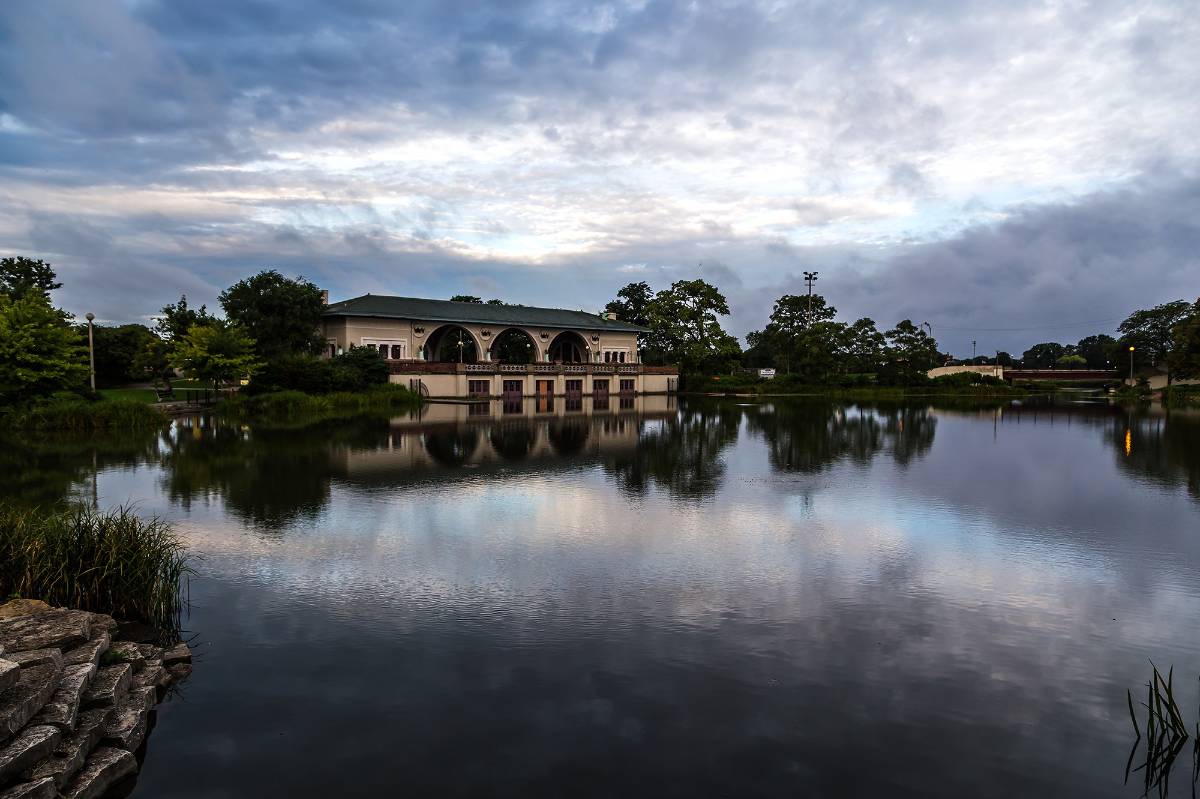 1400 N. Humboldt Dr., Chicago, IL 60622
In the heart of the Humboldt Park neighborhood, you'll find a massive 200-acre park that feels like you're entering a different world. Walking trails weave throughout several lagoons and natural areas making it easy to get lost in this whimsical park. During the summer months, you can even rent a swan-shaped paddleboat to explore one of the giant lagoons with breathtaking views of the skyline.
6300 S. Cornell Ave., Chicago, IL 60637
Located just south of the Museum of Science and Industry in Hyde Park, Garden of the Phoenix sits on Wooded Island, an escape from its surrounding urban setting. Inspired by Japanese design elements, the park was established in 1893 to symbolize the friendship between the U.S. and Japan. Cherry blossoms, a wooden bridge, and a beautiful sculpture make this scenic garden a dream-like getaway.
Featured Image Credit: Save Promontory Point