Raise your hand if you are also ready to stretch your legs and embrace the outdoors. As the UV index and temps (finally) climb, the Al Fresco season is officially here. Head to one of these Chicago restaurants for brunch on the patio and soak up the sunshine, the spring breeze, and the delightful smell of fresh grass and blooming flowers. Here are the best places for an outdoor brunch with the best view, comfiest patios, and tastiest menus!
View this post on Instagram
1415 N Wood St, Chicago, IL 60622
Brunch in true NOLA fashion by visiting Ina Mae Tavern's outdoor patio! With Ina Mae's menu conceived by Food Network's 2022 Chopped Champion and 2-time James Beard Award Semifinalist, Executive Chef Brian Jupiter, those in the city can bask in the sun while enjoying Louisiana-inspired classics, such as shrimp and grits, biscuits and gravy, po' boys, and more! Furry friends are also encouraged as Ina Mae's outdoor patio is dog-friendly. Don't forget to complete your meal by stopping by their to-go window for one of Ina Mae's famed Sno-Balls! Ina Mae Tavern's brunch service is offered on Saturdays and Sundays from 11:00 am to 2:45 pm.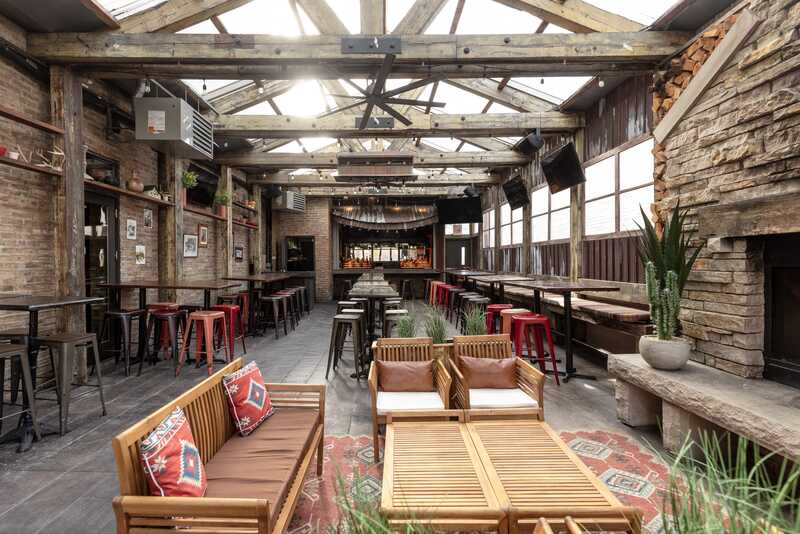 1072 N Milwaukee Ave, Chicago, IL 60642
There's a reason why West Town's Frontier is known for its all-weather beer garden! Perfect for brunching, Frontier's beer garden features a retractable roof to enjoy a dining experience under the open skies. Gather your crew and participate in Frontier's bottomless mimosas (or rosé!) while indulging in Chef Brian Jupiter's diverse brunch menu, including options ranging from peach cobbler french toast, brisket hash, shrimp & cheesy grits, burgers, and more! Frontier's brunch service is offered on Saturdays and Sundays from 12:00 pm to 3:00 pm.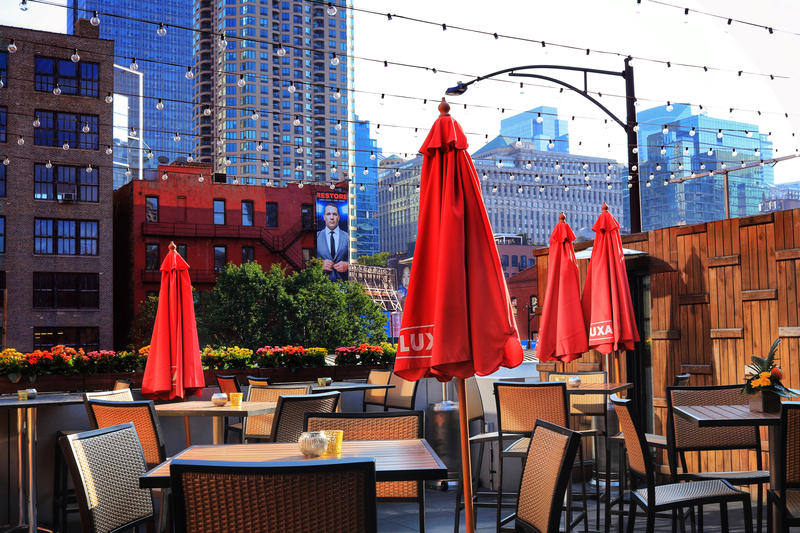 118 W Grand Ave, Chicago, IL 60654
Though we all love dining on a good outdoor patio, nothing beats brunch on a rooftop. Tanta's rooftop features not only a dazzling view of the city but also a retractable awning for optimal guest comfort, a skylight island bar, vibrant greenery, and a playful neon llama sign instructing all to "Fuel the Llama." The place to be for an elevated brunch experience, Tanta's bottomless mimosa package paired with authentic Peruvian brunch and lunch dishes are an absolute no-brainer for those looking to start their days off right! Tanta's brunch/lunch service is offered on Fridays from 11:30 am to 2:30 pm and Saturdays and Sundays from 11:00 am to 2:00 pm.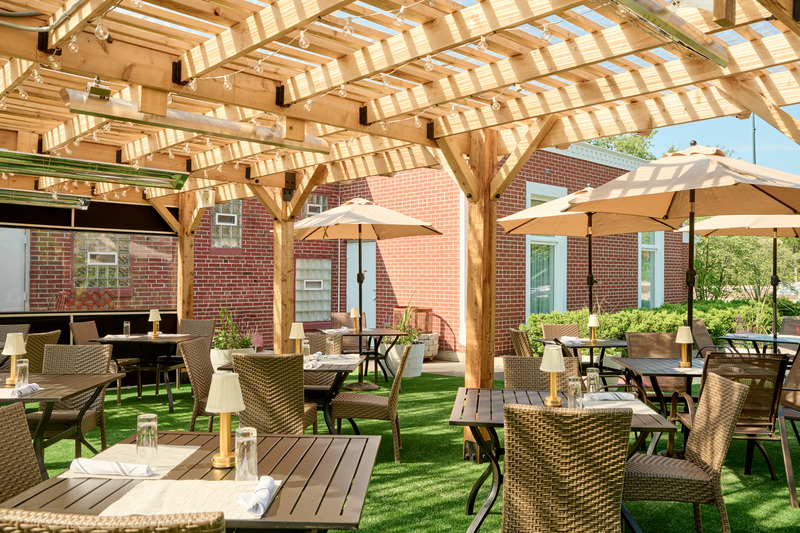 64 Green Bay Rd, Winnetka, IL 60093
Lachowicz's beloved French Brasserie in Winnetka is known for approachable and flavorful French fare, and the brunch offerings will be no exception. Now serving brunch every Sunday from 11 a.m. – 2 p.m., diners can experience brunch delicacies like Housemade Crepes filled with Chicken and Mushrooms topped with Sauce Mornay, Classic Eggs Benedict with Truffle Hollandaise, a perfectly cooked French Bistro Omelet, Quiche Lorraine, Bistro Steak and Eggs, and more. The Aboyer Burger (made with Ground Short Rib and Wagyu Beef, Thai Braised Pork Belly, Fried Egg, Gruyere, and Caramelized Onions), playful Nicoise Salad Sandwich, and Michael's famous House-Smoked Salmon also adorn the new brunch menu, among other things. Classic brunch cocktails done the Aboyer way include the perfect Peach Bellini, Bloody Mary, Mimosa, and – OF COURSE – the ever-so-French Kir Royale.
View this post on Instagram
180 N Upper Wacker Dr, Chicago, IL 60606
Beatnik on the River has one of our favorite brunches in Chicago, along with the unbeatable views. Here, you'll find classic favorites like an acai bowl, smoked salmon toast, fried chicken, and waffles, but there's also an international twist on their menu. From Middle Eastern Shawarma to a Tunisian Shakshuka, Beatnik of the River offers an unconventional twist on one of America's favorite past-times (in the best way). 
View this post on Instagram
838 W Kinzie St, Chicago, IL 60642
Best known for the incredibly spacious patio patio, Recess is the perfect place for an outdoor brunch. Located in the West Loop, there's plenty of space for large groups to get together, sip on some mimosas, and enjoy a sunny Saturday in the city. Now that the weather is finally taking a turn for the better, it's important to soak up some vitamin D while chowing down on some Nutella french toast, pork belly fried rice, or some savory loaded tater tots.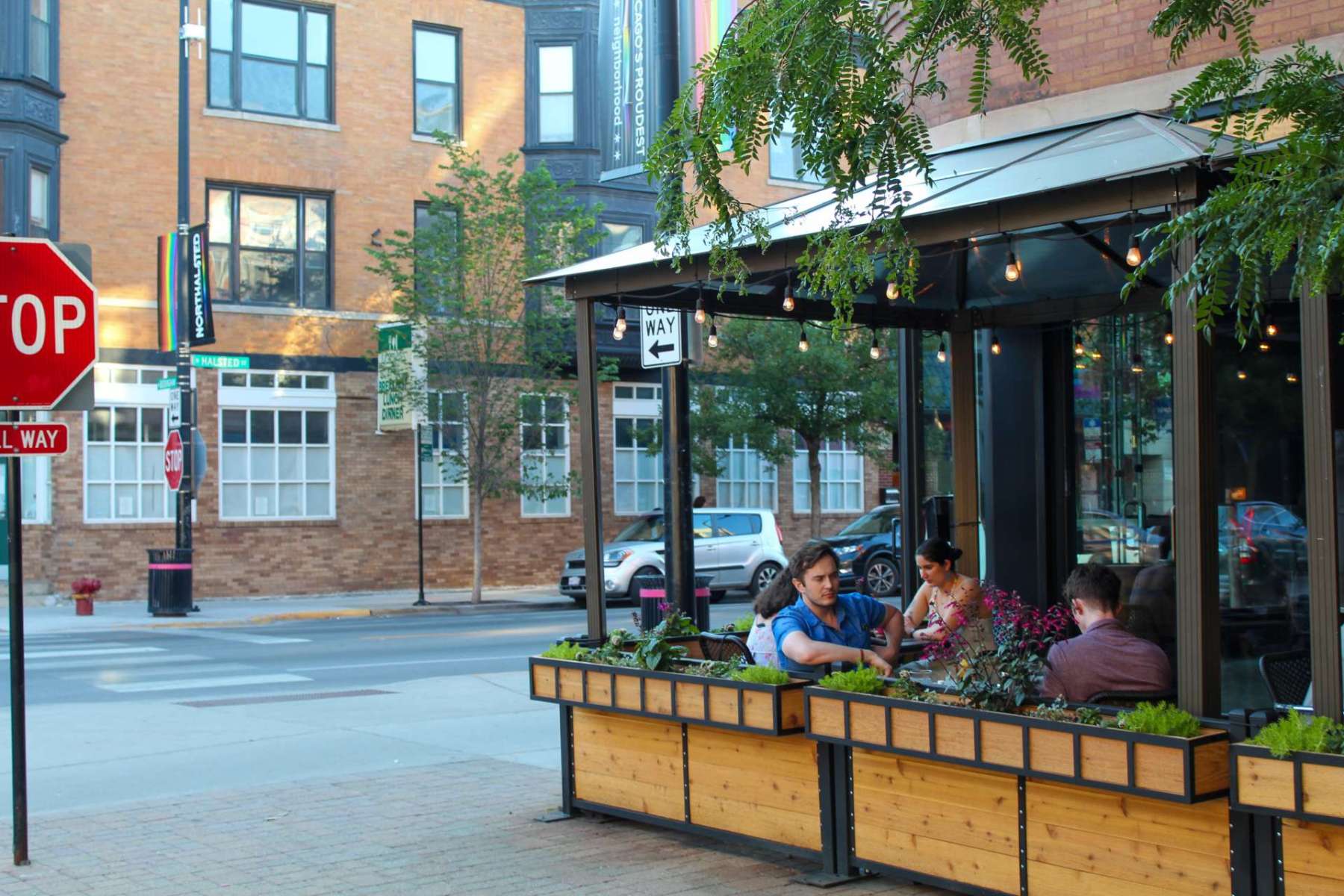 3335 N Halsted St, Chicago, IL 60657
Escape the heart of the city and grab a bite to eat and drink in one of Chicago's most lively neighborhoods, Northalsted. Perfect for a romantic dinner or boozy brunch, Wood's expansive patio is situated on the charming corner of Halsted and Buckingham Place. Enjoy seasonal small and large plates, innovative cocktails, and a variety of specials.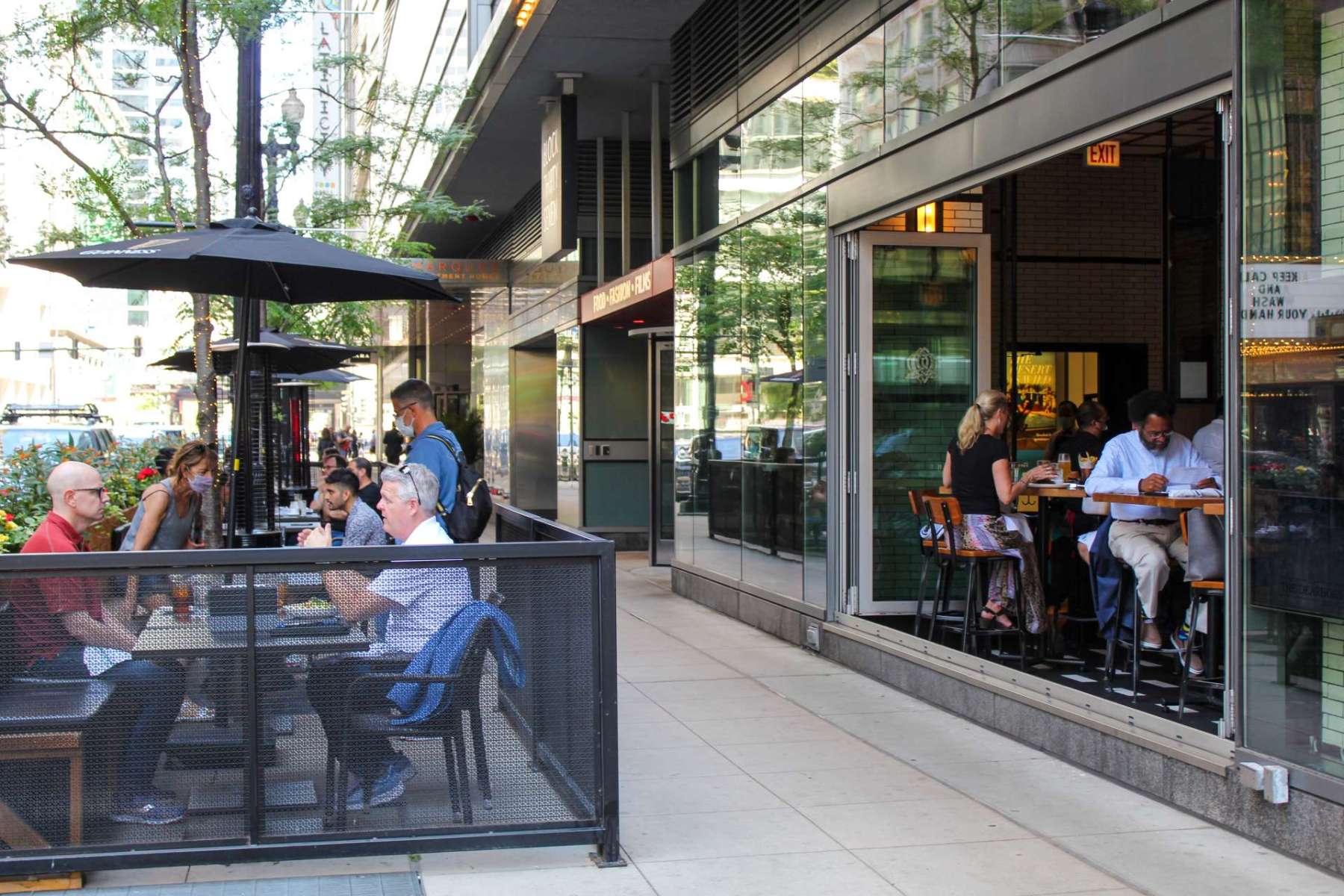 145 N Dearborn St, Chicago, IL 60602
Heading to Millennium Park or to catch a show at one of Chicago's best theaters? Be sure to fuel up at The Dearborn before starting your day or evening of adventure at some of Chicago's best attractions. The expansive patio is perfect for overlooking the hustle and bustle of Chicago's Loop while sipping on classic cocktails or enjoying creative small and large plates from Chef Aaron.
View this post on Instagram
3509 W Fullerton Ave, Chicago, IL 60647
Do you like combining the perfect Spring day with outdoor games and a bottomless,  boozy brunch? Boy, do I have the place for you! Ranked with one of the best patios across the country, Park and Field invites guests to enjoy farm fresh bacon, an omelet bar, pancakes piled high, and sweet, fresh fruit as a part of their brunch menu. While their menu rotates weekly, you can always expect the best ingredients to satiate your appetite while enjoying the season we've waited so long. 
View this post on Instagram
8 W Maple St #1, Chicago, IL 60610
What was at first the nameless downstairs bar at Maple and Ash has become Eight Bar and Patio, a mini Gold Coast oasis that has both early and late-night hours for any crowd. While nestled with Maple and Ash, Eight Bar and Patio takes a more casual approach, offering a gastropub-type menu with classic brunch dishes that'll make your mouth water. Best enjoyed on the plant-covered patio, a single brunch at Eight Bar is sure to keep you returning. 
View this post on Instagram
1954 N Halsted St, Chicago, IL 60614
What are you doing if you haven't brunched at Summer House and live anywhere remotely near the city? Summer House has the ultimate aesthetic and menu for the best brunch #vibes. With menu items like a shaved Brussels sprouts salad, breakfast tostadas, and a breakfast burrito loaded with scrambled eggs, tangy sour cream, and smokey bacon, you'll want to try it all. 
View this post on Instagram
2901 N Sheffield Ave, Chicago, IL 60657
1814 W Chicago Ave, Chicago, IL 60622
If you like your brunch with a Mexican flair, Barcocina is the place for you. Featuring a full menu of brunch tacos, you can take your time tasting the many different varieties Barcocina offers. Whether braised brisket, bang bang cauliflower, or sweet pineapple pork, brunch outside at Barcocina will help you shake off your winter blues with good food and strong drinks.
View this post on Instagram
1531 N Damen Ave, Chicago, IL 60622
3640 N Clark St, Chicago, IL 60613
Is it a country bar? Is it a Mexican bar? Better, it's both! Big Star offers fresh takes on authentic Mexican Street food, perfect for a delicious brunch or lunch in the sun. Take your nachos, Brussels sprouts tostada, or a walking taco outside for a long-awaited warm breeze on a sunny weekend afternoon. Looking for a bourbon to sip on? Big Star has 20 exclusive House Barrel selections straight from Kentucky to the heart of our city.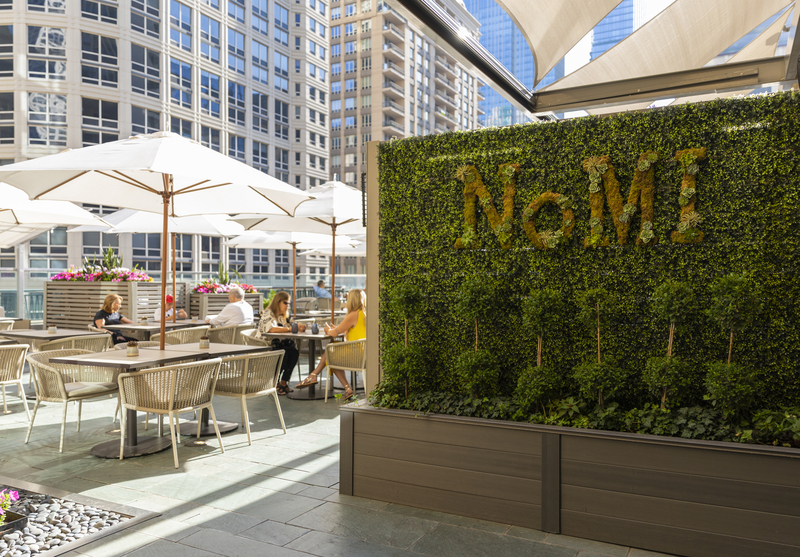 Upcoming: NoMI Garden at Park Hyatt
Sitting on top of Park Hyatt, NoMI Garden boasts a 30 ft. bar and spacious seating area, refined with parasols and prime views at its height on the 7th floor. Guests can indulge in an artisanal cocktail program and a modern American cuisine menu rooted in French techniques. NoMI Garden's unbeatable panoramic views make it a perfect choice for locals and visitors looking to take in the surroundings of downtown Chicago. Gather with friends on Saturday and Sunday from 10 a.m. – 2 p.m. for a weekend brunch, and enjoy Charred Rapini Flatbread with pecorino romano, vidalia onion, egg yolk, and green garlic cream, Asparagus & Fava salad, a Seafood Tower, and more. NoMI Garden officially opens Wednesday, May 25.
Featured Image: Hilary Higgins Photography for Ina Mae Tavern