Crackling charcoal, smoked meats, and tangy, spicy sauces come together to create one of our favorite food groups: barbecue. With barbecue month right around the corner, I know someone in your circle is ready to be the "grill master." But hey, let's raise the bars first with the best barbecue in Chicago's western suburbs before anyone can claim they know what they're doing. Satiate your cravings for delicious pork, beef, and chicken. You'll thank us later.
1711 E Golf Rd, Schaumburg, IL 60173
Pulled pork, beef brisket, burnt ends, even their macaroni, and cheese…At Blackwood BBQ, you won't find one thing on their menu that isn't slow-cooked to perfection. With always-fresh ingredients, Blackwood guarantees you food that will melt in your mouth with bursting flavor.
Know someone who prefers a meatless option? Blackwood BBQ also serves smoked jackfruit. Any choice of BBQ that you decide on can be served on a bun, taco-style, on a salad, or piled high on a platter complete with apple coleslaw and housemade pickles.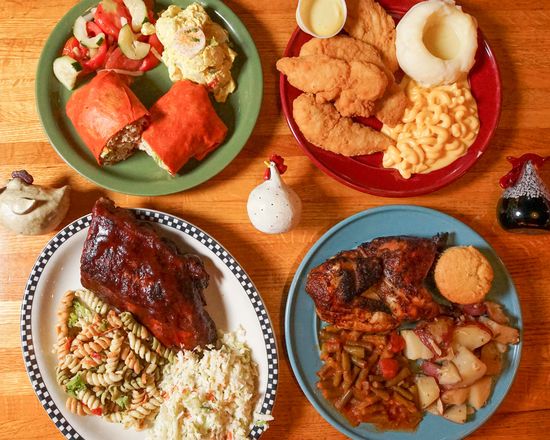 5440 New Wilke Rd, Rolling Meadows, IL 60008
There's something delectable about a rotisserie chicken. When that craving hits, you just can't go wrong with a slow-roasted chicken with juicy meat falling fresh off the bones from Hickory Roasters. This quaint joint also serves other barbecue favorites like the hickory-smoked ribs, and classic sides such as homemade coleslaw, potato salad, and macaroni and cheese.
Forget the stress of hosting a BBQ party in your backyard and take a trip to Hickory Roasters to indulge in the smoky goodness!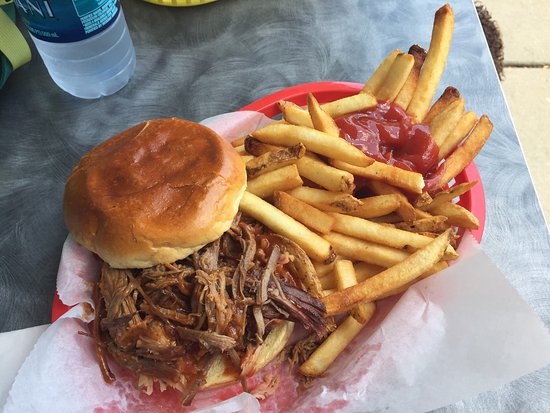 828 S Hicks Rd, Palatine, IL 60067
Charbroiled burgers, tangy pulled pork sandwiches, and crisp rib tips are just a few of the highlights at BBQ Patio. This unassuming, lone-standing building in Palatine is home to the best barbecue in Chicago's Western suburbs. Their huge menu will keep you satisfied, whether you're craving smoky, spicy, or sweet.
This is also a great spot for a quick lunch stop thanks to their value meal menu, which includes a cheeseburger and a chicken sandwich and comes with fries, plus a drink to make your lunchtime complete.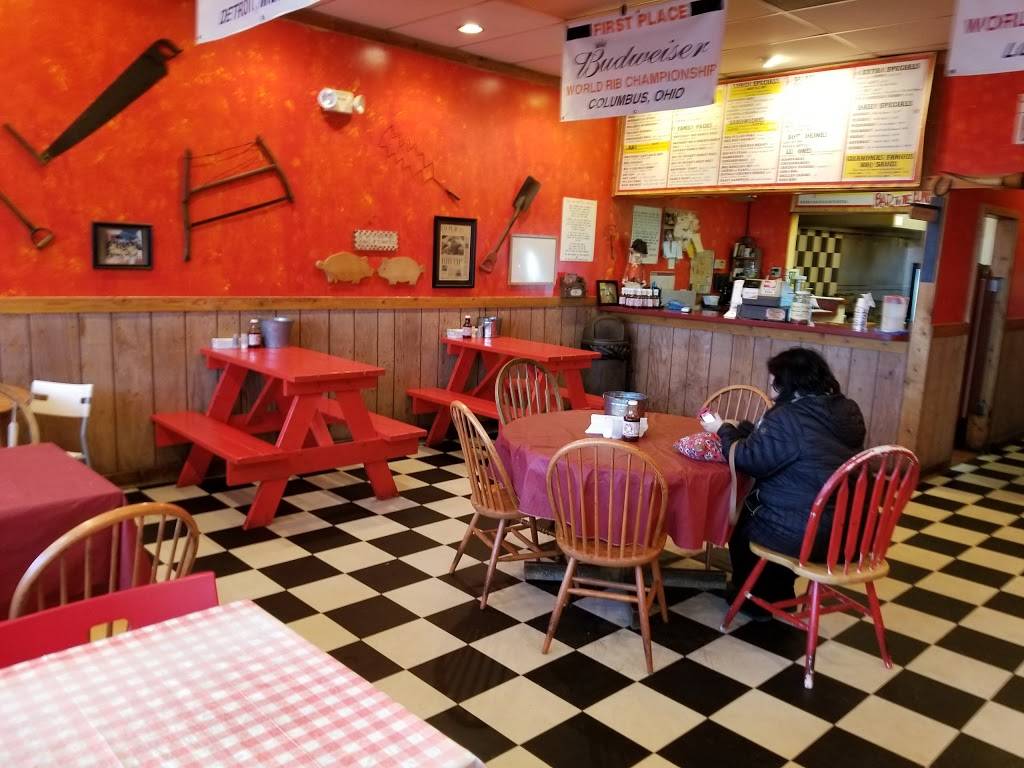 758 W Euclid Ave, Palatine, IL 60067
We can't talk about the best barbecue in Chicagoland without mentioning Brothers Ribs. Featured on Chicago's Best for the best BBQ (and more specifically, pulled pork sandwiches) in town, they truly live up to that distinction. With an array of tender meats smoked for hours on end, dishes slathered in sauce, and even some choices for the kids, Brothers Ribs will keep you coming back for more. Looking to serve up some BBQ at a big party this summer? Brothers Ribs has got you covered with a full catering menu!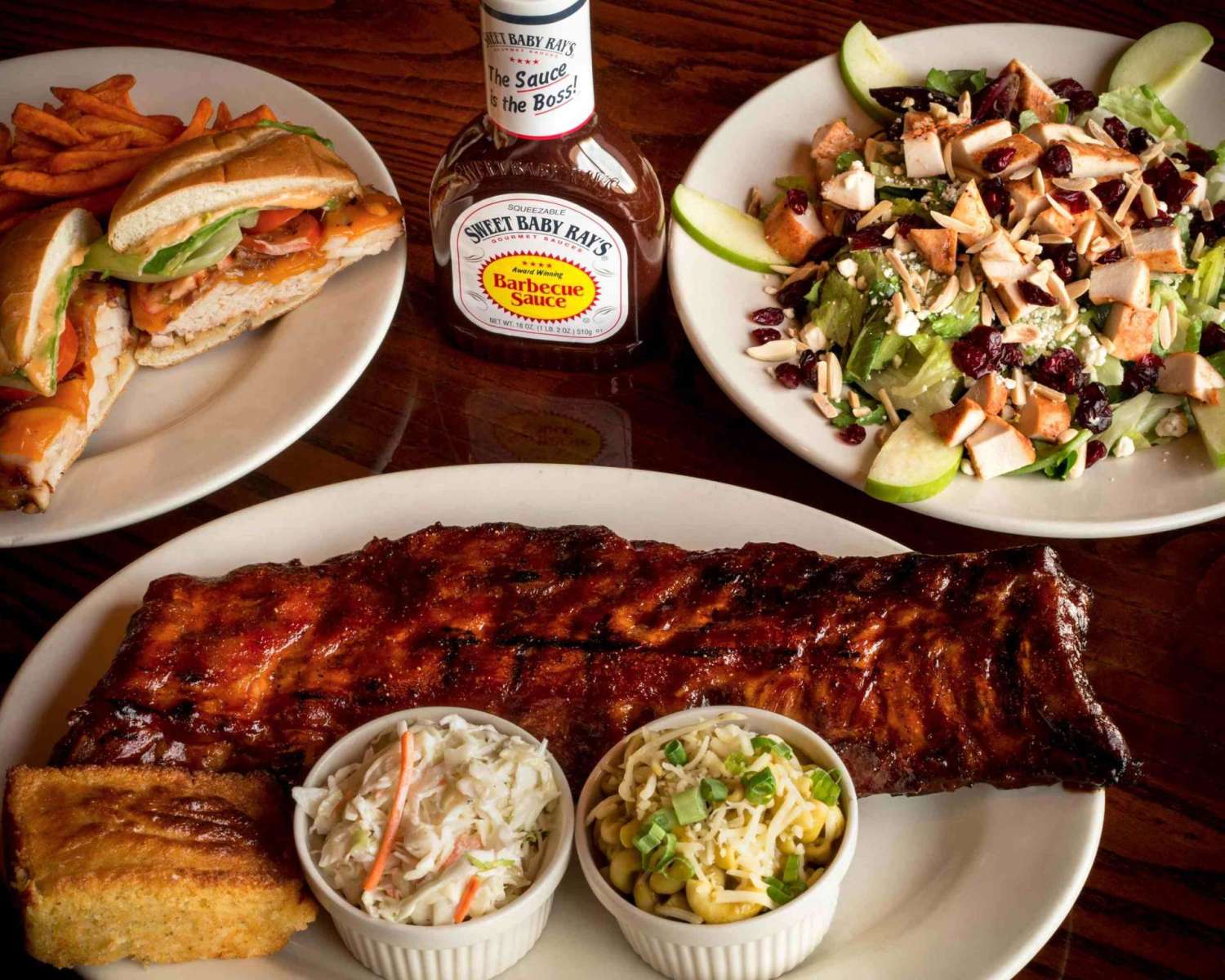 800 E Higgins Rd, Elk Grove Village, IL 60007
You know it and you definitely love it. Three words: Sweet Baby Rays. Well… if you didn't know, this favorite barbecue sauce also has restaurant locations across the suburbs. No more DIYing rubs or trimming the meat. And forget about all that pre-cook, let-sit, and messy cutting boards. Instead, let Sweet Baby Rays take care of everything.
Order their award-winning ribs by the slab and have a feast in the comfort of your own home without getting any dish dirty (or risk cutting off your fingers)! But don't say we didn't warn you: be sure to keep plenty of napkins on hand because you'll definitely need them.
635 W North Ave, Elmhurst, IL 60126 
A newer joint, Firwater certainly does not lack barbecue goodness. With a full menu of brisket, ribs, bacon, rib tips, and more, you are sure to find something that satisfies your cravings. Want some tantalizing barbecue for an event? Firewater BBQ & Brew also offers full-menu pig roasts, completed with smoked meats over apple and hickory wood, country buns, and homemade sides. Their catering team will also handle set-up and takedown services. Really. All you need to do is invite your friends and bring an empty stomach!
Featured Image Credit: Sweet Baby Rays