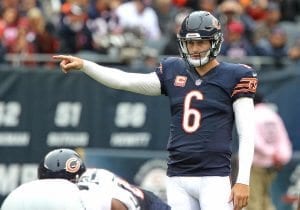 According to news from Bleacher Report, the Bears are "actively shopping" quarterback Jay Cutler as they try to reshape the team for a better 2017 NFL season.
Bleacher Report quotes ESPN reporter Jeff Darlington and NFL Network's Ian Rapoport who both have mentioned that the team has been in trade talks since early this year.
After being drafted to the team in 2009, Cutler began his place on the team with a turbulent fluctuation of exciting highs and extreme lows. After more declining seasons and multiple injuries, disappointment with the Bears, and with Cutler in particular, has been generally widespread over the past few years.
Amounting to almost $127 million, Cutler is currently on a seven-year contract extension that was signed in 2014. According to a list from Crain's Chicago Business, Cutler is the sixth highest-paid Chicago athlete, bringing in $16.4 million last year.
As to where Cutler will go, that's completely up in the air, as it seems most other teams are not taking an interest to him. The announcement also made note of Darlington's point that at age 33, Cutler could realistically consider retirement. It'll be interesting to see who the Bears pick during the NFL Draft, taking place April 27 – 29.
How do you feel about Cutler? Keep him or kick him to the curb? Let us know!
Chicago Bears fans upon hearing Jay Cutler is being shopped around: pic.twitter.com/TScGEnaBKg

— Seven Asher (@7Asher) February 22, 2017
Featured Image Credit: Sportsnaut