The Bacontopia You've Always Dreamed Of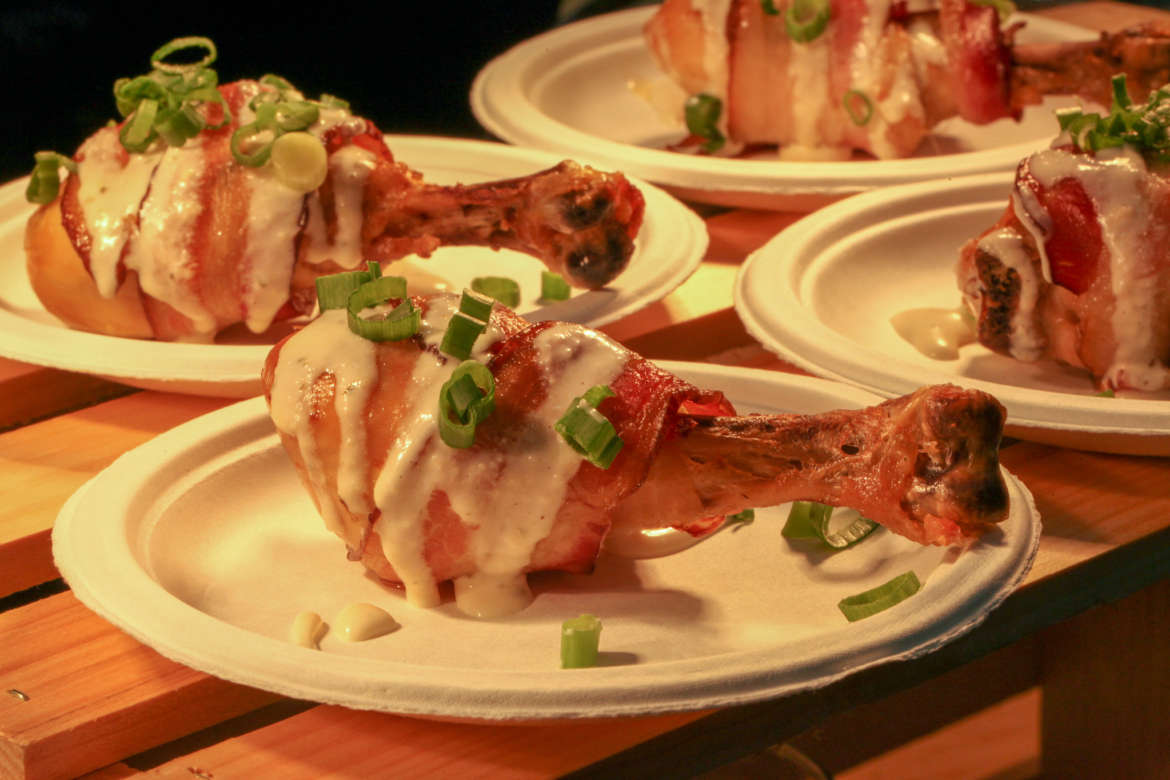 From humble beginnings to nationally renowned, the annual Baconfest earns the title as one of the most prestigious eatery festivals in the world. Celebrating everyone's favorite breakfast item in a satisfyingly unique way, Baconfest gathers top chefs and reputable restaurants in Chi-town to carefully curate exquisite dishes, bacon being its prized centerpiece. For the past years, hundreds flocked to the savory smell of crispy cuisine to sample novel treats and sip boozy bacon-inspired cocktails, all for a great cause too!
This year's annual Baconfest is switching it up a bit with the debut of the first-ever Da Best Fest, beginning on Friday, April 17, 2020, from 6 pm-10 pm at the UIC Dorin Forum (725 W Roosevelt). Instead of solely bacon-driven dishes, Da Best Fest will feature a wholly diverse landscape of Chicago's favorite dishes, from Italian beef, hot dogs, pizza, and flaming saganaki, to jibaritos, aquarium-smoked rib tips, chicken Vesuvio, shrimp de Jonghe, malort, and more.
"Da Best Fest was born out of a love of Chicago's home-grown cuisine and its distinctive neighborhoods," said Seth Zurer, Co-Founder of Da Best Fest & Baconfest. "The fest will be a fantastic mix of classic takes and intriguing interpretations. It will be a great introduction to those not familiar with some of these canonical dishes, like The Mother-In-Law or Sweet Steak Sandwich. I hope to see some truly unique creations that take these beloved bites and turn them inside out to blow everyone's minds. Da Best Fest will be a consumable love letter to Chicago and all of its delicious parts."
Chicagoans will get the opportunity to explore over 40 chef-crafted samples from exhibitors. Each ticket type includes seven drink tickets accessible to a wide variety of beers, wines, and cocktails.
General Admission: 7:00 PM -10: 00 PM: $75 + fees
VIP Tickets: 6:00 PM – 10:00 PM: $130 + fees
The Baconfest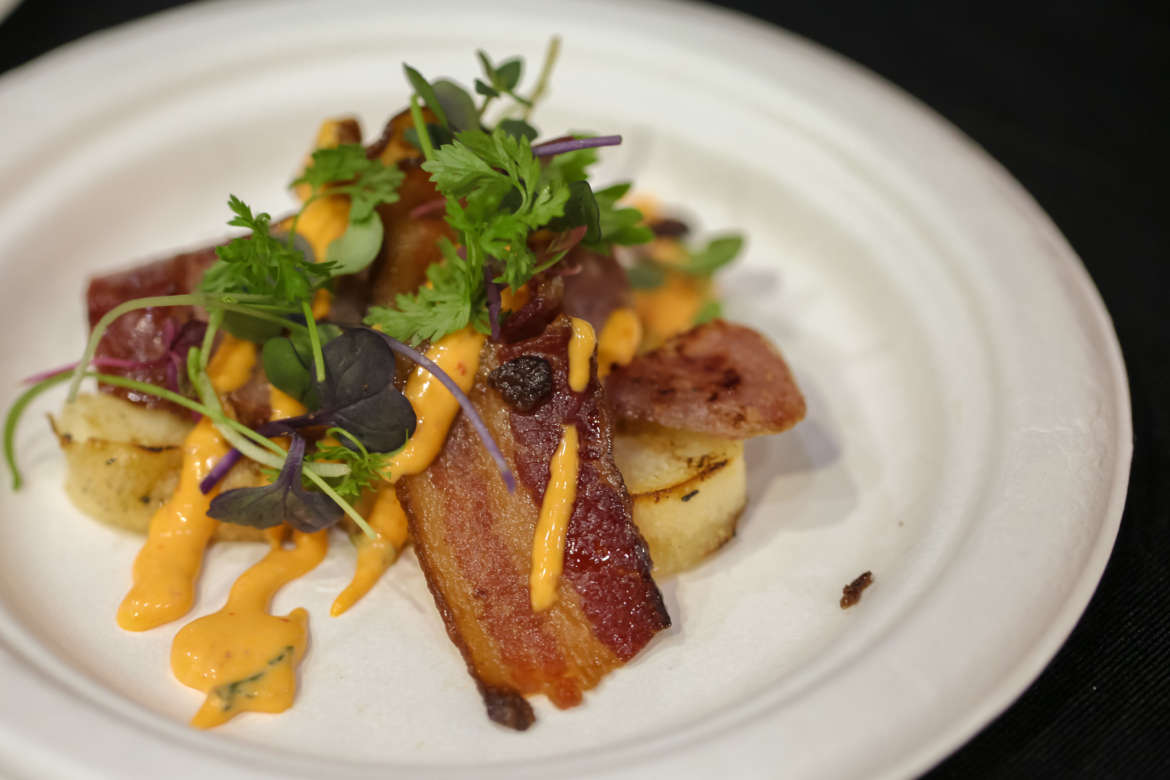 Following that Friday, the Bacon Fest will promptly begin on Saturday, April 18. This year, the fest reigns in two sessions. Sessions are Saturday lunch, from 11 am – 12 pm (VIP Hour) and 12 – 3 pm (General Admission) to Saturday dinner, from 6 – 7 pm (VIP Hour) and 7 – 10 pm (General Admission).
Proceeds go to the Greater Chicago Food Depository, which feeds the hungry in the Chicagoland area. So far, the annual fest has succeeded in generating over $480,000 in charity! Last year, Baconfest debuted some exciting bacon dishes such as the Bacon Chicken Lollipop, curated by Kitty O'Sheas, and of course, the Baconfest-exclusive Bacon-Katsu Ramen made by Mike Satinover. This year, we can only fathom what the Baconfest has in store for us! Check below for admission details and get your ticket while you still can!
Saturday Lunch – April 18 (PRESENTED BY JEWEL-OSCO)
11:00 AM – 12:00 PM VIP Hour
12:00 PM – 3:00 PM General Admission
Saturday Dinner – April 18
6:00 PM – 7:00 PM VIP Hour
7:00 PM -10:00 PM General Admission
If looking for the best of both worlds, discount bundles for both Baconfest and Da Best Fest are available. 
General Admission Bundles – $140 + fees: save $20 and get GA tickets to Da Best Fest and Baconfest Saturday Dinner
VIP Bundles – $240 + fees: save $50 and get VIP tickets to Da Best Fest and Baconfest Saturday Dinner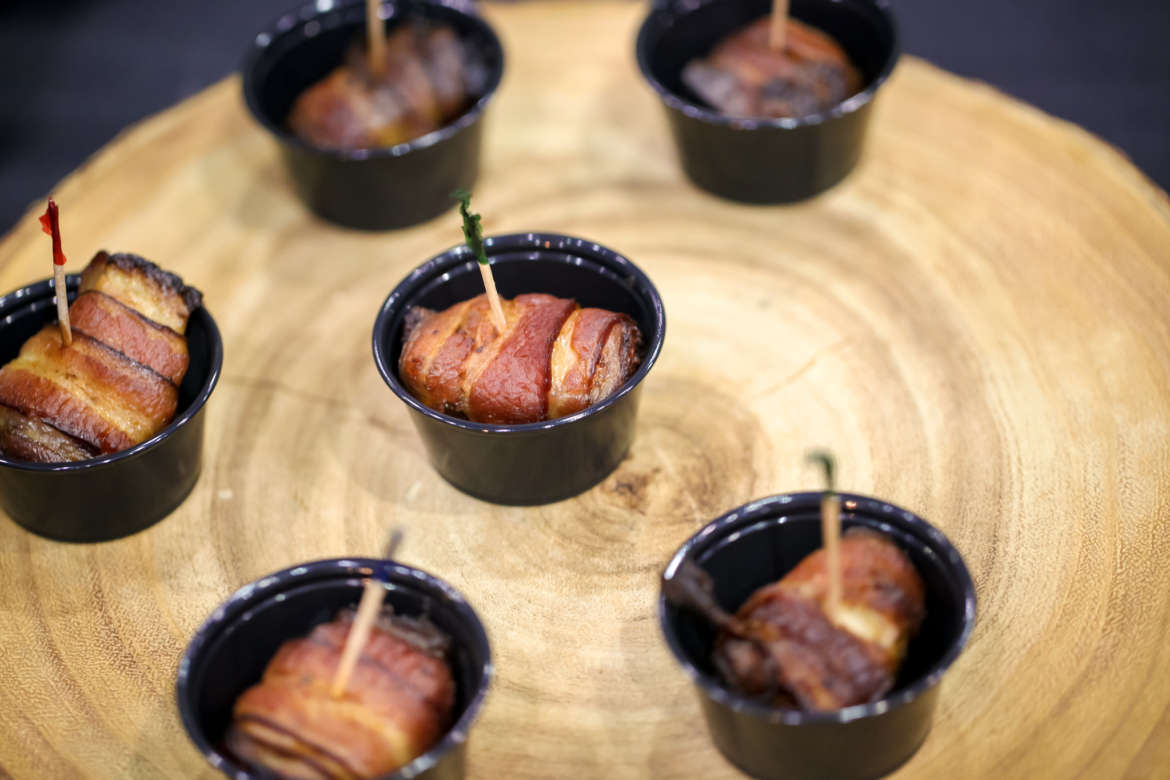 Lineup
Friday: Da Best Fest Lineup
Participating Restaurants (as of 2/11/2020) – Roster subject to change without notice.
676 Restaurant & Bar – Dominique LeBlanc Beers
Bangers & Lace – Evanston 
Berger Station – Ivan Gonzalez
Black Dog Gelato – Jess Oloroso
Cantina Laredo – Daniel Espinoza
Chicago Chop House – Martin Martinez
Cooking Skills Academy – Paul Guerrero
Four Star Artisan – Kurt Guzowski and Thomas Rice
Goose Island Brewpub – Henry Pariser
Heritage Restaurant and Caviar Bar – Guy Meikle
Hermosa – Ethan Eang Lim
Jim's Original Inc – Betty Domagala
Labriola Chicago – Tim Donohoe
Le Bouchon – Oliver Poilevey
Links Taproom – Josh Bushnick
Mesler Kitchen – Matthew Cappellini
Michael Jordan's Steak House – Craig Couper
Orso's Restaurant
Osteria Bigolaro – Anthony Gargano
Phillipe C'est Bon – Phillipe Sobon
Pinstripes – Juan Gonzalez
Spacca Napoli – Jonathan Goldsmith
Stan's Donuts & Coffee – Susan Barnett
State and Lake Chicago Tavern – Nathan Sears
The Broken Barrel Bar – Bryant Anderson
The Duck Inn – Kevin Hickey
The Heritage – Nariba Shepherd
The Royal Grocer & Co. – Shane Graybeal
Victory Tap Chicago – Joseph Farina
World of Whirlpool – Luke Creagan
XO Marshmallow – Melissa Humphrey
Saturday: Baconfest Lineup
Saturday Dinner | 6 – 10 pm
312Chicago – Luca Corazzina
Amazing Edibles Catering – Eric Halvorsen
Asadito Taco – Nick Bajal — NEW FOR 2020
Bangers & Lace – Evanston
Bar Roma – Fred Ramos
Bar Takito – Juan Barrajas
Batter & Berries – Ken Polk
Berger Station – Ivan Gonzalez — NEW FOR 2020
Cafe ba ba Reeba! – Eric Jorgensen
Carnivore – Erik Williams
CheSa's Gluten Free Food Truck – Chesaree Rollins
Chicago Q
City Barbeque
Copper Fox Gastropub – Cortney Pierce
CRĪO Bar and Restaurant – Luis Guzman
Edzo's Burger Shop
Fire Thyme – Jamie Bisioulis
Flo Cafe & Bar – Leonard Sanchez
Gale Street Inn – Geoff Silverwood — NEW FOR 2020
Good Measure – Matthew Troost
Goose Island Brewpub – Henry Pariser
Imperial Lamian – Victor Chong
Izakaya Mita – Brian Mita — NEW FOR 2020
Naansense – Hiran Patel
Rack House Kitchen & Tavern – Bryant Anderson
SafeHouse — NEW FOR 2020
The Bageler's Coffeehouse – Jotam Torres — NEW FOR 2020
The Florentine – Zachery Walrath
The Grill On The Alley – Ozzy Amelotti
The Grillroom Chophouse and Winebar
The Roaming Hog – Eddie Aguilar
Three Floyds Brewpub – Pat Niebling
Torali Italian-Steak – Franco Diaz — NEW FOR 2020
Townhouse Restaurant & Wine Bar
XO Marshmallow – Melissa Humphrey
ZED451 – Joe Rosetti
Featured Image Credit: Baconfest Instagram