If your love for books is stronger than the fear of snow and sleet on a late November morning, the Chicago Book Expo is the perfect experience.
Hosted at the Columbia College Department of Creative Writing on South Wabash, the Expo had interesting panels, as well as vendors, publishing houses, and independent magazines.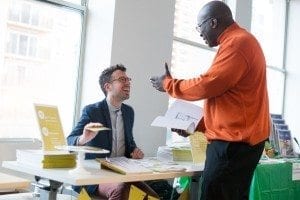 Books ranged from self-published mystery novels to biographies, to children illustrated books. All vendors were friendly, encouraging of emerging writers, and open to sharing their experiences, both as writers themselves, and as journalists or publishers.
The Chicago Expo has been a cultural event since 2011, and it wishes to unite a variety of independent publishers. Ranging from American history experts to self-motivators, the points of view it engages and wishes to show are multiple. Each and every one of them brings forth its value.
The abundance of panels included topics on the evolution of literary magazines, with Ian Morris and Joanne Diaz. Another panel "Literature That Empowers: Centering Youth Work in Identity", discussed a variety of social issues, in comparison as well as relation to the importance of providing the young readers with words, books, and tools that empower each identity, especially in this specific moment in time.
The Expo was not only a refuge from Chicago weather, it was a cozy environment in which one could share, talk, and connect to fellow intellectuals.