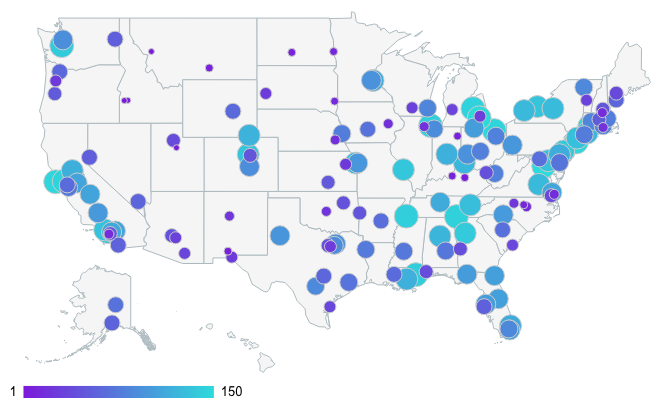 The claim-to-fame of Aurora, Illinois is being the fictional hometown of Wayne and Garth from Wayne's World. But it's actually a pretty great city in its own right according to WalletHub. They recently came up with a list of 2017's Best- & Worst-Run Cities in America, where Illinois' second biggest city, Aurora, came in an impressive 20th place. The goal of this study was to measure the efficacy of local leadership in terms of how well they manage and spend public funds by comparing the quality of services residents enjoy vs. the city's total operating budget.
That's a bit of a mouthful! But basically, it means what cities give their citizens the biggest bang for their taxpaying buck. WalletHub constructed a "Quality of Service" score, which takes into account lowest long-term debt outstanding per capita, highest high-school graduation rate (yours truly being an Aurora high school graduate), lowest violent-crime rate, lowest unemployment rate, highest median annual household income, and more.
Aurora's Quality of Service score came in at 22, with a total budget per capita ranking at 32. This means Aurora government officials are making some pretty great decisions with their budget. This is apparent through Aurora's recent and ongoing Downtown and Riverwalk renovations, their great new community college facility (Waubonsee) located downtown, and cool new music venue that hosts some pretty big acts, RiverEdge Park.
Here are the other cities that ranked above Aurora:
Nampa, ID
Provo, UT
Boise, ID
Missoula, MT
Lexington-Fayette, KY
Las Cruces, NM
Billings, MT
Bismarck, ND
Fort Wayne, IN
Louisville, KY
Durham, NC
Fargo, ND
Sioux Falls, SD
Raleigh, NC
Huntington Beach, CA
Nashua, NH
Virginia Beach, VA
Lincoln, NE
Cedar Rapids, IA
Individually, Aurora also was in the top 10 for safety in the US, coming in at 7.
If you're considering a move to the suburbs, Aurora may be just where you want to be.