The Chicago Blackhawks are headed to the Stanley Cup Finals. Though we've all heard this a few times in the past six years now, it's still music to my ears. Hell, I've had Chelsea Dagger on repeat for the past 24 hours, and I'm showing no signs of stopping it anytime soon.
It was a nail biter of a series, and the Ducks had me holding my breath up until the very end. You just never know what can happen when two teams that skilled face off, and that's why this year's Finals are going to be just as epic. We're on the cusp of yet another Cup in the salary cap era, and to put it frankly, the Blackhawks are a dynasty. It's official. The Bruins have fallen off, the Kings are brushing up on their golf game, and the Penguins end up sitting on the couch each spring wondering why they can't win the best player in the world.
Yet here are the Hawks… Again. Teams hit them, they try to matchup with them, they hit them some more, they score three goals in almost record-setting amounts of time, and Blam, Hawks win. Again.
As a Chicagoan, how can you not love to see this? Shaw's over there heading it in, Hossa's got pucks going off his skates, Saad is happy as can be, and Toews is making the funniest faces I've ever personally seen while elevating his play to another level.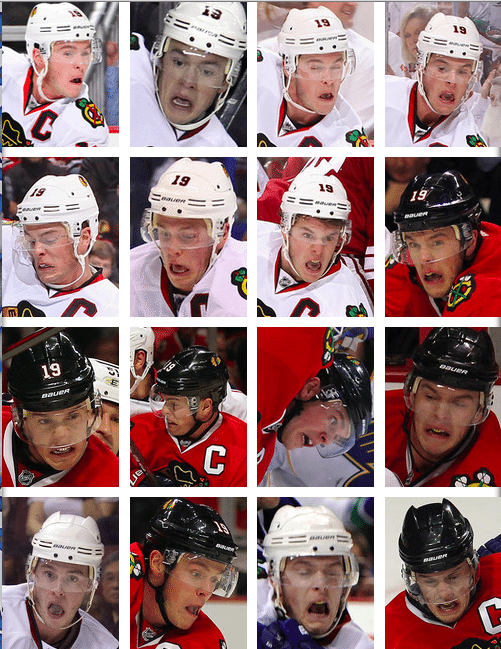 I laughed at this for way longer than I'm going to admit publicly…
Sure, the team will look different next year as salary cap casualties come along. Sure, the Hawks could very well lose to a talented Tampa Bay team (who scarily remind me of the 2010 Hawks). And yeah, sure, they might not get here again even with all of the talent they have.
But let's just take a second to bask in the glory. It isn't time to worry about the future. The Blackhawks aren't. They're worried about Game 1, and so am I. It's going to be larger-than-life. Mark my words; there will be record-breaking ratings for this series even with the small Floridian market (no offense guys, we know there are true fans down there, and we salute you).
Tampa can try to keep us out. That's fine; we're used to it by now. But one thing we should never get used to is winning. As a fan, it's easy to get lost in the moment and expect greatness at every turn. Appreciate every single moment of these Finals and the upcoming years of glorious hawkey that the boys in red bring our way. Take a second to look back at this franchise ten years ago, and you'll see just how quickly things can change. Even if we lose and never get back to the Cup again during our lifetimes—we'll always remember how the current Hawks players, coaches, and management have rescued this franchise from the depths of obscurity. A simple "Thank you," just doesn't seem to do it justice.
Treat each second of the upcoming series like a fine wine. Sip it slowly from the glass and revel in each moment. Belt out "Let's Go Hawks," at the top of your lungs. Let loose screams of panicked excitement as you see Saad scorching the defenseman in front of him.
It's hockey time in Hawkeytown. Are you ready?