They say apartments in New York City don't come cheap.
Well, I say that they don't come cheap, nor do they come easy.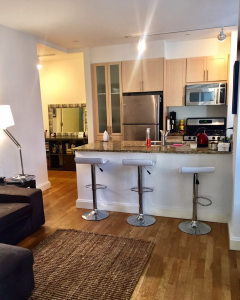 Nearly five months ago, I moved to Manhattan on a bit of a whim. I had no idea where to live, and so I decided to start off my new and exciting NYC life by sharing a bedroom with a college friend gracious enough to let me into her home. She lived in a beautiful luxury apartment in the Financial District. The sky-high building boasted a rooftop, free coffee, pool tables, and lounges, and her actual unit had a washer, dryer, and dishwasher. Not bad, I thought to myself, until I realized that her lavish one-bedroom cost a whopping $4,000 per month.
When her lease ended, I accepted my destiny: to find a small little shack to live in, somewhere far, far away from Manhattan.
Homeless, I moved to another gracious friend's couch, and the journey to find my first NYC home began. I frantically visited apartments after work, during lunch, and in my sleep. My budget was around $1,000. Of course, I saw studios (crappy studios, at that) worth $2,000. I stumbled across bedrooms in spacious shared lofts for $1,800 a month, in the heart of TriBeCa. Eventually, I came across a sixth floor walk-up for $1,300 in the East Village that I heavily debated moving into, until my mother convinced me that I was insane to consider a place that had ONE bathroom for five people, no air-conditioning, no washer, no dryer, and for crying out loud, on the sixth floor! I kindly declined the offer.
Next, I debated living in a windowless room in Manhattan. As someone who can't sleep when it's too hot, and gets depressed in the winter because there's not enough light, this apartment was unfortunately not an option. I reluctantly chose to remain homeless and grew even more desperate. Each home came with a flaw.
By the time that I found THE apartment (and no, it's not perfect), I had visited over 20 different homes, and had contacted at least 100 strangers online.
So, those of you who have just moved up to the city and are worried about finding an apartment, know that you're not alone! Here are some tips in NYC apartment hunting from my personal rollercoaster experience:
To find your future home, all that you need is patience, a few blisters on your feet, and a salary.
Apartment hunting is exhausting. It's also easier when you have a steady income. I encountered several apartments requiring that annually you make 40 times the monthly rent. Therefore, if you're making 50k a year, your apartment should cost no more than $1,250 per month. You can certainly find rent in this range, but sorry to break it to you, your apartment won't be in the West Village. If you don't make a lot of money, this 40x rent rule is a bit of a roadblock.
On the bright side, I did visit many places that didn't enforce it. Most of the time, apartments accept a guarantor (if you cannot prove that you make 40x the rent). For those who do not have parents made of money, there are apartments that simply ask for a credit score check.
When there's a will, there's a way.
No apartment is perfect.
Apartment hunting is like any relationship—compromise, compromise, compromise. You will never find a home that checks every box off your list. I learned this one the hard way. At the onset of my search, I had a long list of priorities, including but not limited to: a washer and dryer in-unit, a good location, not too many stairs, and AC. Little did I know that each place I visited would bring more "priorities" to the top of my list.
You'll come across rooms with no windows, rooms that are converted closets, rooms with no closets, dirty kitchens and messy living rooms, smokers, antisocial and/or psychotic roommates, unsafe neighborhoods, really expensive apartments, the list goes on.
A lot of the apartments I personally visited did not have AC, which I found astounding, until I discovered the beauty of window units. About 90% of the apartments also did not have a washer or dryer. What I'm trying to say is, no apartment was perfect. Taking your time to find the right place, however, allows you to explore NYC and get to know different neighborhoods. You'll also get a better idea of what a good apartment and room actually look like, and what you can one day aspire to!

Gypsy Housing Facebook Groups (NYC & Brooklyn) are lifesavers.
I relied very heavily on the NYC and Brooklyn Gypsy Housing Facebook groups, which allowed me to screen potential roomies (aka Facebook stalk them). I would message people directly on Facebook, writing out the same story every time: "I'm respectful, clean, looking for a home with chill people…" Sometimes they would respond, sometimes they wouldn't. But all in all, I saw some very cool apartments thanks to Gypsy Housing, and got to meet a lot of random New Yorkers. There is also an apartment finder app available on the app store that lists affordable and pleasant apartments. Don't be afraid of Craigslist.
Everyone uses it. I was hesitant about it at first, and only saw three apartments that were listed on it. Oddly enough, I found the apartment that I'm living in today on Craigslist! If you ask me, moving to New York and living with Craigslist roommates is a rite of passage. It's part of the experience, and you should embrace it. Unless of course you can afford your own apartment, along with a broker (in which case you don't really need to be reading my advice in the first place).

If you like Brooklyn (who doesn't like Brooklyn?), check out Nooklyn.
Rent in Brooklyn is cheaper, and you get more bang for the buck. It's why I live there now. Nooklyn is both easy and simple to use. You get on the app, set up viewings, and you're also able to directly message others on it, which is useful when looking for a roommate! The app is user-friendly, and lets you swipe through apartments in a fun Tinder-like fashion.
We all want to live in Williamsburg, but I would recommend East Williamsburg for cheaper rent, Greenpoint for that "cozy neighborhood yet hipster" vibe, and Bushwick if you don't mind being a bit further from Manhattan (the same applies for Ridgewood).
If you already have a roommate, or are looking for an empty apartment, check out StreetEasy or Naked Apartments.
StreetEasy is, well, easy. Agents that you've contacted get back to you quickly to set up a viewing, and you're able to filter your search to apartments with no "broker fee." Naked Apartments is similar.
When in doubt, subscribe to the Listings Project.
I heard about The Listings Project from someone I met at a cocktail party, and decided to give it a shot. It's geared towards "artists, creative communities, and beyond," but will email you every Wednesday morning (for free) with apartments for rent. Why not!

Apps are great for finding roommates.
I didn't use these apps, so I can't say too much, but here are a few worth considering: Roomi, SpareRoom, and Symbi.
When you do find your new home, because I know that you will, Amazon Prime will become your best friend.
This is your go-to when ordering furniture, or any little thing that you might need. Your purchases will come right to your door in just two days, and you'll be spared that long trip to IKEA.
If you're old school like me, then T.J. Maxx is a gold mine (I particularly like the one in Chelsea), and Bed, Bath & Beyond has awesome coupons. And we all already love Target (the new one above DeKalb market is worth checking out).
Good luck and happy hunting, my fellow New Yorkers to-be!