By Bob & Sandy Nesoff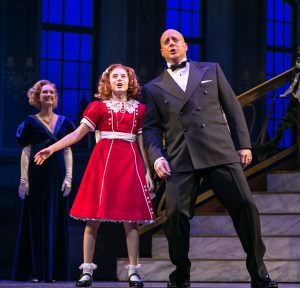 It's not often that a 132-year-old precocious little girl can still be alive and kickin', but Millburn's Paper Mill Playhouse shows that it can be done… and done with style.
The current production of Annie, more commonly known over the years as Little Orphan Annie, comes out swinging and knocks the socks off the audience. Only a short drive from Manhattan, Paper Mill Playhouse is a favorite of city dwellers who love the theater but enjoy professional quality shows at far lower prices than Broadway.
If anyone ever thought that a story that's been around for so many years, made into a long-running newspaper comic strip, a radio show, three movies (1932, 1938, 1982), and a Broadway show in 1977 couldn't still be fresh and vibrant has never seen what Paper Mill can do with a show.
The tunes still have the audience toe-tapping to the familiar strains and the cast of orphans is as bright and bouncy as at any other time the show has graced the boards of a stage.
There has been an axiom in theater that says never go on stage with a little child or an animal because they'll steal the scene. Under the expert direction of Mark Hoebee, who is also the head honcho at Paper Mill, the adults more than hold their own with the adorable and talented tykes. Annie's dog, Sandy, barely factors in and is only a peripheral character.
Hoebee worked to have the cast move along at a proper pace and stressed the song and dance numbers with the cast delivering a top notch performance.
Annie, performed alternately by Cassidy Pry (opening night) and Peyton Ella, are amazing choices. They are two talented youngsters who will have a long and major role in the coming years as Broadway entertainers.
While the comic book Annie had bright red hair and lacked eyeballs (as did Sandy), these youngsters have eyes that sparkle throughout the performance.
Christopher Sieber as the billionaire Oliver "Daddy" Warbucks, who ends up adopting Annie, gives a strong performance in a demanding role that brings him from simply wanting to give an orphan a good holiday to a forceful personality dealing with the president of the United States and the head of the FBI. He leaves no doubt that he wil get what he wants.
Beth Leaval as the comically wicked Miss Hannigan, head of the orphanage, comes off as someone you'd love to hate.
When Daddy Warbucks offers a large reward for anyone who can produce Annie's parents, she teams up with her con artist brother, Rooster (Cooper Grodin) and his floozy girlfriend (Kim Sava) pretending to be the parents.
Erin Mackey, as Warbucks' secretary, lends an amazing soprano voice that complements her beauty. In fact, there isn't a voice in the entire show that doesn't resonate with the audience.
The show comes into its own when the orphans dance across the stage. These youngsters are so bright, cheerful and talented that you want to rush up and hug them.
Annie runs to the end of the month and is followed in January (Jan 24-Feb. 18) by The Outsider, a political turn.
For information and tickets, go to PaperMill.org or call (973) 379-3717.