Back in September, Amazon announced that it was looking to build another headquarters and bring 50,000 new jobs to whatever city they choose — and they have 238 to pick from.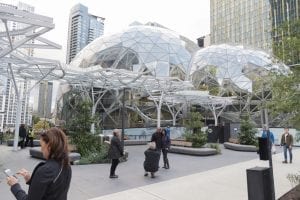 We all know that Chicago is the best choice for the e-commerce giant to lay down roots, but in case they don't know, here's why Amazon needs to come to the Windy City.
Chicago has had success with other company headquarters in the past. They've successfully brought companies like McDonald's, Kraft Heinz and Conagra Foods into the city and out of the suburbs. Chicago has also brought out of state and international companies to the city, like Motorola who now rents 600,000 square feet of space in Merchandise Mart.
HQ2, as they're calling it, also has the most options for space in the city. Plans have been discussed that involve some space on the North Side — 60 acres on the riverfront to be exact — as well as some more riverfront real estate in the South Loop. Other proposed locations are the Michael Reese Hospital property that was part of Chicago's bid to host last year's summer Olympics or the old post office location on the river. Most cities aren't able to offer so many options and don't have riverfront space, which makes Chicago the perfect candidate for Amazon's empire dreams.
Chicago is also a great central location in several ways. It's in the middle of several Big Ten schools that would regularly offer fresh graduates looking for jobs. They also have two major airports located nearby that allow easy access to the rest of the country, namely Seattle where Amazon's current headquarters is located.
Some of the benefits for Chicago itself would include job creation and economic growth for both the city and the surrounding suburbs. HQ2 would create 50,000 new jobs over the next 10 years that would have an average pay of $100,000 per year. For Amazon, Chicago can offer a low-cost city that has a high quality of living, something that other large cities can't offer.
Amazon will take the rest of the year to review all the applications from around the country and the project will begin in 2018. Here's to hoping they pick the Windy City for their new location.