They're in good hands.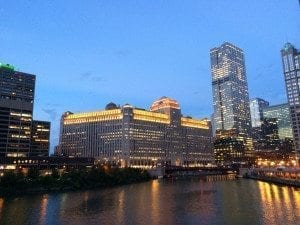 Within a two-day span, both Allstate and Beam Suntory (the company that makes Jim Beam and other alcoholic beverages) announced their move to the Merchandise Mart.
Let's start with Allstate. The insurance giant is bringing 400 tech jobs to the Merchandise Mart with the opening of their new innovation center. Currently located in Northbrook, its new 45,000 square-foot space will accommodate the company's analytics & research departments.
Beam Suntory will make its move from Deerfield by the end of 2017. The company is looking to lease a whopping 110,000 square-foot space in the Merchandise Mart for the 450 employees who will be moving in. Beam Suntory's move strategically positions them closer to the bar customers in the area. As millennials continue to move into the densely populated urban areas surrounding River North, the corporation is hoping to snag some of the younger crowd for its staff.
Why is this significant?
There are a couple reasons. For one, Chicago is quickly becoming a popular destination for some of the nation's larger companies. Kraft moved into the Aon Center not too long ago, and Con Agra is on its way from suburban Naperville.
Businesses like Yelp, Motorola Mobility, Braintree, GoHealth, Trunk Club, and Razorfish already call River North home. 1871 began the Chicago tech boom about 4 years ago, and since then it's continued booming toward unprecedented heights.
Companies are also finding a lot of value in Chicago's tech personnel, using the area's dense workforce to their advantage. As mentioned above, millenials are flocking to the city at an increased rate, and as long as they continue to find jobs in Chicago, they'll keep coming.
It'll be interesting to see what the future holds for River North, the Merchandise Mart, and Chicago's booming tech scene – but one thing is certain, it doesn't appear to be fading away anytime soon.