What better way to support local farmers and entrepreneurs of New York — and to reduce your carbon footprint — than to visit a historic food market?
From sunrise to long after sunset, Union Square buzzes with the energy, activity, and events. But the most buzzworthy event in the park is the Union Square Greenmarket. Open year-round, the farmers market is one of the biggest in the city and attracts over 60,000 daily shoppers during its peak season of May through November. The greenmarket comes to the square every Monday, Wednesday, Friday, and Saturday with Friday and Saturday seeing the most vendors and shoppers. Maps and daily schedules of vendors are available on website.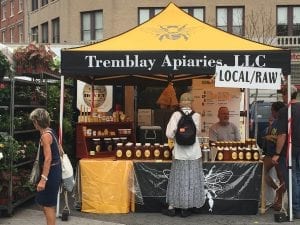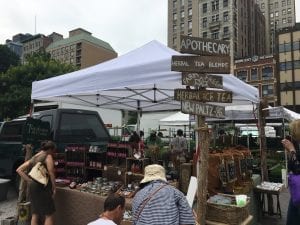 From 8:00 a.m. to 6:00 p.m., vendors line the north and west edges of the park with tents, tables and trucks. By sunset, it's a wonder how all these fit around the famous square without spilling into the streets (and sometimes they do when the foot traffic hits rush hour). The best times to hit the tents are before 11:00 a.m. when the foot traffic turns heavy and just before 6:00 p.m. when some vendors offer half or reduced price. Occasionally, at closing time, vendors will offer free giveaways like this double-chocolate chip cookie from Our Daily Bread.
What began as a small group of regional farmers in 1976 has grown to 140 local vendors selling anything from lavender-scented soaps and essential oils to distillery favorites gin and vodka. Shoppers flock to the gallons of red-ripe strawberries, potted herbs and fresh-cut flowers, seasonal fruits and vegetables, artisan breads and jams, fresh fish, real maple syrup, and vegan treats, just to name a few.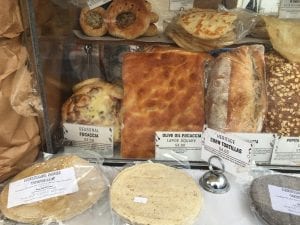 Don't cook? Don't sweat.
Union Square Greenmarket has a variety of pre-made options like spinach and cheddar-stuffed croissants, organic popcorn and better-than-your-mother's fruit pies. Inspired to learn to cook by all the lush produce around you? The greenmarket also offers cooking demonstrations by some of New York's hottest local chefs. NY local Danny Meyer even opened his own restaurant, Union Square Café, and can sometimes be spotted roaming around the fresh berries. Additionally, the greenmarket offers tours, clothing and food scrap collections and occasional book signings. Did we mention they host an annual Strawberry Shortcake Eating Contest?
Don't forget to bring cash. Only some vendors accept Debit or Credit cards or Heath Buck coupons, which are an easy way to support the market and save money on additional fresh produce – because who wouldn't want to save an extra $2 on those fresh strawberries? All vendors do accept EBT and SNAP tokens, but be sure to check out the Market Info tent for other budget-related questions.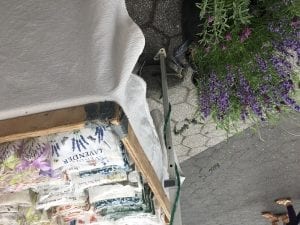 In a world where our environment and the food we eat have never been more important, buying local food is just one ingredient toward a healthier New York. Not only does your purchase of that $5 loaf of cinnamon swirl bread beat its Whole Food price but it also cuts down on the fossil fuels emitted when shipping produce from coast to coast. As we all know, cutting down the distance between the farm and the dinner table leaves us with fresher, organic, and safer food.
You're not just supporting your local farmers when you shop at the Greenmarket. You're helping to build and sustain the local community. In 2006, the NYC Greenmarkets donated over 224,000 lbs. of unsold food to City Harvest and local pantries. Talk about food for a cause.
Whatever your kitchen or stomach craves, Union Square Greenmarket has that sweet-spot-hitting ingredient waiting for you at low-cost to your wallet and to the environment.
Follow UrbanMatter New York on Facebook and Twitter for daily updates on local events and news.