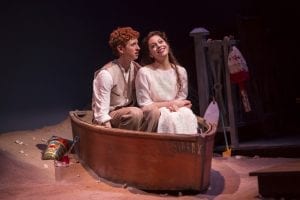 Oh, how times have changed. Or have they? This heart-warming production of O'Neill's only comedy is filled with laughter and charm. The story focuses on the Miller family of Connecticut just before WW1. As O'Neill is quite well known for his darker-themed plays in A Long Day's Journey Into Night and The Iceman Cometh, Ah, Wilderness shows a different side to one of America's greatest playwrights. In Ah, Wilderness, (the title comes from the Persian poems The Rubaiyat of Omar Khayyam) you'll find many quotes from classic literature throughout the play as the main character sets on his journey of self-discovery.
The story takes place over two days during Fourth of July celebrations, where bookish young Richard declares his own independence from America and rebels against his family's wishes. Like Romeo, he's deeply in love with his girl, and his rebellion gets him into trouble with drinking. Liquor, here, is also a character as it impacts the lives of other family members as well.
Directed by Steve Scott, the Goodman has created a gorgeous set, idyllic with the shifting sands showing the times about to change. The play made its debut in 1933, at a time when the country had been restored to a false sense of innocence.
Larry Bates as Uncle Sid, the family drunk, skillfully portrays a man who knows the deep hurt he continues to inflict upon his long-suffering girlfriend, while wistfully wishing what could have been. Young Richard as played by Niall Cunningham of the hit CBS series Life in Pieces gives a masterful performance as the tormented teenager and lover of poetry, while Randall Newsome as his father represents the stern, but loving patriarch of the family. Mention must be made of Bri Sudia, who plays Norah, the maid, stealing every scene she's in, making the audience wish her role was expanded.
Ah, Wilderness is playing through July 23 at The Albert. For tickets, call 312.443.3800 or visit GoodmanTheatre.org.