When people think of having a night out on the town, oftentimes hitting up bars, clubs, and concerts comes to mind. However, if you're jiving for something a little more cosmic, the Adler Planetarium has you covered with their monthly Adler After Dark event.
What It Is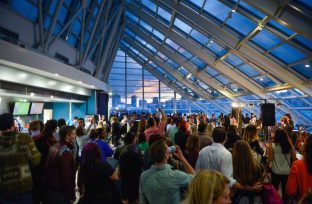 Every month, the Adler Planetarium opens up its doors to the public in order to give those who are 21+ a night under the stars they will never forget. According to the website, the event provides:
Full access and admission to museum exhibits and galleries
Unlimited sky shows in three state-of-the-art theaters
Special guests and lectures
Stellar hands-on educational programs
Access to the Doane Observatory (weather permitting)
Live entertainment
The best view of the skyline from anywhere in Chicago
This Month
Adler After Dark offers a different experience every month to keep things fresh. This month (August) the theme is "Solar Eclipse (of the Heart)", which is essentially the planetarium's way of having an 80's night. Things that are special to the event this month are:
Encouraged 80's wear
Pinhole projector construction
Eclipse viewing glasses
Specialty cocktails
Open viewing of the newest exhibit "Chasing Eclipse"
80's Dance party
Sky show
Special talk on cosmic phenomenon
"Eclipse," a multimedia performance that features NASA imagery, narration, and music performed by Axiom Brass
When it is
August 17th from 6:30pm to 1o:30pm.
Upcoming Events
Adler After Dark: Saturn Saloon (September 21)
Adler After Dark: Adler Afraid of the Dark? (October 19)
Where it is
The Adler Planetarium, located at:
1300 South Lake Shore Drive, Chicago, IL 60605
Admission cost
Advance Purchase
$20 General Admission/$15 Adler members
At the Door (Based on Availability)
$25 General Admission/$20 Adler members
Doane Tours (SOLD OUT)
$8 General Admission/$8 Adler members