Many New Yorkers move to Florida for retirement and warm weather, but this Monday, Aaron Judge banged the gavel on Miami in the 2017 Home Run Derby. The New York Yankees have looked sluggish since their hot start – they're 3-7 in their last 10 and sitting in second place with a 45-41 record in the AL East. However, Judge and Gary Sanchez provided some new excitement for the pinstripes.
The first round had everything from upsets to comebacks to every player hitting double digit homers. Hometown Miami Marlins' Justin Bour, and last years Home Run champ, Giancarlo Stanton, both went down in stunning fashion. Sanchez went first and hit 17 bombs to set the tone. Stanton started off slow but once he picked up the pace, it looked like he'd overcome Sanchez. But, Stanton couldn't capitalize on his extra rewarded 30 seconds to hit after pelting more than one homer past 440 feet. Instead, he finished with 16, one shy, and there was the end of the dream Stanton vs Judge matchup. Pat Shine, Stanton's pitcher, had this to say in regards to the loss, "It just didn't work out as we had planned."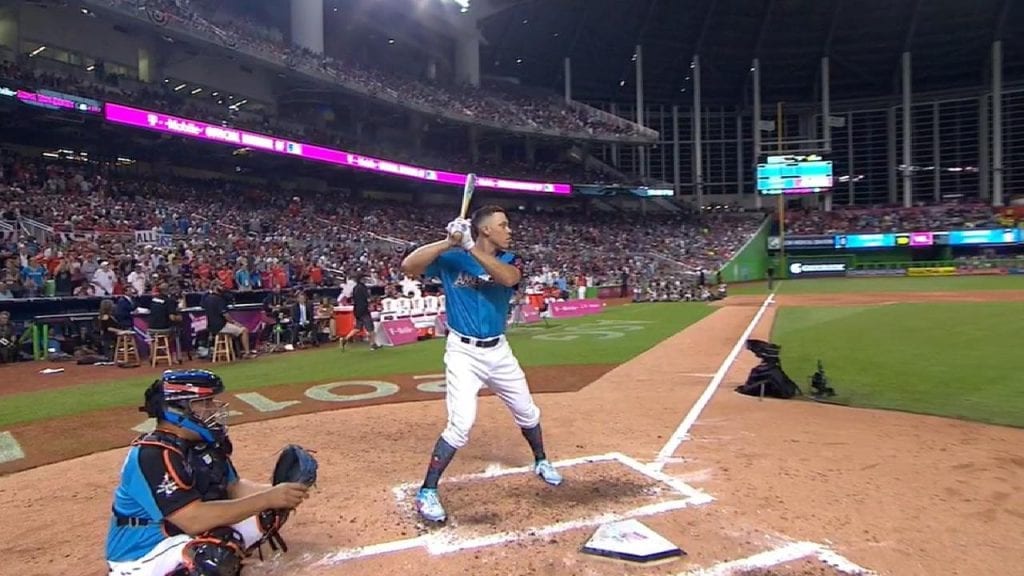 For a moment there, it looked like we wouldn't even see Judge past the first round single elimination either, after Bour launched 22 long balls for what appeared at the time to be the highest total. Then he started swinging. There was some confusion regarding one of Judge's home runs because it hit the ceiling. It was ruled that it didn't count, but the Jumbotron had it counting towards his total, so Judge thought he had 23. Luckily enough, he still had some extra time left after initially turning around to celebrate and sent another into the seats just as casually as he did the previous 22.
In the championship round, after knocking off fellow rookie and Los Angeles Dodger, Cody Bellinger in the semifinal, a round that included three 500+ feet home runs, Judge would face Minnesota's Miguel Sano. Sano would have the task of going first, hitting 10 home runs. With a little less than two of the four minutes left on the clock, Judge took only 15 swings and sent the clinching 11th homer to center field into the cheap seats.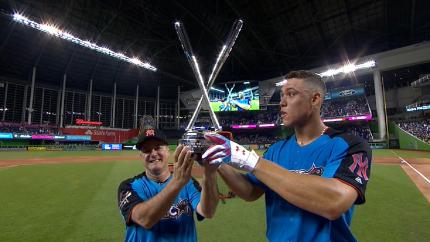 Judge wasn't paying much attention to all the hoopla surrounding his participation in this years event however. "I had no pressure going into it. I'm a rookie. This is my first time doing it," said the Yankees slugger. "For me, I got no expectations. Just going to go in there and have some fun."
MLB commissioner Rob Manfred had high praise for the rookie, calling him a potential "face of the game." Manfred would continue to say "I mean, there is no other word to describe it. He is a tremendous talent on the field and really appealing off the field."
After becoming the first rookie to win the Home Run Derby after leading the regular season in home runs (30) during the break since Ken Griffey Jr. in 1994, and Mark McGwire in 1992, Judge has also begun to become the target of several endorsement deals, according to his agent David Matranga. In a sport looking for more star power, the Yankees slugger may be on his way, despite the fact that he would rather focus on baseball.
Follow UrbanMatter New York on Facebook and Twitter for daily updates on local events and news.