Fun fact: Chicago is the birthplace of House music.
Mamby on the Beach is here to uphold the tradition, though isn't all about house. It's about pushing the limits of musical genres and breaking through the mold, something we Chicagoans pride ourselves on. There are quite a few indie-electro combo artists paying the fest a visit this year, with headliners like Passion Pit, Empire of the Sun, and Cherub leading the charge.
When compared to most other festivals, Mamby sort of flies under the radar. It's something I doubt they have any problem with (if you were on a beach for a music festival, you wouldn't have too many problems either) but the two-day fest is sure to be an amazing getaway this weekend.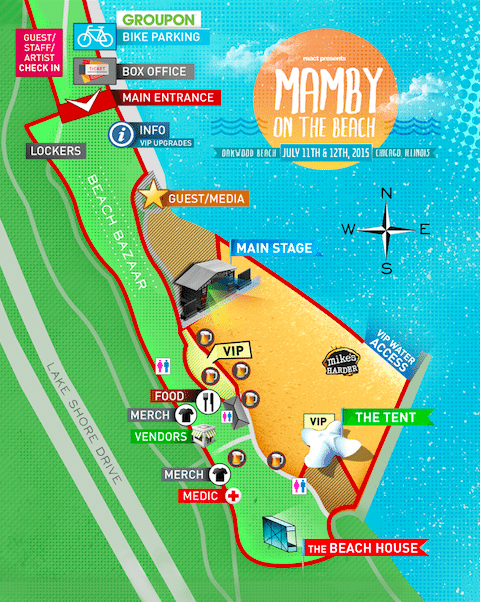 Take a look at this map. Not only is the main stage stationed right along Lake Michigan, but you can actually go in the water during performances. One thing you won't see pictured here: the afterparties. With a few of the musical artists performing at some of the hottest clubs in the city, the party doesn't end when the sun goes down.
Mamby on the Beach also has a really cool promo video, and I don't say that very often:
Take note that the festival is 18 and up, but of course you'll need to be 21+ to drink. With all the weird weather we've been having lately, I can't guarantee you sunshine, but I can say that the event will take place no matter what. Bring your umbrella if you don't feel like getting wet.
Mamby on the Beach takes place at Oakwood Beach on Saturday, July 11th and Sunday, July 12th. Doors open at 1 pm. You can buy tickets here.