What is the 606?
The 606 is a world-class public space centered by the Bloomingdale Trail. It's connected to six neighborhood parks, an event plaza, an observatory, art installations, educational programming, and other amenities. It's a brilliant reinvention of the dormant elevated freight line set above the streets on the Northwest Side.
What Can it be Used for?
Walking, jogging, biking, sightseeing, relaxing, getting the kids out of the house, you name it. The trail is ten feet wide, with a 2-foot-wide shoulder for joggers. Of course with all the traffic on the trail, it's not a great place to stand around with children. For now, that's where the parks come in, but more seating will be added in the future.
In the meantime, there's at least one great place to pause, a bridge overlooking the grassy splendor of Humboldt Boulevard. It's equipped with sizable benches and overarching lights.
What Neighborhoods Does it Connect?
The park and trail system runs along Bloomingdale Ave (1800 N), from Ashland Ave (1600 W) on the east to Ridgeway Ave (3750 W) on the west. It connects Bucktown, Logan Square, Wicker Park, and Humboldt Park.
Here's a Map: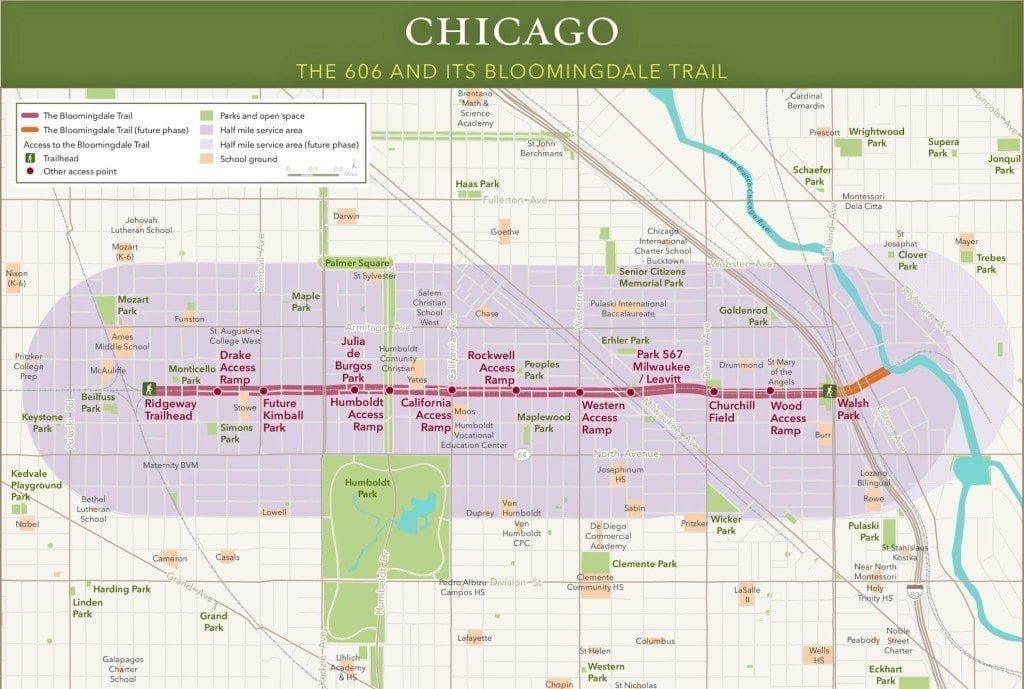 What Does it Look Like?
Here are some artist renderings of the finished product.
What's With the Name?
The 606 takes its name from the first three digits of the Chicago zip code that we all share. We're all united by those three numbers, and the trail is meant to connect the surrounding areas in the same way.
How Did We Pay for This?
This is a question that comes up a lot for things like this, and the answer is simple, the Federal Government and private donors picked up all but $5 million of the $75 million tab. The city would have been crazy not to move forward with the project.
When Will it be Completed?
The first phase of the project was unveiled on June 6th, 2015. There are currently four parks connected to the trail, but there are at least two more coming in the future. Futures phases will include enhanced landscaping and further arts integration, though the date on these is TBD. You can follow the official Facebook page for updates at Facebook.com/The606Chicago