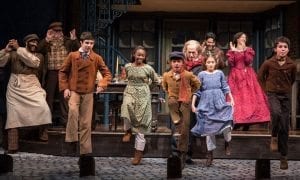 Now in its 39th year, the Goodman Theatre's lavish production of A Christmas Carol has always been a Chicago holiday favorite. This year, with an all-new production by Henry Wishcamper in his fourth year as director, A Christmas Carol takes on a whole new meaning for a new generation of theatre-goers.  Featuring festive music, glorious costumes, and more stage magic than ever, this Christmas Carol soars to new heights.
This holiday show has been seen by more than one million people, hosted 10 directors and has featured eight Scrooges. Charles Dickens' timeless tale of hope and redemption comes to life with powerful stage magic that will wow you and take your breath away.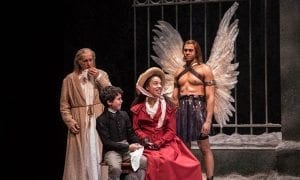 Leading the cast of 24 is acclaimed Chicago actor Larry Yando who turns Scrooge into someone absolutely unlikeable to someone whose real heart is joyful and happy. Yando is in his ninth year of playing Scrooge and he gets even better with age. The audience follows his journey through his past, present and future when he finally discovers the real meaning of the holiday is giving to others.
There are several unique aspects to this production, one is how women are prominently used, not something usually done in a traditional production. In Dickens' original novel, Scrooge had a nephew Fred instead of a niece and the two solicitors who came to ask Scrooge for money were men. In this production, one of the spirits is also a woman, depicting a more contemporary approach to the tale. The second is how the spirits are portrayed, sometimes light and other times highly sinister. Mention must also be made of the exquisite Victorian costumes from Heidi Sue McMath, which truly capture the essence of the era. As narrator, Kareem Bandealy has the perfect presence to capture the audience's imagination right from the start.
The theater was filled with young people who laughed and shrieked in all the right places. A Christmas Carol is an ideal family outing for the holidays. For tickets, go to www.GoodmanTheatre.org or call 312-443.3800.