Charles Dickens' classic tale of personal triumph and transformation has never been more vibrant, engaging, or surprising than in the 38th annual presentation of A Christmas Carol by Chicago's Goodman Theatre.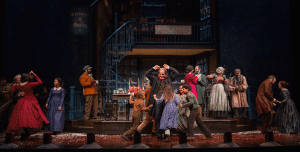 It's difficult to give audiences a fresh take on a fabled narrative that has thrived for more than 170 years, but the Goodman Theatre's production has done just that. This season's show draws inspiration from its rich history, inspired acting, exquisite costumes, magical set design.
While the story is not new, please note the inclusion of certain production spoilers in the following article.
History
Goodman Theatre production of A Christmas Carol has continued unabated since its inaugural performance in 1978. Originally undertaken to attract audiences during the traditionally slow holiday season, Goodman Theatre took on what was its most ambitious project to date and created an instant classic for both the theatre and its home city.
Beginning with the 1984 production, the Goodman Theatre presentation has included color-blind and non-traditional casting. This approach not only ensures that the best possible actors fill each role but also enriches the overall show, fulfills the heart of the story, and embodies the diverse and multicultural nature of its Chicago audience.
Acting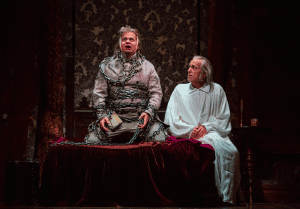 Respected Chicago actor William J. Norris took on the debut role of Ebenezer Scrooge and went on to play the role for 11 seasons. Today, Jeff-Award-winning actor Larry Yando delivers a masterful portrayal of Scrooge that is deeply rooted in the kind of character exploration only a veteran actor can deliver.
A character whose transformation can appear rather two-toned on the surface, delivery of an effective Ebenezer Scrooge requires the ability to embed oneself in decades of heartbreaking bitterness and dark solitude, the likes of which make the character nigh-impenetrable on a human level. And that's only just the start.
One of a lead actor's biggest challenges is to not only establishing belief, but convincing the audience that deviating from that belief is a painful, difficult process. Yando's eighth performance is nothing less than extraordinary in this regard, as the audience feels every stab of pain and every eye-opening revelation on Scrooge's journey toward redemption.
But a strong Scrooge does not a full production make. The casting of this year's production is perfect in every way, with strong, memorable performances from secondary and minor characters alike.
Ron E. Rains' Bob Cratchit is lovable, meek, hilarious, and most important: incredibly human and indomitably relatable. Joe Foust's powerful ghost of Jacob Marley owned the stage and set a heavy weight and grim presence for the shades to come. Kareem Bandealy's expert narration and seamless transition into and out of his role as Young Scrooge is engaging, impressive, heartbreaking, and often quite funny. The Ghost of Christmas Present truly comes to life in Lisa Gaye Dixon, who embodies the role so convincingly that one would think she's played it for years. And Chestnut Seller Larry Neumann, Jr. transitions the audience wonderfully with perhaps the most hilarious delivery of a simple line at a much needed moment.
Costumes
The play itself is a visual delight, every character and every scene is captivating and irresistible. We found ourselves gazing open-mouthed at the careful detail in every costume and every prop, amid the whimsical and sometimes unbelievable sets.
Goodman Theatre's Costume Shop Manager Heidi Sue McMath designed all the costumes for A Christmas Carol, just like she has for the past 15 years. Her designs vary depending on the cast member or director's take on the character. The costumes worn by the Three Ghosts stood out to us in a very big way. The Ghost of Christmas Present was draped in regal red and gold, with a satchel of glitter at her side, used expertly to convey shimmering Christmas magic. Glitter caught in the spotlights of the Goodman Theatre is an exquisite sight to behold!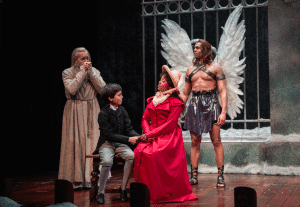 The Ghost of Christmas Past was admittedly dressed in very little, but made quite the statement. We hesitate to describe the ensemble because when this character swoops into the scene for the first time you'll know exactly what we're talking about. Fine art and engineering come together in this fabulous costume.
The third ghost, The Ghost of Christmas Yet to Come, blends the line between fantasy and reality. Part costume, part prop, this character looms over the audience in silence and creates a rather formidable and foreboding collective feeling in the theatre. The Three Ghosts are just an example of how this production makes you dig deep into feelings of awe and even terror.
Set
The set design of this year's A Christmas Carol steals the show; as we all know the tale already, you find yourself wondering how in the world the set could convey a tiny loans office and also a ghost-inhabited house, or all of the scenes from Scrooge's past, present, and future. But it does, and each of them are brilliant and gorgeous. Even set change transitions are exhilarating! Try holding in your gasp as a Victorian home rolls away to reveal a midnight sky full of stars. You won't look be able to look away, not even for a second.
Conclusion
Nearly four decades into telling this classic story, Chicago's Goodman Theatre continues to deliver an experience that is original, exceptional, and moving on a very human level. We cannot recommend it any more highly for an excellent family, date night, or just plain holiday entertainment outing for all ages. Make this show a part of your Christmas tradition, as it will put you in just the right Christmas mood. After all, without the "Bah Humbug!" there wouldn't be as merry a Christmas!
You can purchase tickets and learn more about A Christmas Carol at goodmantheatre.org.
Photo Credit: The Goodman Theatre