As the Sixth banner rose on the opening night of the 2015-16 season, the reality of the end of the impeccable 2014-15 hockey season became even more concrete. Thankfully, as Blackhawks fans, we have a favorable prospective season that we can continue to get hyped up about! Here are 8 reasons why.
1) Coach Q
Though his face rarely seems to show any sort of emotion other than a seriously stern look of complexity, I think it's safe to say that every Blackhawks fan believes "In Q we trust" to guide our team with wisdom and diligence. With a fresh season ahead, I'm thrilled to see what Quenneville will orchestrate.
2) New Blackhawks
As Hawks fans, of course we all have special bonds with the players who worked cohesively to bring Lord Stanley back to Chicago. When the time came to change up the roster, we undoubtedly experienced some grief over losses like Sharp, Oduya, Saad, etc. Rest assured, our organization knows what they're doing! New Blackhawks including, but not limited to, Baun, Panarin, and Anisimov have promising futures and it's going to be exciting to see them develop through the season.
3) New Chemistry
Speaking of new players, we also have new line combinations and the developing chemistry that comes with them. Judging by the season opener game, there are some very propitious lines already. Specifically, in post game comments, Coach Quenneville and Lundqvist (Rangers goaltender) commented on Anisimov, Kane and Panarin as being a productive line for the Blackhawks during the season opener game. Building further hype, there are prospective lines like Desjardin-Kruger-Baun and Bickell-Teravainen-Garbutt that are certain to make an impact to remember on the ice this season.
4) Banner Number 7
As we proudly raised the 6th Stanley Cup Champions Banner, we held on to the hope that the buzz is not over. We aren't ready to give up possession of Lord Stanley! The Blackhawks embody a solid roster of veteran players and fresh talent eager to protect that title and hopefully raise banner number seven in 2016.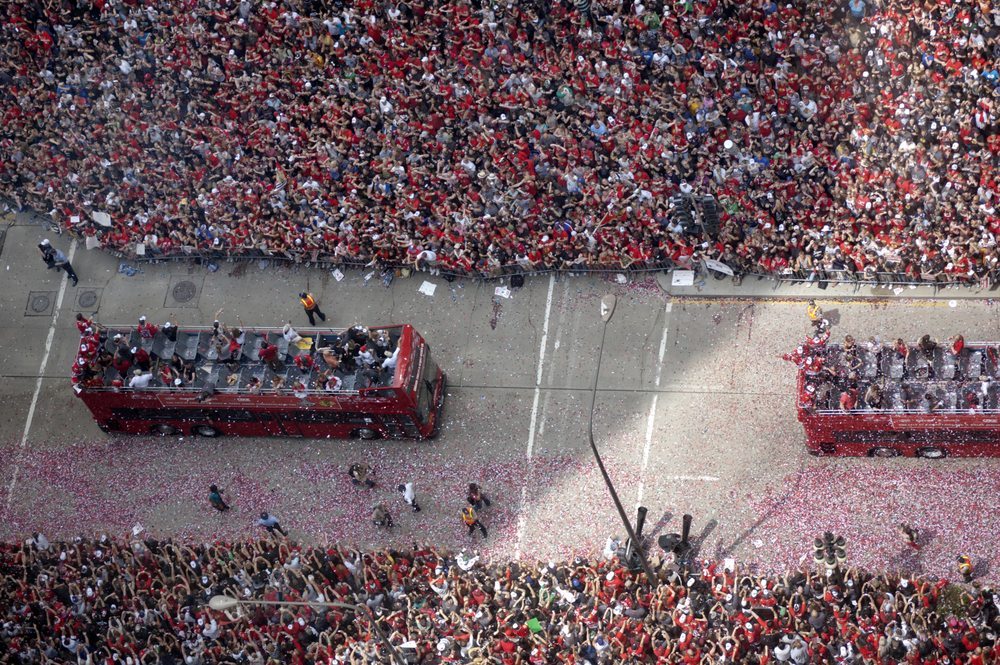 5) 2016 Favorites
Everyone remembers the Westgate SuperBook prediction that the Blackhawks would be the 2014-2015 Stanley Cup Champs, right? With 6-1 odds, they outpace the New York Rangers (8-1 odds) for the 2015-2016 season as well!
6) Match-ups
In pre-season Hawkey, we got a taste of what's to come with the match-ups against teams who acquired some of our most recent favorite Blackhawks. The anticipation is something that will surely get everyone hyped up!  I think these match-ups will prove to be some of the most emotional for Hawks fans and players alike, and it will definitely be something to look forward to.
7) The Madhouse
Whether or not you get the opportunity to stand in the UC at some point this season, or if you're simply watching the game at home, you are certain to get hyped up as Jim Cornelison belts out "The Star-Spangled Banner" from the ice as the Madhouse roars with cheers and applause.
8) Dat Dagger
The horn blared with success as Panarin and Teravainen racked up the first two goals during the season opener, but after the horn sounds, there's an all familiar tune that hypes up Hawks fans like no other: Dat Dagger. If hearing Chelsea Dagger alone doesn't give you all the feels, you might need to get your emotions checked!