Honestly, why would you EVER turn to Walmart or Amazon when there are plenty of Chicago small businesses with brilliant inventories and definitely could use your support this holiday season, right? This list is for you if you're exploring unique gift ideas from Chicago businesses. Whether artisan goods, underrated food-related gifts, or pampering services, there's something for everyone.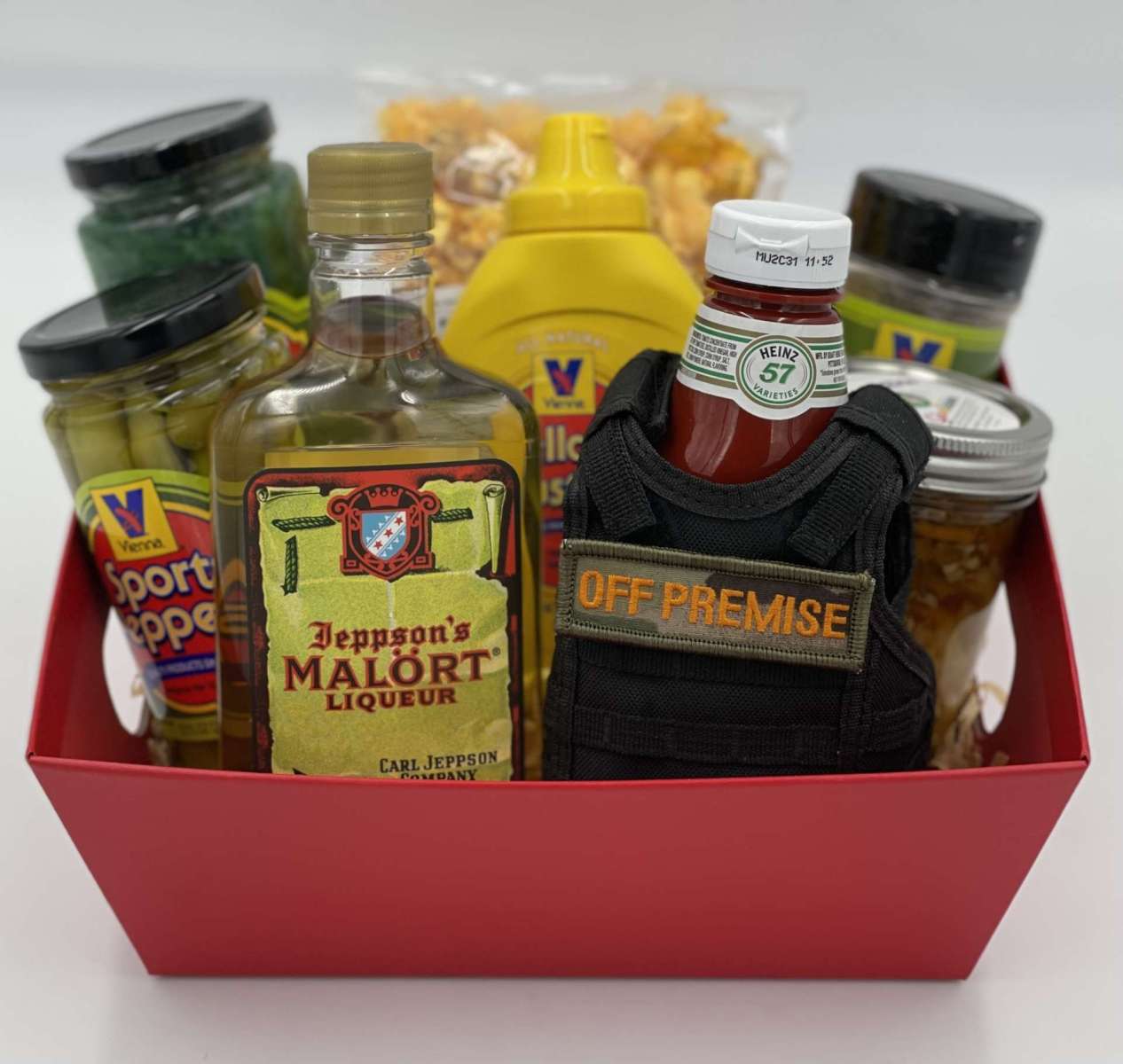 The Chicago Gift Basket
from Off Premise
Off Premise, Chicago's best boutique shop for wine, craft beer, whiskey, and agave in the heart of Lincoln Park, offers incredibly thoughtful, unique, and tongue-in-cheek holiday gift baskets. We've featured their pet basket in our Chicago holiday gift guide for fur babies. Now, we want to bring your attention to a basket for humans!
The "Welcome To Chicago, Pal" basket features Jeppson's Malört, Pickled Prince Giardiniera, Vienna Beef fixings to make Chicago-style hot dogs, a ketchup bottle "protected" by a toy bullet-proof vest, and more. This is the perfect gift for your non-Chicago friend if you want to give them a "best of Chicago" wrap up!
Membership or eGift Card
from 99 Counties
Is there a meat eater in your life? Gift them the utmost satisfaction with a 99 Counties membership or gift card! Digital gift cards can be purchased directly on 99 Counties' website and are available in denominations $50-$500. Meanwhile, the membership will grant your beloved 10% off on all purchases, free delivery, and priority access to their meat. Our readers can also enjoy $20 off membership with code URBAN!
In addition to supporting local farmers, 99 Counties is dedicated to maintaining the highest standard in regenerative practices and providing quality products to consumers across the Iowa and Chicagoland area. Therefore, rest assured that your money is well-spent and will go back into the community.
Oxygenetix's breakthrough line of Oxygenating foundations, concealers, and moisturizers help heal and conceal acne, skin injuries, wounds, rashes, cracked/dry skin, rosacea and more without causing irritation or breakouts! Their unique, lightweight formula provides flawless coverage and is sure to keep your Holiday Glow going strong, even during harsh winter weather conditions.
You can find Oxygenetix products from many local beauty salons and spas! Support your favorite aesthetician and ask them to help you choose the right gift items.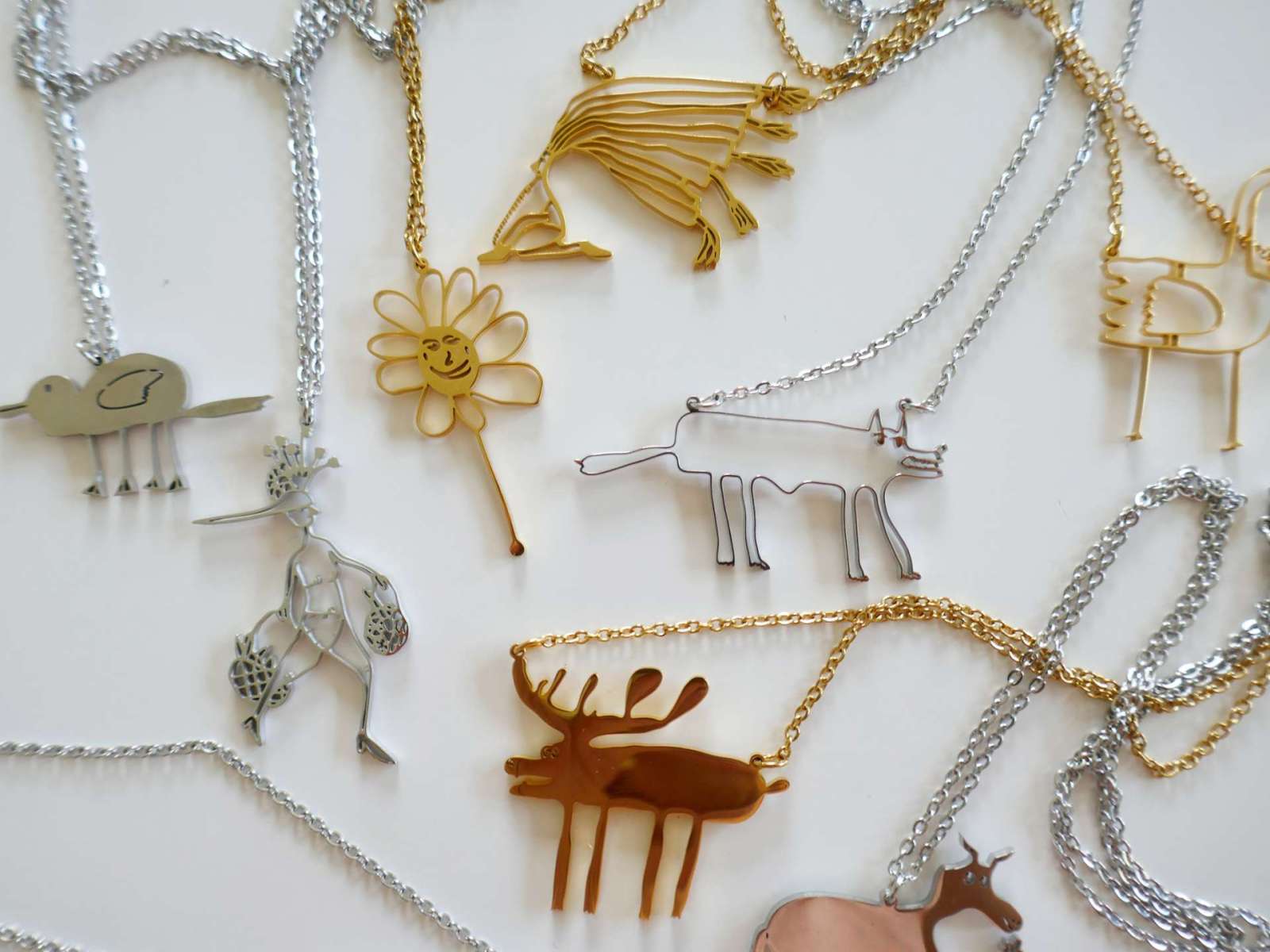 The Happy Eye is an emerging Chicago based jewelry brand that deeply resonates with modern shoppers. The designers combine aesthetically pleasing materials with playful shapes that takes us back into the state of carefree and adventurous spirit of childhood, the time, in which everyone was happy. The pieces are designed to last, develop, and travel with you – from casual bike-rides to mind-blowing experiences.
The brand is represented by the woman owned Wolfbait&B-girls handmade shop.
The Paper Idoll is a unique line of limited-edition magnet sets created by Chicago-based artists. The magnets are inspired by influential artists and prominent figures such as Frida Kahlo, Stevie Nicks, Kurt Cobain, Andy Warhol, Yayoi Kusama, Elvis Presley, and others. Each set contains a movable magnetic doll that is approximately 8in. x 2in. in size along with five to ten themed magnets that highlight unique aspects of the artists' heritage and style. The sets with bright packaging will certainly become an unforgettable souvenir for art and music fans and a great gift for the upcoming holidays.
Paper Idoll goods retails at $45 or $20 per set (depends on size), making it an affordable keepsake. You can find them at Wolfbait&B-girls brick and mortar shop in Logan Square.
A subscription to products from Ladder, the sports nutrition brand founded by LeBron James and Arnold Schwarzenegger, will deliver the best sports supplements on the market, directly to your loved ones, each month. Ladder is dedicated to creating high-performance, NSF Certified for Sport workout supplements for daily use. The company formulates products to complement a strong nutritional foundation and unlock the next level in training and exercise. If you know someone who's a gym enthusiasts, they'll certainly love this unique holiday gift!
Grab a jar of Sfera's Housemade Sfera Marinara or Chili-Garlic-Herb Oil this holiday season for that chef in your life! Both jarred sauces are staples at Sfera and have a loyal following with their guests. Sfera Marinara is a handmade sauce slowly simmered in their Edgewater kitchen and has a perfect flavor balance. The Chili-Garlic-Herb Oil is made with extra virgin olive oil and Calabrian chilis, infused with Sicilian spices, garlic, and fresh herbs.
Featured Image: Sfera Sicilian Street Food/Kristen Mendiola