Navy Pier turns 100 next year, and what better way to celebrate than by recreating the largest attraction in Illinois through cutting-edge renovations. The plan, called the Navy Pier Centennial Vision, includes more vivid public spaces, extended year-round programming and sensational evening entertainment options. To top it all off, the project is already looking at green initiatives and sustainable programs for the next 100 years. Here are 7 Standout Features from the Navy Pier Centennial Vision:

1) Pierscape
The Pierscape refers to the actual pier area, or pier landscape. The new changes will include the introduction of public art, water features and relighting the Pier's exterior. These new municipal components will be environmentally friendly.

2) South Arcade
With a focus on unique, diverse Chicago products, the South Arcade will be reimagined as a Chicago-themed food area.

3) Family Pavilion
The Family Pavilion is Navy Pier's entry hall. Here you'll find family-friendly activities, restaurants, retail shops, and kiosks with an authentic Chicago twist.

4) Festival Hall
This is where the majority of Navy Pier events are staged. Annual entertainment options like SOFA, Winter WonderFest, and the Chicago Flower and Garden Show aren't going away anytime soon, so feel free to breathe a sigh of relief. This area will continue to host these events and more while creating better connections to the surrounding areas.

5) Events and Entertainment
Navy Pier has long been seen as a place for families and young children. While that won't change, one of the main focuses has been on increasing the pier's appeal among adults. They're doing this in two ways: allowing open alcohol (yeah, seriously), and creating new musical and performing arts events.

6) Boutique Hotel
That's right, the pier is looking to add a small hotel on the east end of the pier. The idea hasn't been finalized, but there have been discussion of adding a restaurant and rooftop terrace for dining and special events.

7) Larger Ferris Wheel
This one was all over the news a while back, and for good reason. The new Ferris wheel will be 196 feet tall, or 50 feet taller than the current wheel. It's going to have temperature-controlled gondolas as well.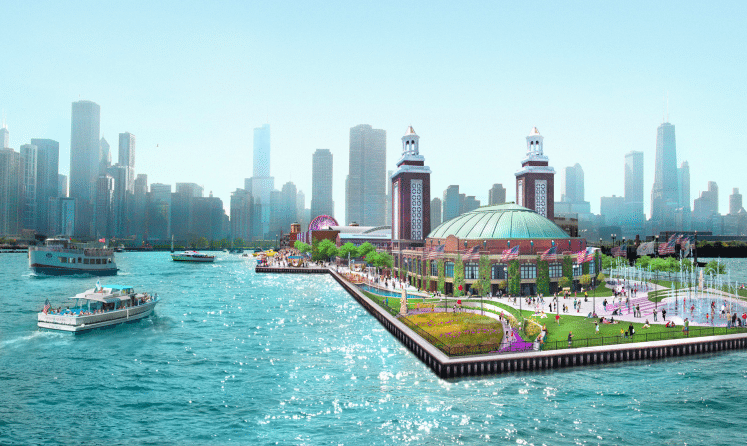 Happy birthday, Navy Pier. Your gift is in the mail.