On Veterans Day, November 11, 2015, CBS Radio and US99.5 hosted the first ever Stars and Strings event at the Chicago Theatre.
The star-studded lineup featured Dierks Bentley, Chris Young, Gary Allan, Hunter Hayes, Jake Owen, Jerrod Niemann, Justin Moore, Kip Moore, Lee Brice, Little Big Town, The Band Perry, and a couple surprise guests, in a stripped down, acoustic format! This was easily one of the most well-executed events in terms of lineup, production, and content. Words cannot do justice to how spectacular this night was, but I will tell you that there was celebration, respect, honor, laughter, and so much country music! Here's a glimpse of some of the highlights, with 7 Memorable Moments from Stars and Strings!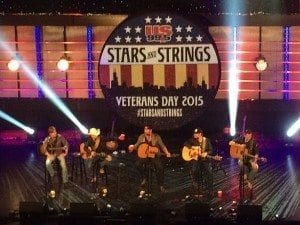 1) Niemann's obvious love for Chicago
In the 30 minutes that Jerrod Niemann was on stage alongside buddies Lee Brice and Justin Moore, he mentioned Chicago several times. His first comment was, "This is our favorite city! No joke. Three guys in our band are from Chicago. What I love most about Chicago is how much you all love live music. You know how to do it well in Chicago! Good music, good food, good local beer!" As he led into his song "Blue Bandana" which mentioned "Lollapalooza" and the crowd went wild. Before closing out, he talked about his ties with Duncan Keith and the Keith Relief event he played at Joe's Bar, and that US99.5 remade "Drink To That All Night" into a Blackhawks version during the Stanley Cup.
2) Lee Brice's gratitude
When Lee Brice was about to perform his single about a soldier's ultimate sacrifice, "I Drive Your Truck", he got all emotional, "Let's celebrate. This song has changed my life. Beyond it being a #1, because of the stories I hear every day inspired by it. It makes me look at my family thankfully on a daily basis. This song has been a humongous blessing in my life and continues to be. This goes out to our vets, our soldiers who fight the battles, wars, ultimate sacrifice, daily sacrifice. All to protect strangers like us. Thank you."
3) The Band Perry's third favorite live show moment
"Two of our favorite live show moments happened right here in Chicago. Playing at Wrigley Field with Brad Paisley, and Wrigley Field again, with Blake Shelton. I already know that tonight will be our third favorite!" Amanda Perry of The Band Perry. (Check out this exclusive clip from their VIP sound check party)
Wow! @thebandperry is killin it at soundcheck but we're far from #DONE! #StarsAndStrings #CMchat pic.twitter.com/oKZMzuTdPF

— Tiera Joy ✨ (@TieraBolt) November 11, 2015
4) When Kip Moore made us all laugh, then touched our hearts.
He opened up his set in a seemingly playful mood, "They're going to get tired of seeing my a** if I keep coming," joked Moore, as he was just here for Lake Shake this summer, and two weeks ago for two sold out nights at Joe's Bar. Next, Moore touched our hearts with a beautiful song about our service members that he wrote while he was on a New York subway, titled, "Battle Cry". "I truly care so much about what those men & women do for us. For us to get to live in this country, to do this. It's unbelievable," stated Kip Moore.
5) When Dierks Bentley made a shout-out to Joe's Bar.
"The Chicago Theatre is incredible. And this lineup. Makes me want to do a theater tour run!" said Dierks. "I was the very first country singer other than Pat Green to play at Joe's Bar & I'll never forget it. I'm still the same guy. I still drive 1994 Chevy truck with 200k miles on it. Reminds me of me & my dad. I still play my same old guitar too. I hold on."
6) When Eric Paslay and Charles Kelley flew across the country to sing ONE SONG as surprise guests.
After a sort-of-encore experience, the show was interrupted with a surprise guest appearance by Eric Paslay and Charles Kelley (of Lady Antebellum) who performed "The Driver", a song Paslay and Kelley wrote and recorded with Bentley as well. Check out this clip!
#starsandstrings @charleskelleyla @ericpaslay @DierksBentley unbelievable surprise performance! "The Driver" #CMchat pic.twitter.com/6RkOfgfCu6

— Tiera Joy ✨ (@TieraBolt) November 17, 2015
7) When Bentley closed out the night.
Dierks closed out the phenomenal event with his song, "Home" and genuinely dedicated it to our service members: "This song goes out to the 1% of people who are fighting for our country. Thank you, thank you, thank you again." Paper confetti encompassed the Chicago Theatre as there was a standing ovation for the artists, as well as our Veterans.