There truly is nothing like summertime Chi. The best part is finally being able to go to the beach. Yes, an actual beach with some gnarly waves. Just walk east from where ever you are in the city and soon enough, you're sure to find some sand, water, and volleyball. While North Avenue, Oak Street, Ohio Street, and Montrose Beaches tend to attract the most attention, there's plenty of fun to be had along the South shore as well.
With that being said, one beach to keep an eye on this summer is 63rd Street Beach. Located in historic Jackson Park, 63rd Street Beach has been a staple for family activities, with its multi-purpose beach house dating back to 1919. There's an interactive water fountain for kids to splash around in and the building itself has an old-timey feel that makes it perfect for picturesque backgrounds.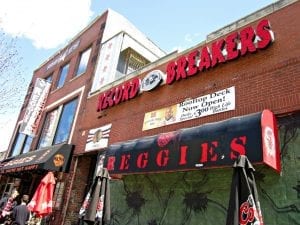 According to DNAInfo, this summer, 63rd Street Beach will be making some pretty cool, summer-friendly changes. In partnership with Reggie's, the famous South Loop concert venue, Jackson Park will be bringing live music, a new restaurant, and a full-service bar to the beach house on 63rd Street. Additionally, a 60-foot deck will be built on the beachfront that will include a stage and seating for outdoor concerts and dining.
Lastly, WaveRunners and paddle boards will be available for rent to guests who want to enjoy summer activities on the lake. Staff will be hired at the beach to ensure safety on the water.
When you ask yourself where to go this summer, keep in mind that there could be a far less crowded, yet rocking atmosphere on 63rd Street Beach. Upon approval by the Chicago Park District, Reggie's plans to open the space to the public in July or August.
Originally Reported by DNAInfo