Believe it or not, Fat Tuesday is just around the corner. Not only does March 1st bring the first glimmer of hope of Springtime in Chicago, but an excuse to join New Orleans in the Mardi Gras festivities. While we're here looking for any excuse to break our weekday diets, Fat Tuesday comes around just in time to indulge in all the best Cajun restaurants Chicago has to offer. What more can you ask for? Whether you're celebrating with an enormous bowl of gumbo, a po-boy sandwich, or a classic seafood boil, we've rounded up our favorite spots to give into your favorite Cajun cravings while celebrating the spirit of NOLA, right in our backyards.
1415 N Wood St, Chicago, IL 60622
There's nothing more synonymous with authentic Cajun food in Chicago than Ina Mae. Located right off Milwaukee in Wicker Park, Ina Mae offers an expansive menu, custom cocktails (did someone say absinthe?), and an atmosphere that will transport you straight to Bourbon Street. Not only do they have a year-round mouthwatering menu, but the party gets turned up a notch during Mardi Gras. The daily happenings include Bayou Bingo, live Blues bands, burlesque shows, and changing food and drink specials.
If you stop in, be sure to order a bowl of gumbo. Chicken, crawfish, andouille sausage, and shrimp all in one dish? We'll take five. Also… Chef Jupiter of Ina Mae Tavern and Frontier will join Mariano's via Zoom to demonstrate how to make traditional New Orleans Gumbo. Registration for the Gumbo Making Class is here.
3343 N Clark St, Chicago, IL 60657
Lowcountry Lakeview brings a new meaning to BYOB. While you might normally think "bring your own booze" Lowcountry wants you to "build your own bag". The specialty of Lowcountry is the seafood boils (in a bag) that start with choosing from a variety of fresh proteins like shrimp and king crab legs, picking your sauce, and choosing your preferred level of heat.
If you're feeling brave, you can order your seafood boil "Ridiculously Hot" or keep it mellow with the "Weak" option.  Each unique bag is sure to satisfy your tastebuds in every flavorful bite. With a backyard-style eating experience, Lowcountry invites everyone to come in, get messy, and dig into some delicious food that'll keep you coming back for more. Who said eating with your hands was for kids?
1549 W Chicago Ave, Chicago, IL 60642
If you're looking for a Cajun restaurant that the whole family can enjoy, look no further than family-owned Spicy Fingers. Now parents, there are some craft cocktails on the menu to help you unwind from another long day of WFH, but the focus at Spicy Fingers is the Cajun seafood menu that'll leave you feeling like you just took a weekend trip to Louisiana.
With options like snow crab, mussels, and shrimp (head on or off, up to you), you can experience the best that Cajun food has to offer without leaving the city. Spicy Fingers is also the spot if you want to try some Cajun apps like fried bananas and homemade cornbread. If you really feel like giving into all that Fat Tuesday has to offer, we suggest ordering your beignets before dinner.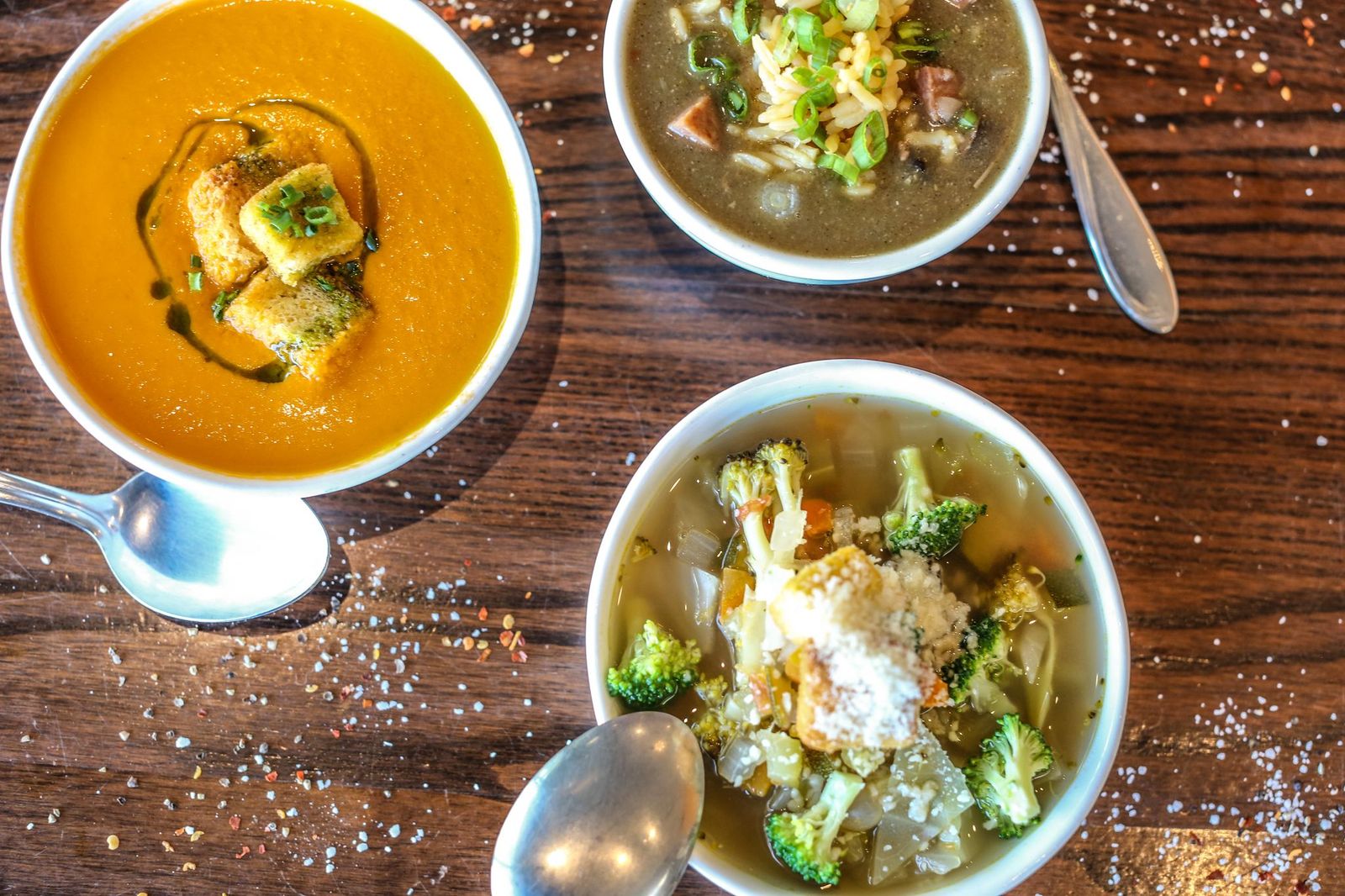 49 E Cermak Rd, Chicago, IL 60616
While not a Cajun restaurant by definition, Mustard Seed is upping their game for Mardi Gras this year.
Warm-up before celebrating with Mustard Seed Kitchen's stick-to-your-ribs gumbo. The Chicken Gumbo ($7.99) is a customer favorite feel-good meal featuring andouille sausage, tender chicken pieces, rice, and scallions. Pair it with the Cornbread with Honey Butter ($1.99) and a side of veggies like the Creamed Corn ($4.99) or Roasted Potatoes & Paprika ($4.99) for the perfect late winter lunch or dinner.
3481 N Clark St, Chicago, IL 60657
Bar hopping down Clark and craving something other than the local burger spot? Nola Bar & Kitchen is the place to keep the party going with an authentic Cajun menu that offers exciting dishes, allowing you to step outside your comfort zone. What could be so enticing? Two words: Alligator. Gumbo. This chicken-adjacent protein is braised in a Cajun seasoning wine sauce, and served baby shrimp, andouille sausage, and chicken over rice for a burst of flavor and spice in each bite.
Looking for an exciting experience to go along with your already exciting meal? The atmosphere and drink menu brings Mardi Gras to Lakeview every day of the year. With Hurricanes, signature cocktails, and an expansive beer list, Nola Bar & Kitchen is a party all the time.
700 S Wabash Ave, Chicago, IL 60605
Name a better combo than live music and delicious food. We'll wait (you can't). At Buddy Guy's legends in the South Loop, a new live act is featured each night, so you can enjoy real Blues music Wednesday through Sunday. Not only does Buddy Guy's showcase the best that Chicago Blues music has to offer, but their expansive Cajun menu is made up of classics like gumbo, jambalaya, and po-boy sandwiches.
Opened by Blues musician Buddy Guy in 1989, this popular club is one of the few remaining Blues clubs in Chicago. Guy still makes appearances, too, hosting shows a few nights a month. If you're looking for a spot to indulge in NOLA classics while enjoying what all these talented Blues artists have to offer, Buddy Guy's is the place for you. 
712 N Clark St, Chicago, IL 60654
Storyville, the new River North bar and restaurant inspired by early 20th-century New Orleans's red-light district, will celebrate Mardi Gras on Tuesday, March 1 with a special Crawfish Boil and King Cake slices. With the freshwater crustaceans being flown in fresh from Louisiana for the festive holiday, the shareable experience will include fresh crawfish ($18.95 per pound) with sausage, potatoes and corn.
In addition, local band Bowmanville will perform live music from 6 to 9 p.m. and Storyville will offer festive beads to all guests.
Featured Image Credit: Ina Mae Tavern