You may recognize Ben Bradford as one of CMT's Listen Up Artists in 2014, who went on to secure a #3 position on the CMT Pure Countdown with his video for "Tequila Makes The World Go Round". After nearly two years of diligent work, his debut EP Alright was released, and is currently available for purchase on iTunes.
I recently caught up with Ben and grilled him – Chicago style – with a few random questions. Get to know upcoming country music sensation Ben Bradford "Just a Little Bit" more personally through these 5 Questions in 5 Minutes!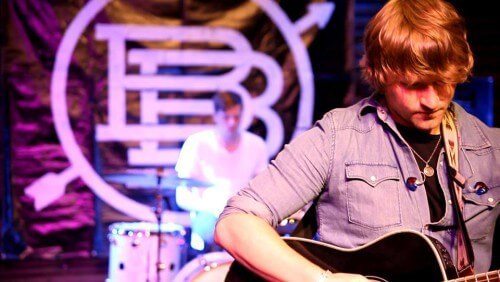 5 Questions in 5 Minutes
With Ben Bradford
1. Describe yourself in three words.
Ben Bradford: Sincere, ambitious, caring
2. What is the last thing you do before hitting the stage?
Ben Bradford: Get dressed.
3. What is your favorite season of the year and why?
Ben Bradford: Winter, because it's deer season.
4. What are the top three most played songs (not your own) on your personal playlist right now?
Ben Bradford: "Like I'm Gunna Lose You", "Die A Happy Man", "Hells Bells"
5. Since we are from Chicago, we have to ask; if you had to pick one food, hot dogs or pizza, which would you choose and what would be on it?
Ben Bradford: meat lovers, for sure – pepperoni, sausage, bacon, hamburger, and if it's ever possible, deer meat.
You can watch Ben Bradford perform LIVE in Chicago when he comes to Bub City on Thursday, February 18 at 10:00 pm!