We're excited for a large number of reasons, and we're willing to bet that a few of you diehard Hawks fans out there are too. Here's why.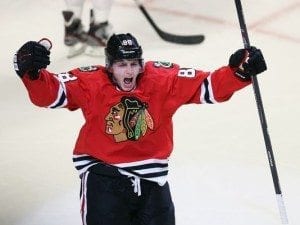 1) It Should Be Huge
We don't have all the details yet, and we figure we won't for quite some time, but make no mistake, the NHL wants this to garner some more attention than usual. As big as it is for the city to host a sporting event of this stature, it's even bigger for the NHL to raise awareness for one of the lesser popular major sports leagues in America. In a city with a large population and huge hockey following like Chicago, we're willing to bet they'll pull out all the stops.
2) This Is a Huge First
Even NHL Commissioner Gary Bettman couldn't believe that an Original Six city like Chicago has never previously hosted the NHL Draft. The Chicago Blackhawks were founded way back in 1926, which leaves no excuse for the city left off the draft map for so long. Still, it's a big first for us, and it comes at the perfect time – as the Blackhawks are currently in the midst of the organization's Golden Age.
3) The NFL Draft Was Huge Success…
…And there's no doubt the NHL was watching. NFL Draft Town and the subsequent events that followed may have changed the future of the NFL Draft forever. In fact, it was so popular that the NFL announced its return to Chicago in 2017 as well. Let's see who can do it better.
4) This Will Continue to Pave the Way for Future Drafts
With USA Today predicting the Cubs and White Sox to top their respective leagues in wins this year, baseball in Chicago might be reaching new heights. If all goes well with the NFL and NHL drafts this year, you can bet that Chicago will receive strong consideration for an MLB All-Star Game or something of that stature in the future. Of course it's all speculation at this point, but it's not completely out of reach.