It's hard to miss 150 North Riverside. Nuzzled between Canal Street and the Chicago River, the 54-story, architecturally acclaimed office-building slants slightly above its foundation and descends to a base sheathing only two acres of ground on which it sits. Chicagoans and tourists alike awe at its confounding exterior. While we recognize well the outside of this magnificent infrastructure, we have one question: what's on the inside?
Underneath paneled windows enclosing the lobby stands 150 Media Stream.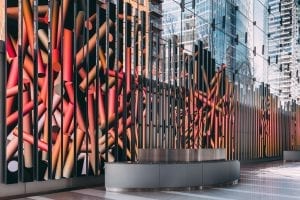 150 Media Stream is a specially curated art installation led by Yuge Zhou, creative director, of Riverside Investment & Development. The installation is made up of 89 slim LED video screens, each stretching 22 feet high and varying in width, and scroll alongside the length of the lobby in a wave-like design. The entirety of the piece spans 150 feet long.
"Chicago is passionate about public art, and advanced technology is something to take advantage of," says Zhou. "The screen is dynamic, customizable, and has the ability to show multiple artists and artworks."
12 artists will showcase about eight different pieces for the remainder of the year, and each month a different artists' work is featured. Currently, the work of artist Jason Salavon illuminates the screen. Salavon takes inspiration from the shape of the beams, as multi-colored cylinders tumble and fall. According to Zhou, the visual progression of Salavon's work continually moves in real time and every sequence varies from the one before.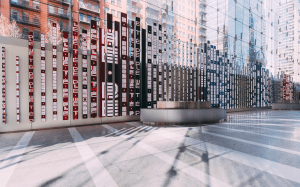 For the 2017 season, Zhou sought out artists she felt had the expertise and potential to take on the project. Zhou gives artists of varying creative concentrations a blank canvas. However, the vast measure of the installation presents artists an impressive challenge. They must produce pieces that are strategic and specially made. The result: a rotation of pieces each unlike the other.
To name a few, design firm Thirst drew inspiration from the recent election. Phrases from the Constitution such as, "We The People," and "A More Perfect Union," animate in multiple directions in a specially curated font. Megan Pryce and Zige Zhang put forward a piece featuring the hustle and bustle of Chicago, with cars driving on streets, marquees from local theaters and human-like characters energetic across the beams.
Video artists, graphic designers, media/digital artists, among others, make up the 2017 class of featured artists, students and institutions. "We wanted to showcase the city's cultural impact, and that established artists of different backgrounds and studies can coexist on one platform," explains Zhou.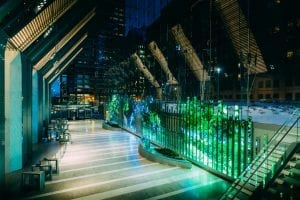 150 Media Stream finds itself becoming more and more recognized among tenants, tourists and passersby. A colorful, moving art structure is bound to garner popularity, especially at night when the LED illuminations can be seen from blocks away.
"Video installations are erupting public art platforms," explains Zhou. 150 Media Stream is only the beginning of showcasing art via this trend. Riverside Investment & Development recently got the "OK" to renovate Union Station, with plans to incorporate a similar installation.
See for yourself the visually stunning 150 Media Stream, whether it's just peeking in or setting aside time during public viewing hours to ooh and ahh.
Public viewing hours: Fridays 6pm – 8pm; Saturdays 1pm – 5pm; Sundays 1pm – 5pm
Featured Image Credit: 150 North Riverside