As you all should know, our beloved Chicago Bears are playing the Green Bay Packers in the season opener on Sunday. Unfortunately, it's more than likely that Aaron Rodgers and the Packers are going to kill us, but we're going to hold our heads high, Chicagoans. Things could be much, much worse. For example, you could be a Green Bay fan yourself. Hell, you could even be from the "city" of Green Bay itself. We all know this would be terrible, but we've decided to break down just how awful Green Bay is as both a city and football team.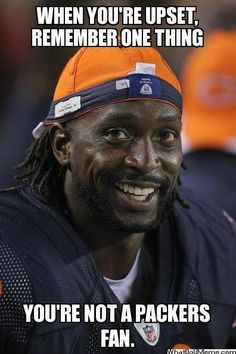 1. They have the least intimidating name in the NFL and no mascot. Think about all of the team names in the NFL that inspire fear into opponents. The Panthers, The Bears, The Vikings, The Rams. These are all things that I would not ever want to fight. Then, of course, you have the Green Bay Packers…now, what is a Packer exactly? Well, the name is referring the Indian Meat Packing company where Curly Lambeau worked. So, while other teams have chosen to be named after ferocious animals that could easily maul and kill you, the fine Wisconsonites have gone with Packers…a guy who's going to can your meats. Right.
2. Cheeseheads? Okay…we get it. Wisconsin has good cheese. What does that have to do with your football team? Actually, what does cheese, in general, have to do with football? We make great pizza in Chicago, but we don't put on it on our heads. Why? Because it doesn't make any damn sense.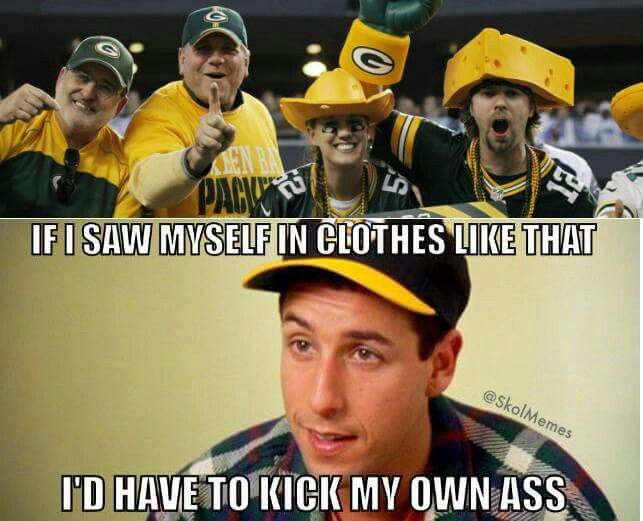 3. The Lambeau leap is stupid. Who came up with this as a celebration? It's more obnoxious than any celebration dance there is. The leap legitimately forces your fans to pat you on the back doing exactly what's in your job description. They buy tickets expecting you to score. Here's an idea: after you score, act like you've been there, and get to the sideline. Do I ask my editor for a high-five every time I finish an article? No.
4. The Packers have been on a hot streak for thirty years, and The Chicago Bears STILL hold the all-time record. At Genie, we're nothing if not honest. The Packers have definitely had our number for a good portion of the last 30 years, but let's think about this. How terrible do you historically play if we're still the ones holding the record?
5. They brought us one of the most annoying football players of all time. That's right, we're talking about Brett Favre. Now, we aren't denying this guy is talented. He's definitely one of the greatest QB's of all time, and if there were an award for the most obnoxious, he'd win that too. How many times did this guy cry during a retirement speech? Way too many to count.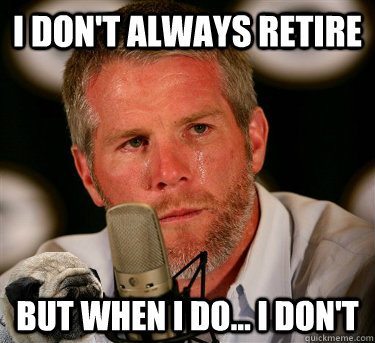 6. The city of Green Bay has almost no diversity. In the entire city of Green Bay, they have a mere 15% of the population that identifies as a minority race. Everyone else is white. Now, we're not saying there's anything wrong with white people; we're just saying that unlike Chicago, Green Bay is culturally void due to its lack of diversity.
7. As a city, Green Bay has nothing to offer except Lambeau Field. Seriously. There's like nothing there. Museums? Nope. Great architecture? Nope. They have a shopping mall, though. Just like every suburb in the Chicagoland area!
8. Speaking of Lambeau…still with the bleachers? It's 2015. Give your fans back support. They clearly need it.
9. Green Bay fans are generally terrible. These might be the loudest and most obnoxious fans throughout the entire NFL, and to top it off, most of them have no idea what they're talking about.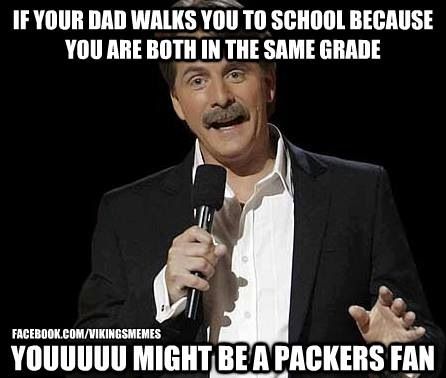 10. They're also unfortunate looking. Do you see the photo below? 'Nuff said.