Whether you're a local or a tourist, Chicago is one of the most vibrant and diverse cities to enjoy a nice little break—even in the winter. And as always, you want to be comfy on your trip. We've talked about the best hotels in Chicago for a Staycation, but we get it – not everyone is a hotel person. Luckily, Chicago is never short of Airbnbs either. Whether it's in the heart of the city, a smaller neighborhood, a modern penthouse, or a cozy artist loft. Below, we've rounded up the best Airbnbs around Chicago for a winter getaway.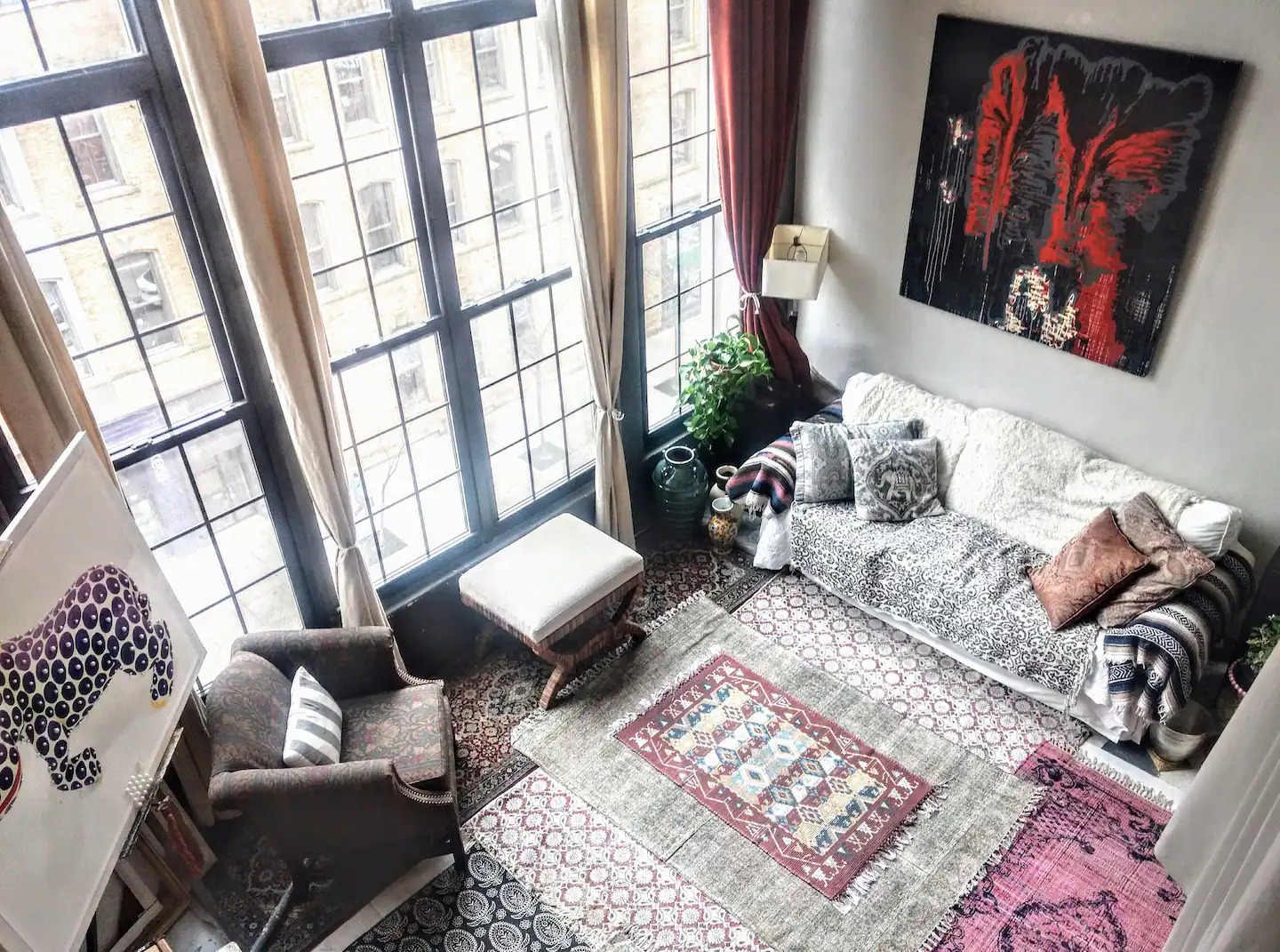 River North
You'll feel like you're living in some sort of Instagram-aesthetic dream in this unique River North loft. Filled with lush greenery inside and out, the shared artist loft is bright and airy. This Airbnb features a private lofted room with a king bed, couch, and chaise. A full bathroom on the main floor has a unique setup but is spacious and comfortable. 
Located in the vibrant River North neighborhood, there is plenty of restaurants, nightlife, the Riverwalk, and the Magnificent Mile is only steps away. The loft offers a skyline view on the shared deck.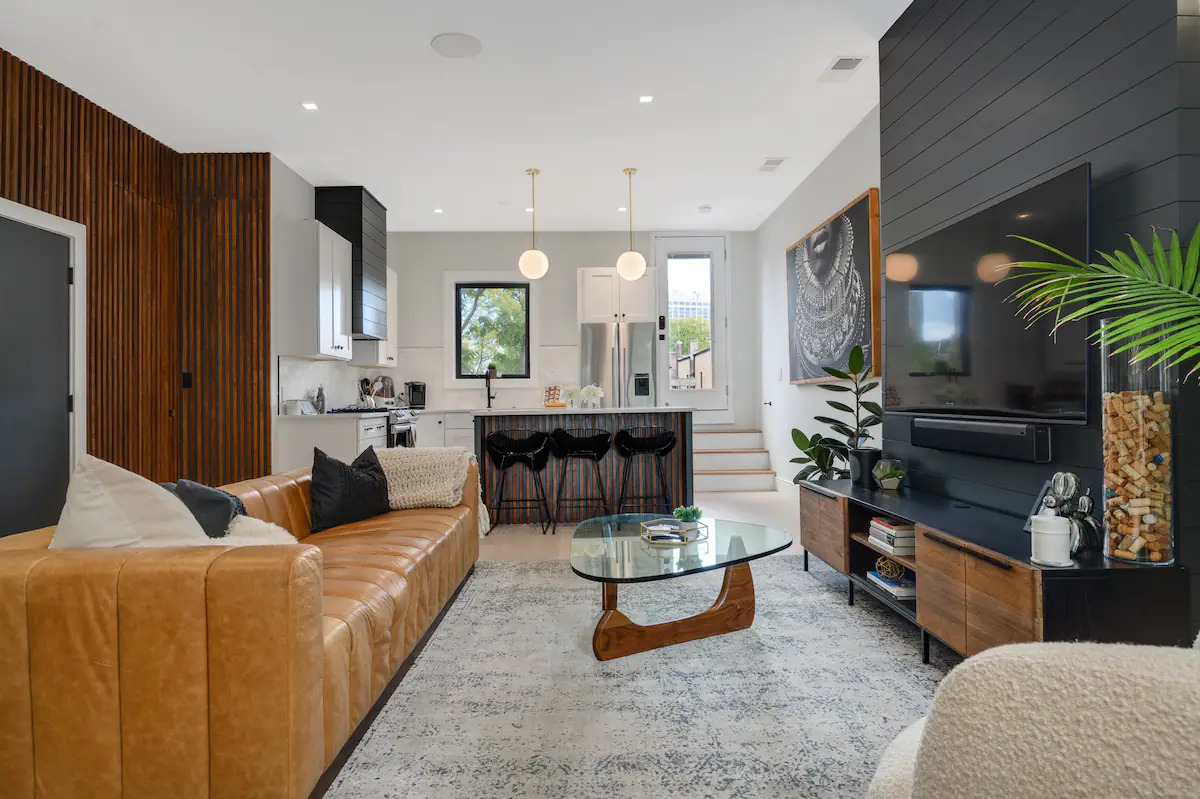 Hyde Park
With a mix of light and dark decor, this luxury condo in Hyde Park is a stunning treat. Your booking gets you the entire condo for up to three guests, including two bedrooms, two beds, and one bath. You can request one twin air bed as well. This Airbnb in Chicago features a full kitchen, in-unit washer and dryer, Peloton, and free parking.
The condo is about 1 mile away––approximately 4 minutes driving or 17 minutes walking––from Jackson Park and the Museum of Science and Industry, where you can enjoy a variety of educational exhibits and beautiful nature.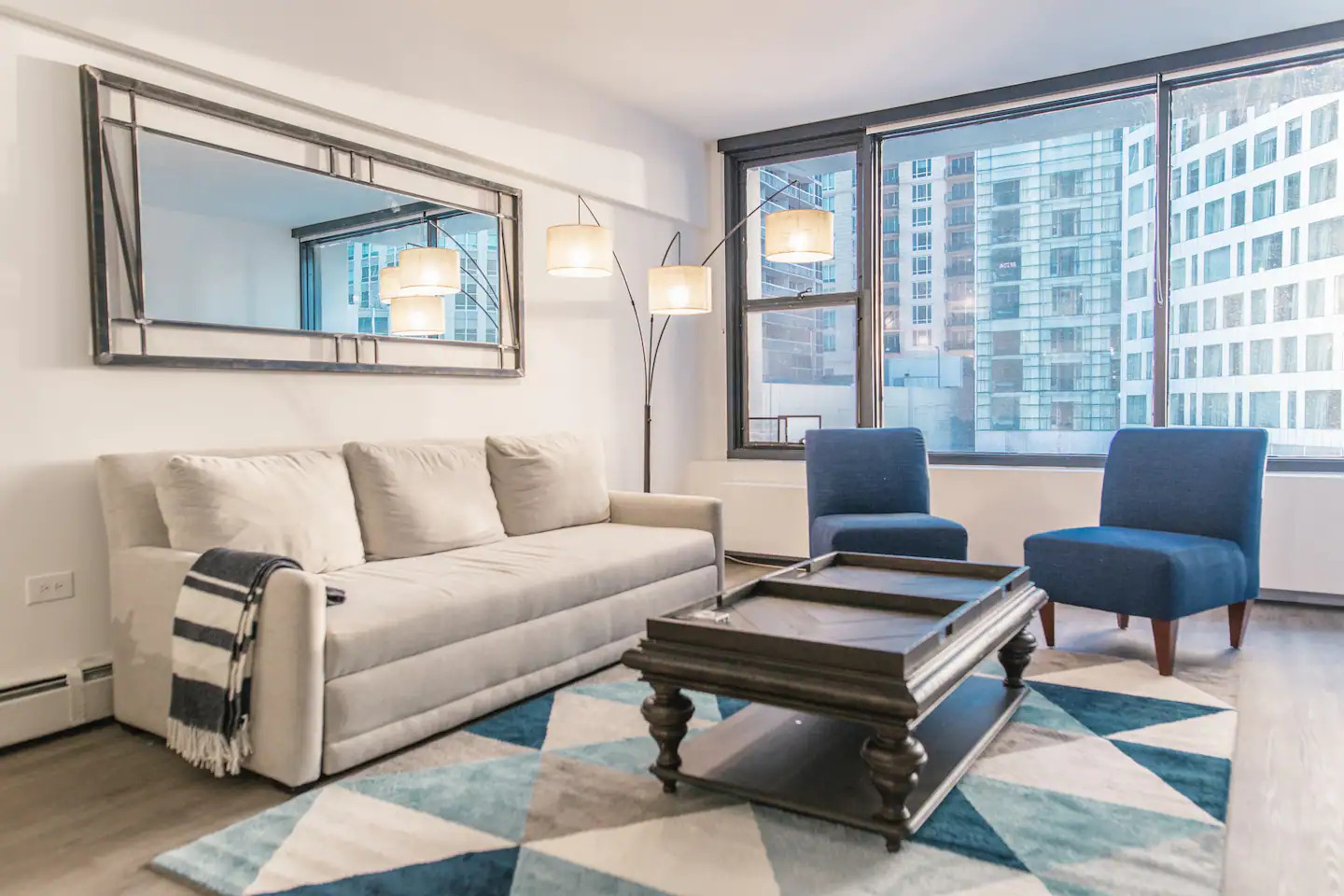 Gold Coast
This luxury apartment in the Gold Coast boasts an open floor plan with a new kitchen, living room, bedroom, bathroom, and building amenities. Up to four guests can stay in the unit with one bedroom, two beds, and one bath. This beautiful Airbnb in Chicago includes a classic arcade machine in the common room. The arcade machine is filled with a variety of games such as Ms. Pac-Man, Pac-Mania, Pac-Man Plus, and Galaxian!
The building has a new gym with cardio and strength training equipment to keep any New Year's resolutions in check. When it's not winter, you can enjoy the building's pool on the 24th-floor rooftop and relax on the patio furniture with city views surrounding you. Located in a bustling neighborhood with everything you need, you won't spend a single minute feeling bored!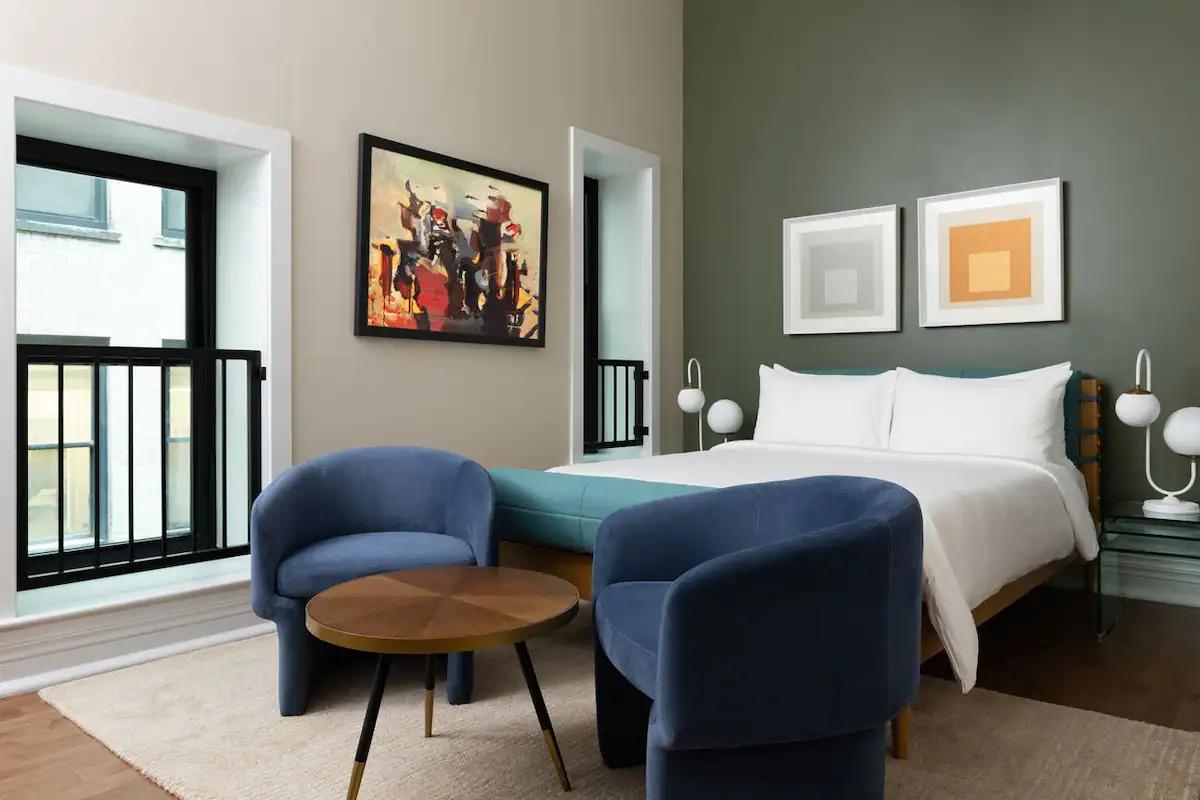 The Loop
This studio apartment in Jewelers Row houses up to two guests and has one queen bed and one bath. It's small, but stylish digs, with highlights including a kitchenette, in-unit washer and dryer, armchairs, and dining and coffee tables.
The Loop is in the middle of all the action with easy access to get anywhere in the city. Jewelers Row is steps from the Art Institute, Millennium Park, and Grant Park, where you can enjoy ice skating at the Maggie Daley Park Ice Skating Ribbon.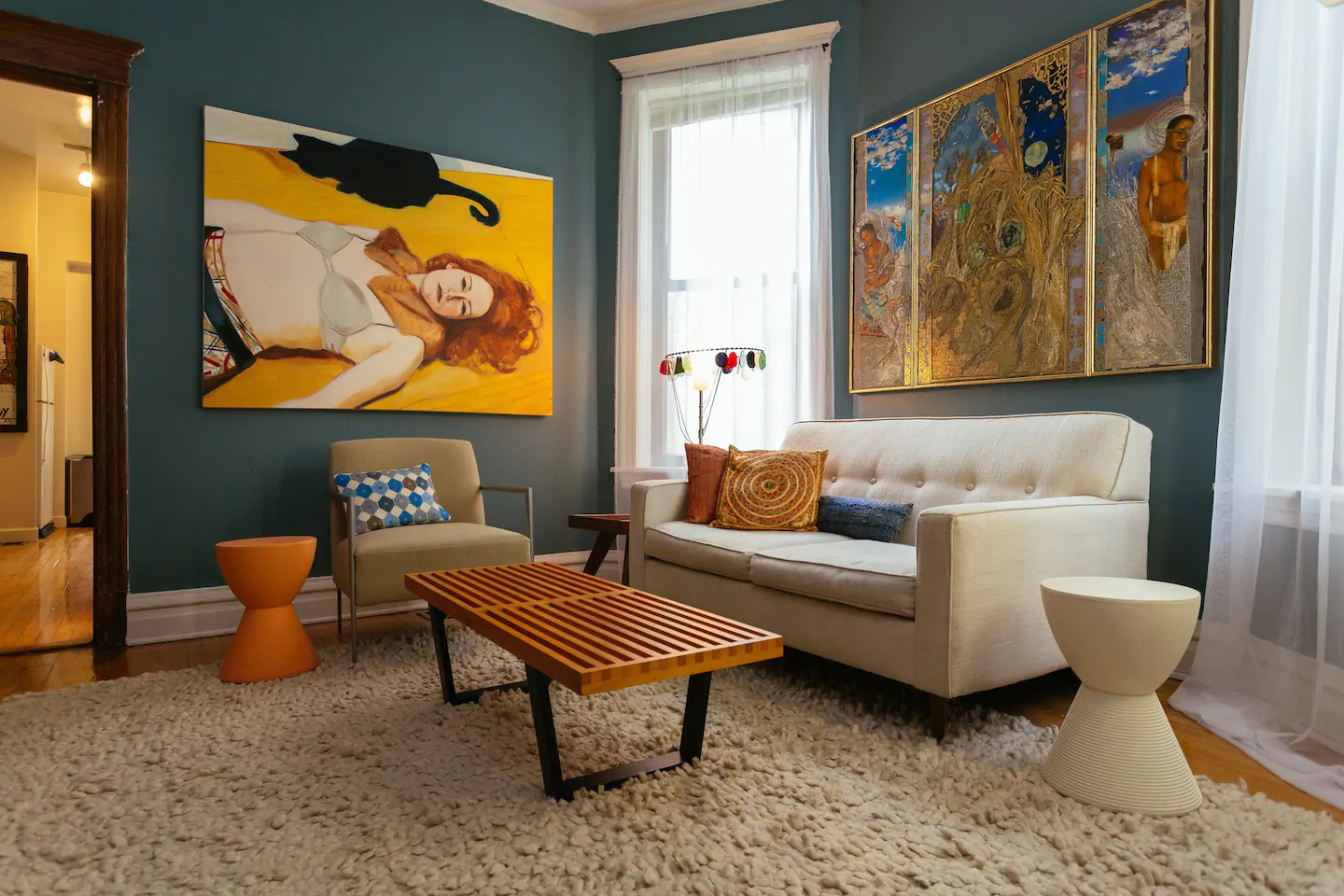 Uptown
Stay in a classic century-old Chicago greystone apartment in Uptown Square, a National Historic District. With a balance of past and present, the historic home is juxtaposed with world-class contemporary art and decor. The listing is for a private room good for up to two guests and includes one bedroom with one bed and a shared bath.
An advantage of visiting this Airbnb in Chicago is that your booking benefits local artists and those in need, including homeless youth. A lot of the art in the home will be sold or donated to raise money for local causes. Further, Uptown Square is home to entertainment hubs like The Green Mill, popular for jazz and poetry performances, and live music venues like the Aragon, Riviera, and Uptown Underground.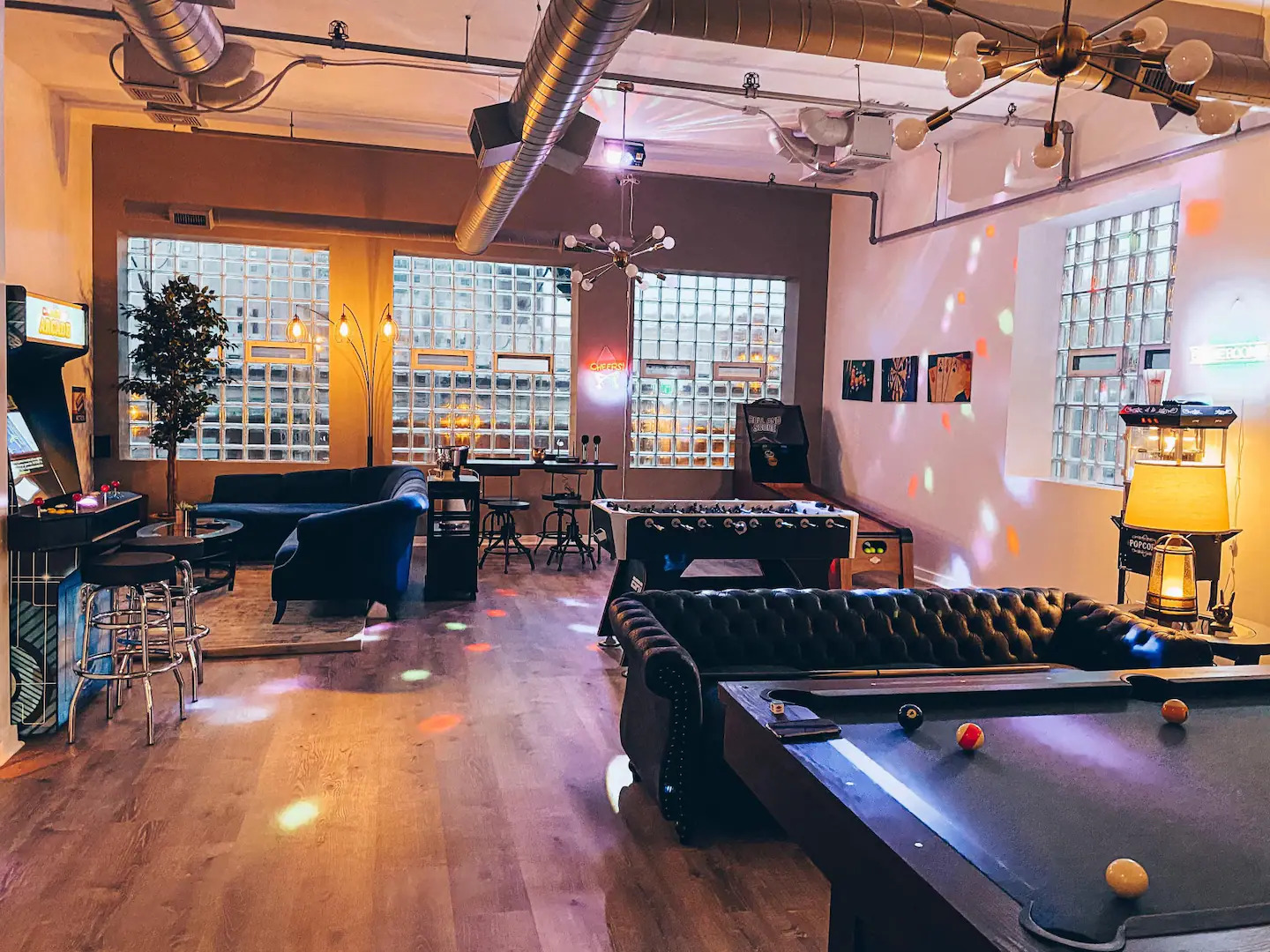 South Loop
If you'd rather stay in and be comfy, this luxe industrial modernist penthouse in the South Loop has quite the amenities and game room. With the entire 2,500 sq ft-loft to yourself, it's the perfect space for a big group stay. Up to 15 guests can stay in the loft and there are two bedrooms, five beds, and one bath. Highlights include a fully stocked kitchen, in-unit washer and dryer, and free parking for one vehicle.
The crown jewel of this home is the game room. With over 4,000 arcade games, board games, a pool table, foosball table, poker set, PS5, and even a popcorn machine, you'll find yourself thoroughly entertained in the game room alone. Located in the South Loop, you'll be close to the Museum Campus, Grant Park, Chicago Symphony Orchestra, and the Art Institute.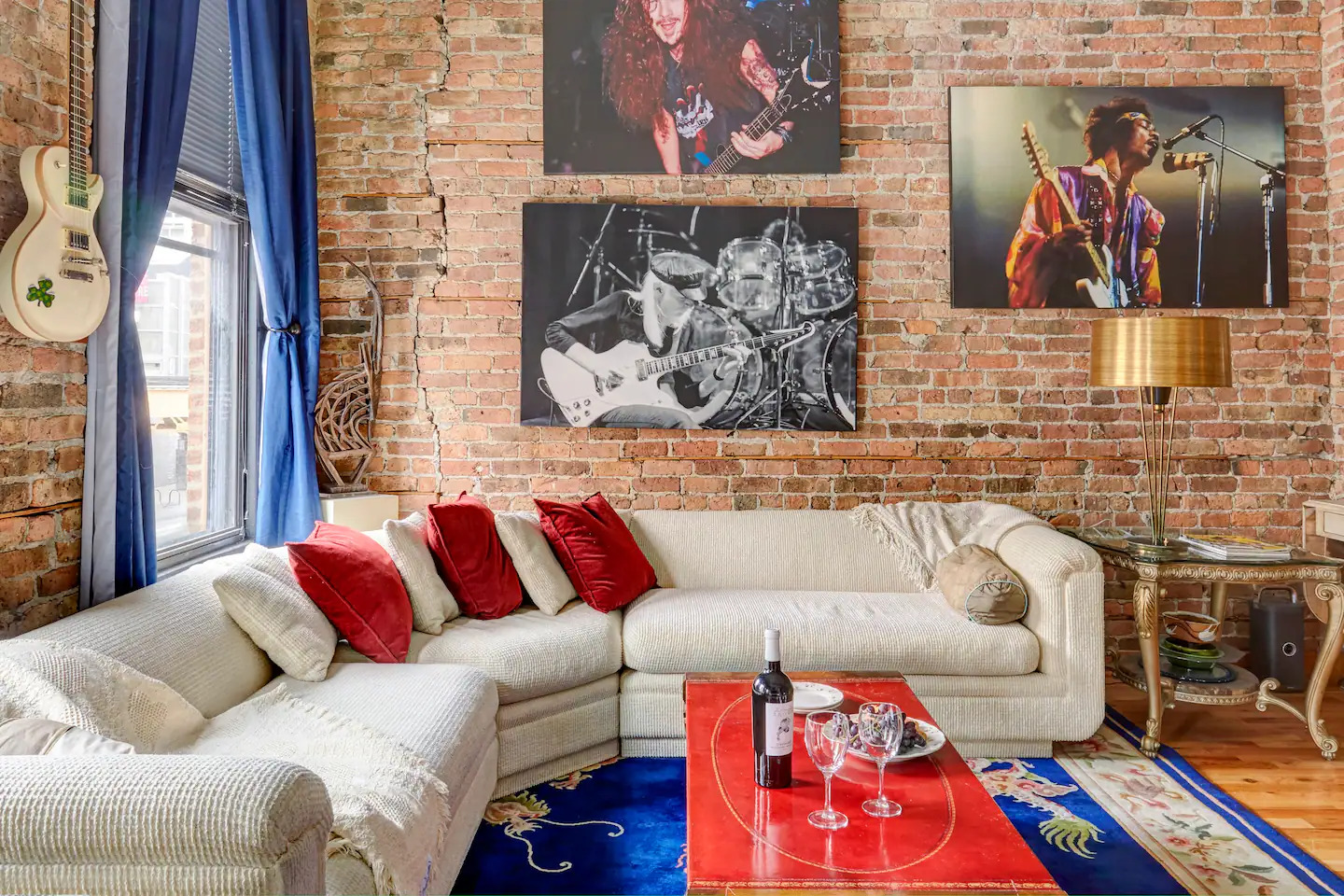 River North
Rock out, or chill out in this industrial brick loft in River North, one of Chicago's trendiest neighborhoods with top-class shopping, restaurants, and nightlife. This Airbnb location in Chicago can accommodate up to six guests and includes two bedrooms, two beds, and two baths. Indulge in the rock n' roll memorabilia including guitars, photographs, paintings, and even a large cardboard cutout of the king himself, Elvis.
There's free parking available, a record player and records, board games, a full kitchen, and in-unit washer and dryer. The listing is for the entire unit to yourself.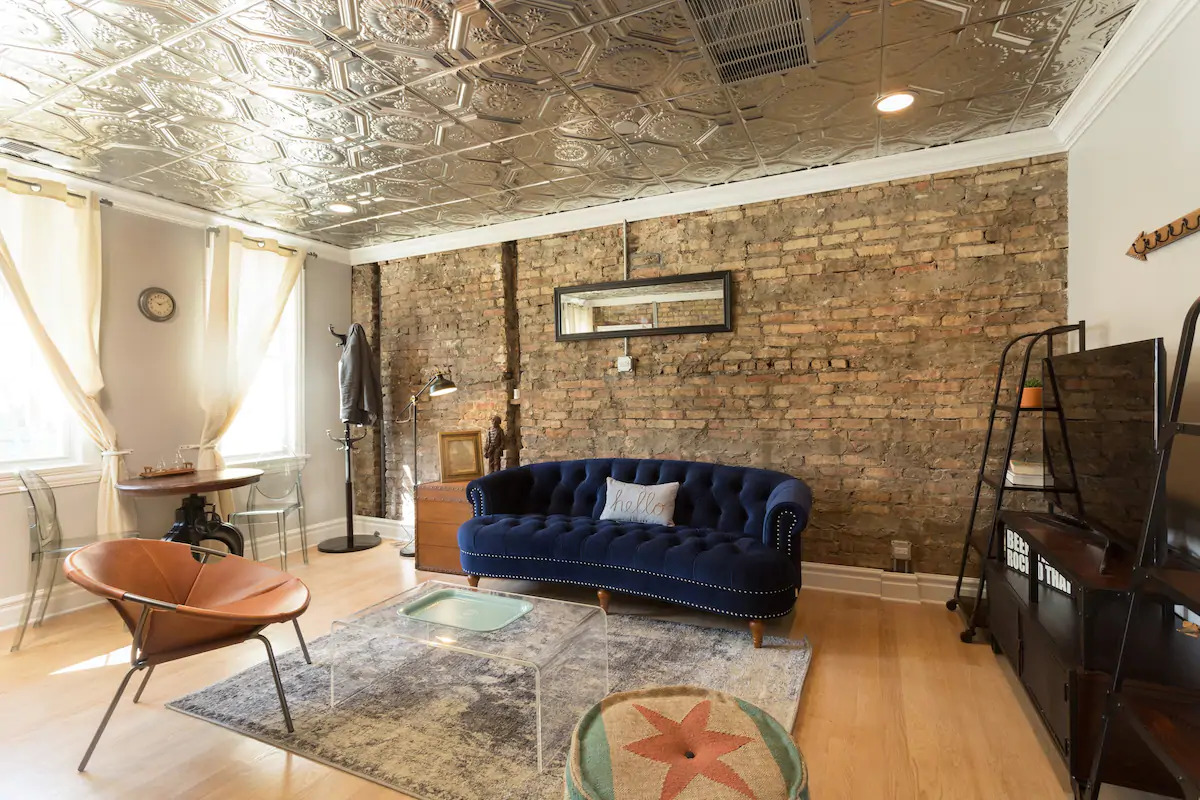 South Old Irving Park
If you want to stay in a less touristy area, look into South Old Irving Park. This beautifully renovated loft is located between South Old Irving and Kilbourn parks, one of Chicago's most historic areas.
You get full and private access to the entire unit, which can accommodate two guests and has one bedroom with a California king bed and one bath with a large shower and rainfall showerhead. There's also a private outdoor deck and a full kitchen for all your basic cooking needs. 
A stunning ornate art deco ceiling tops the living room, adding character and vintage style to the industrial loft. Free parking is included and the hosts even arranged luggage drop-off/ storage with the restaurant below as a courtesy.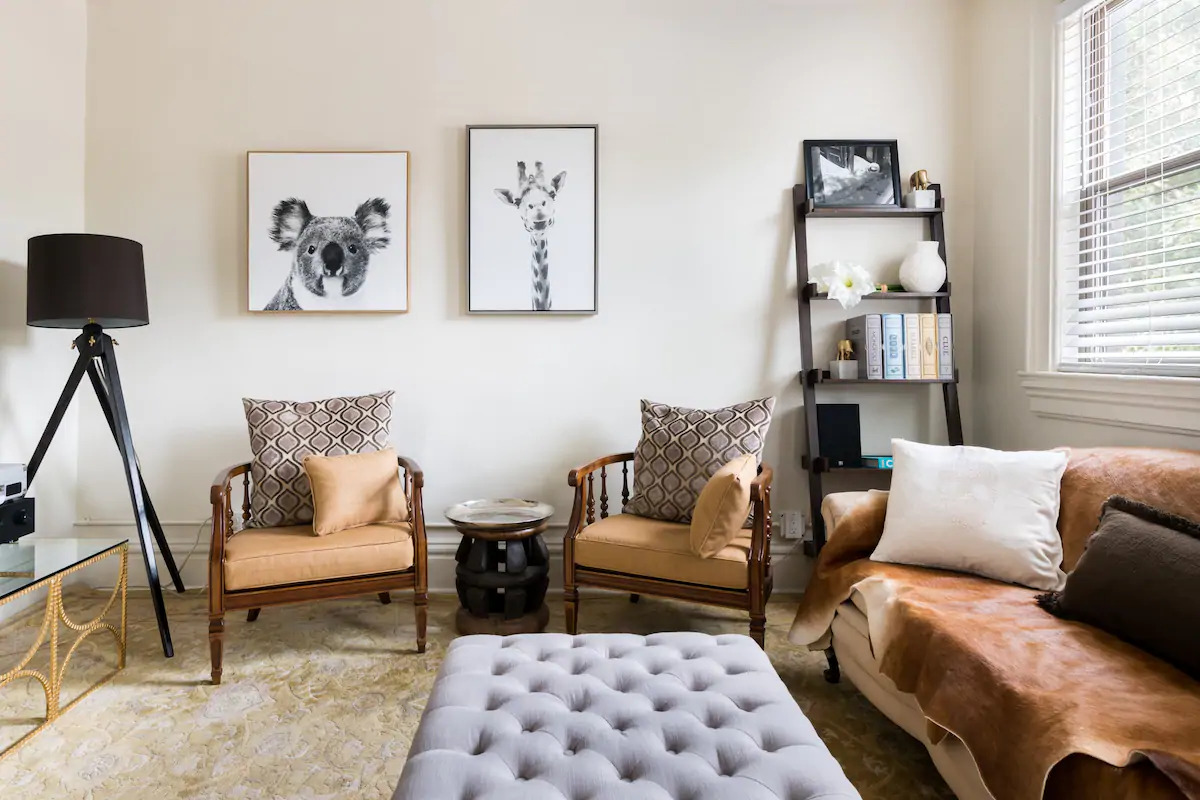 Noble Square
This unique urban oasis in Noble Square is the perfect spot to relax and get away from the hustle and bustle of everyday life. The farmhouse-style home may seem secluded, but you're not far from great eating and shopping within a walking distance. The garden is a lush spot to sit and relax with a hot cup of coffee or tea in the chilly temps. 
You get access to the entire unit with accommodations for up to three guests with two bedrooms, two beds, and one bath. The clawfoot tub and marble sink in the bathroom give a vintage and sophisticated feel. There's a full kitchen and dining space that are spacious and comfortable. You also have in-unit washer and dryer to take care of any laundry needs.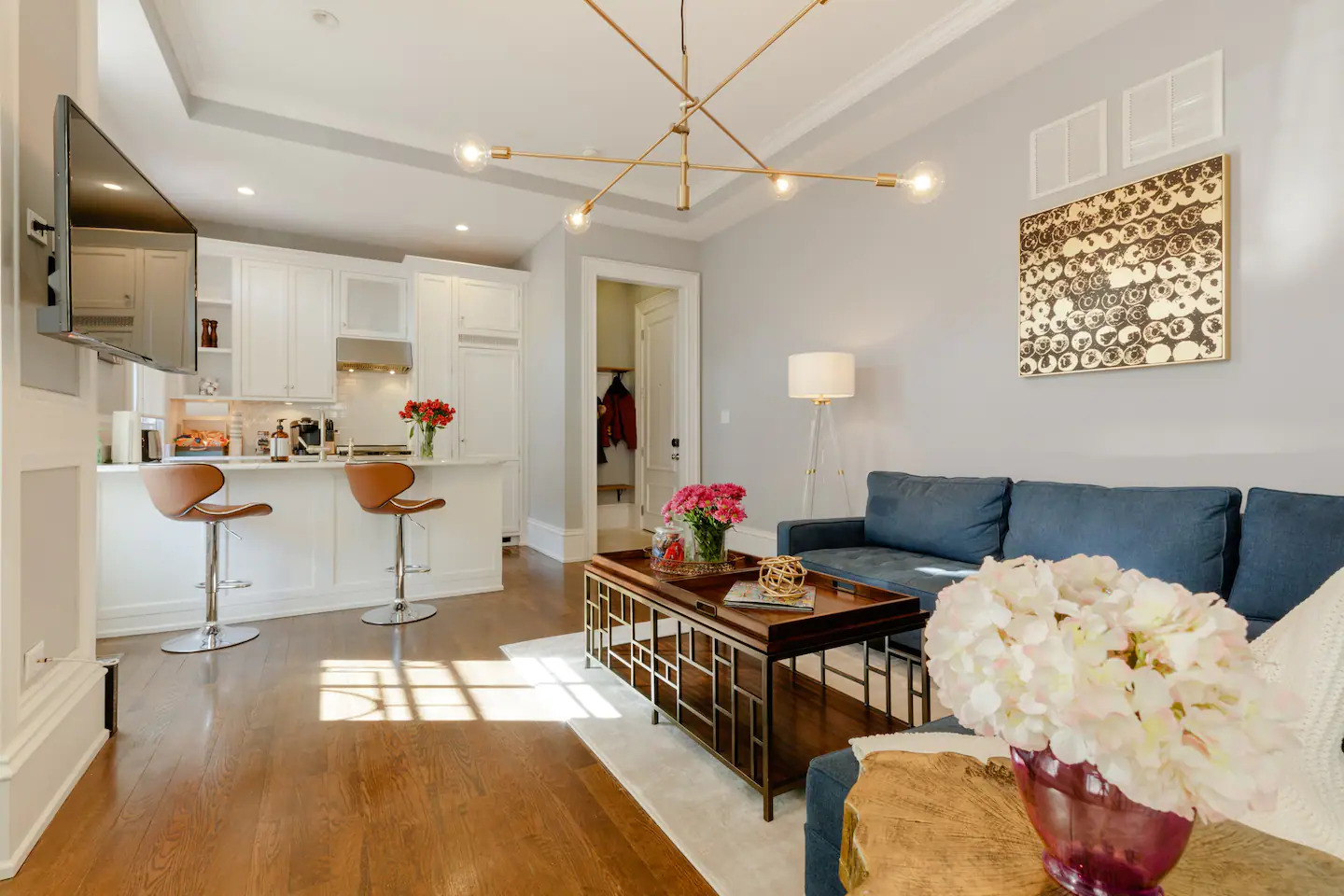 Old Town Triangle
Stay in this contemporary flat in a Civil War-era building in Chicago's historic Old Town Triangle neighborhood—talk about juxtaposition!
Here, You get access to the entire unit for up to two guests and one bedroom, one bed, and one bath. Chic and elegant decor and furnishings, high ceilings, and arched windows elevate this flat's sophistication. The apartment also includes a full kitchen and in-unit washer and dryer. No wonder it's considered one of the best Airbnbs in Chicago.
As for things to do, Old Town Triangle is filled with Victorian-style homes and is steps from Lincoln Park, Lincoln Park Zoo, and Chicago's iconic lakefront and city views. You can also easily take the transit down to the loop for a stroll.
Featured Image Credit: Classic Chicago Greystone Apartment