Music lovers, meet the hot sauce community. The 32nd annual Austin Chronicle Hot Sauce Festival returns this year to The Far Out Lounge & Stage in South Austin, bringing local musicians to the stage for a day of hot sauce tastings, delicious food, and cold drinks on Sunday, September 11, from 3 – 9 pm.
Brave Ghost Peppers and Carolina Reapers or enjoy sweet and savory mild flavor samples from 20 different bottlers. You can even vote for your favorite hot sauce and the winner will be announced at the end of the festival. Sample and take home your favorite hot sauces, brought to you by a legendary lineup of hot sauce professionals: ATX Hot Sauce, Austin Chile Crisp, Aunt May's, Blacklick Spice Company, Boerne Brand Texas Style Hot Sauce, Burn City Sauces, Castaway Sauce Company, Fantastic Fuego, Hill Country Hot Peppers, Mikey V's Foods, My Brother's Salsa/Texas Texas Salsa, Old Bones Chilli Co., Pepper Love, Salsa Maya, Salsero Hot Sauce Co., SAVIR Foods, Swamp Dragon, Teardrop Pepper Company, Wicked Provisions, and Yellowbird Sauce.
Live music is an integrated part of The Hot Sauce Festival, so local musicians will be drawing crowds to The Far Out Lounge stage all afternoon. This year, the spotlight is on Luna Luna, TC Superstar, Mama Duke, and KindKeith this year, with DJ McPullish spinning beats all afternoon.
Explore specialty sauces and peppers, cookbooks, and bites to eat from local food trucks Press Kitchen and Los Danzantes. A full bar will service visitors with ice-cold margaritas and drinks from Lone River Ranch Water and Wild Gins Company.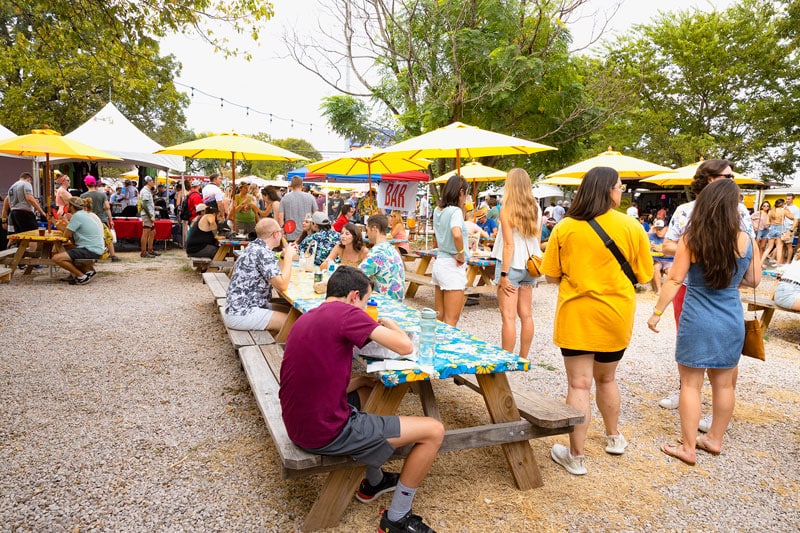 Tickets are just $10 if you purchase them in advance, or $15 at the door. The Far Out Lounge & Stage is located at 8504 South Congress Avenue in Austin, TX, and limited parking is available. If possible, please take public transportation, car pool, park remotely, arrange a ride, rideshare, or ride your bike.
The Austin Chronicle Hot Sauce Festival is presented by Capital Metro and serves as a primary fundraiser for the Central Texas Food Bank, raising over 1.25 million meals throughout its history. No dogs or coolers are allowed on site.
Featured Image Credit: The Austin Chronicle