Whisperings of a new Google office in downtown Austin struck two summers ago, when renderings of a building designed like a sailing ship — think the Sydney Opera House — were released to the media. Now we're seeing the effects in real time as construction on Block 185, where the new Google building will take over, reaches for the sky.
Block 185 started construction in 2019. The new Google building is expected to be 594 feet tall when it's finally completed, making it the fourth tallest building in Austin. We are already starting to see its impact on the Austin skyline, and we can expect the new building to be one of the prettier and more impactful silhouettes against our city sky when it reaches its full 35-floor height. Built right up against Lady Bird Lake at 601 W 2nd St and offering sweeping views of the south side, the new building is a sight you literally couldn't miss if you tried. Google has leased the entire area for its new Austin office.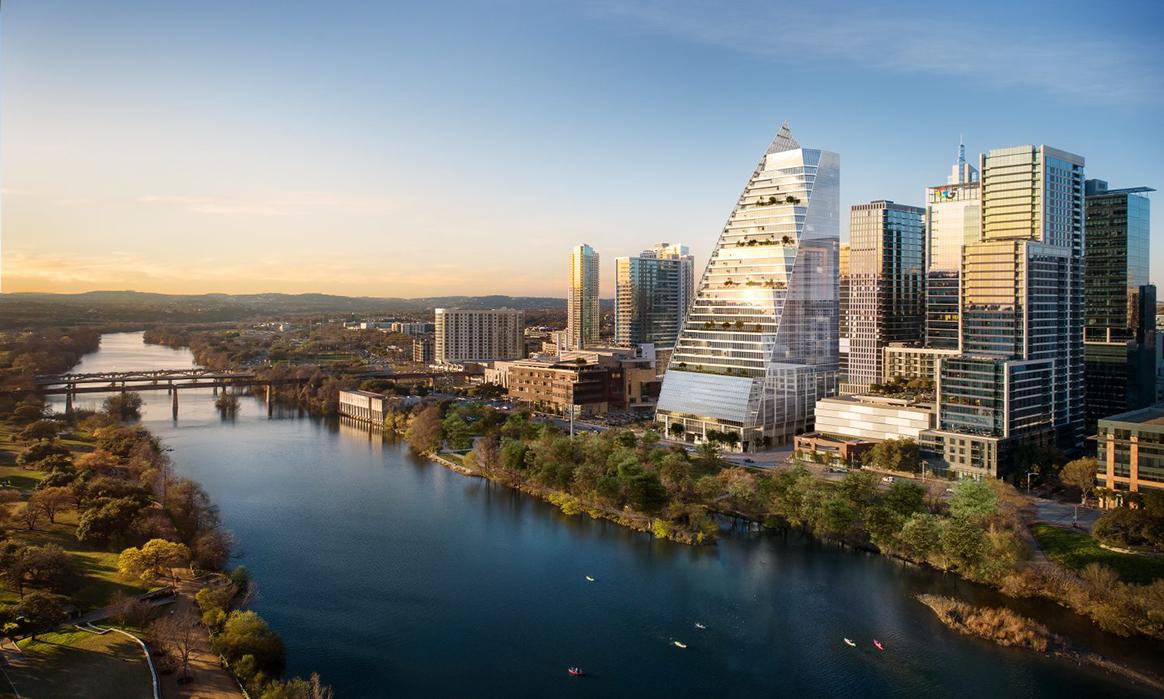 Google already houses 800 employees in Austin at 100 Congress Ave, but with the construction of Block 185 finalized sometime this year (fingers crossed), that means expanding its Texas base to roughly 5,000 employees in the massive 793,883 square feet of office space available. The new Google office in Austin is expected to include a fitness center and recreation areas, lounges, kitchens and dining areas, conference centers, a bar/tavern, and 1,327 parking spaces for anyone traveling from outside downtown.
The new Austin Google office will be just one of many famous buildings designed by architecture firm Pelli Clarke Pelli; the company was also behind the distinguished Petronas Towers in Kuala Lumpur, the 1,000-foot Salesforce Tower in San Francisco, Sevilla Tower in Spain, the Landmark tower in Abu Dhabi, and the Ocean Financial Centre in Singapore. The firm has also established its Texas presence with San Antonio's Frost Bank and Dallas's McKinney & Olive tower.