The pop-up pros and cocktail experts behind The Roosevelt Room and The Eleanor, along with the original Miracle makers from the New York City cocktail bar, Mace, and the nation's leading craft bar tool company, Cocktail Kingdom® are helping spread Christmas spirit within the city of Austin. Stop by The Eleanor to join the team in celebrating their sixth year of Miracle on 5th Street from November 17 through December 27.
Returning this year to Miracle on 5th Street is a drink menu filled with festive holiday-themed libations, thanks to Master Miracle cocktail connoisseur, Joann Spiegel. Guests can choose from options like Snowball Old Fashioned, Christmapolitan, Jingle Balls Nog, SanTaRex, and much more. In addition to the main level bar and mezzanine bar serving the full menu, the Ski Lodge will be returning this year serving Old Fashioneds, mixed drinks, beer, wine, and of course, Miracle's signature shots served on a Shot Ski.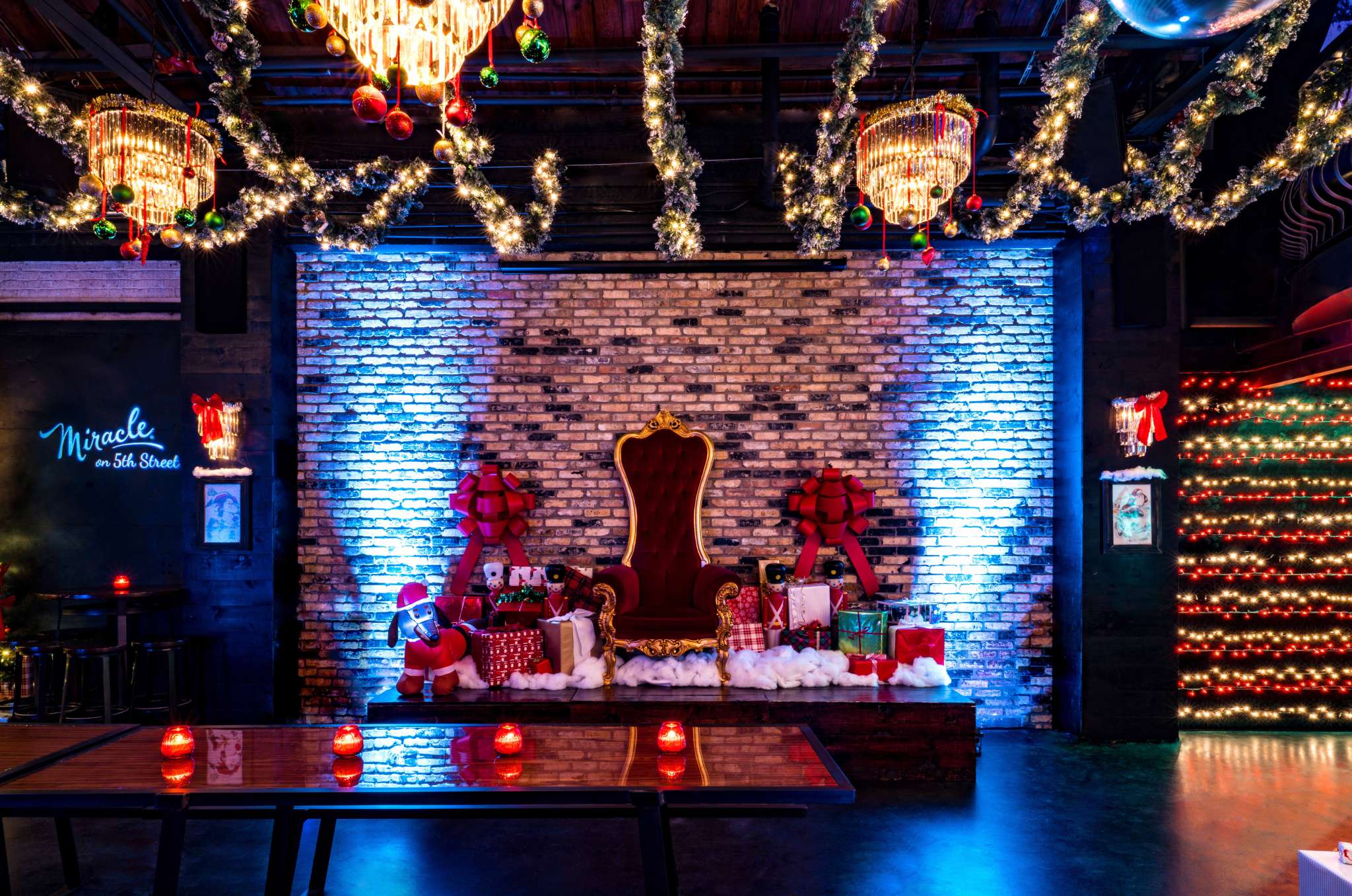 Miracle on 5th Street will be ticketed event this year and will have a strict capacity limit with standing room allowed and seating throughout the venue, operating on a first come, first served basis. General Admission Tickets can be purchased ahead of time at MiracleOn5thStreet2022.Eventbrite.com and include a featured Miracle shot upon entry. Guests can choose between the Naughty Shot, Nice Shot, Mistletoe Shot or a Drunk & Alone mystery shot. General Admission Tickets are not required for the Miracle Happy Hour service from Open till 6 p.m. The 'Twas the Night Dasher Passes are a returning element this year, allowing those who purchase to avoid the long general admission line and enjoy the holiday festivities as soon as possible. Dasher Passes also come with a free shot upon entry. Large parties between 8-15 guests can make reservations on Eventbrite by selecting one (or two for groups up to 30 guests) of the More the Merrier Group Reservation Passes. These passes allow a large group to skip the general admission line and include a designated area on the Miracle Mezzanine reserved for these guests at the selected time. Miracle on 5th Street is also available for private event buyouts by filling out an Event Inquiry Form.
Miracle glassware, merchandise, and to-go cocktails will be available for purchase at Miracle's To-Go Booth located at the front of the venue. For the 2022 holiday season, 10% of all to-go proceeds will be donated to The Austin Children's Shelter (Safe Alliance), Austin Pets Alive! and the James Beard Foundation Open for Good campaign. A valid photo ID proving you are 21+ years of age is required for orders containing alcoholic beverages and must include the purchase of at least one food item. Pre-orders are available on the Miracle To-Go Page.
The concept of Miracle originated back in 2014 when Greg Boehm, owner of Mace, hosted Miracle in the heart of New York's East Village. Since then, this Christmas themed pop-up bar has expanded to over 100 locations within the United States and even reaching other areas of the world including Canada, Europe, Asia and Central America. 2022 welcomes the fifth year of Miracle's sister bar, Sippin' Santa, a tiki-Christmas pop-up presented by Jeff "Beachbum" Berry, hosted at Nickel City.
In accordance with Austin/Travis County and Austin Public Health safety guideline masks are not required for Miracle on 5th Street this year but are encouraged when entering and not seated within the venue.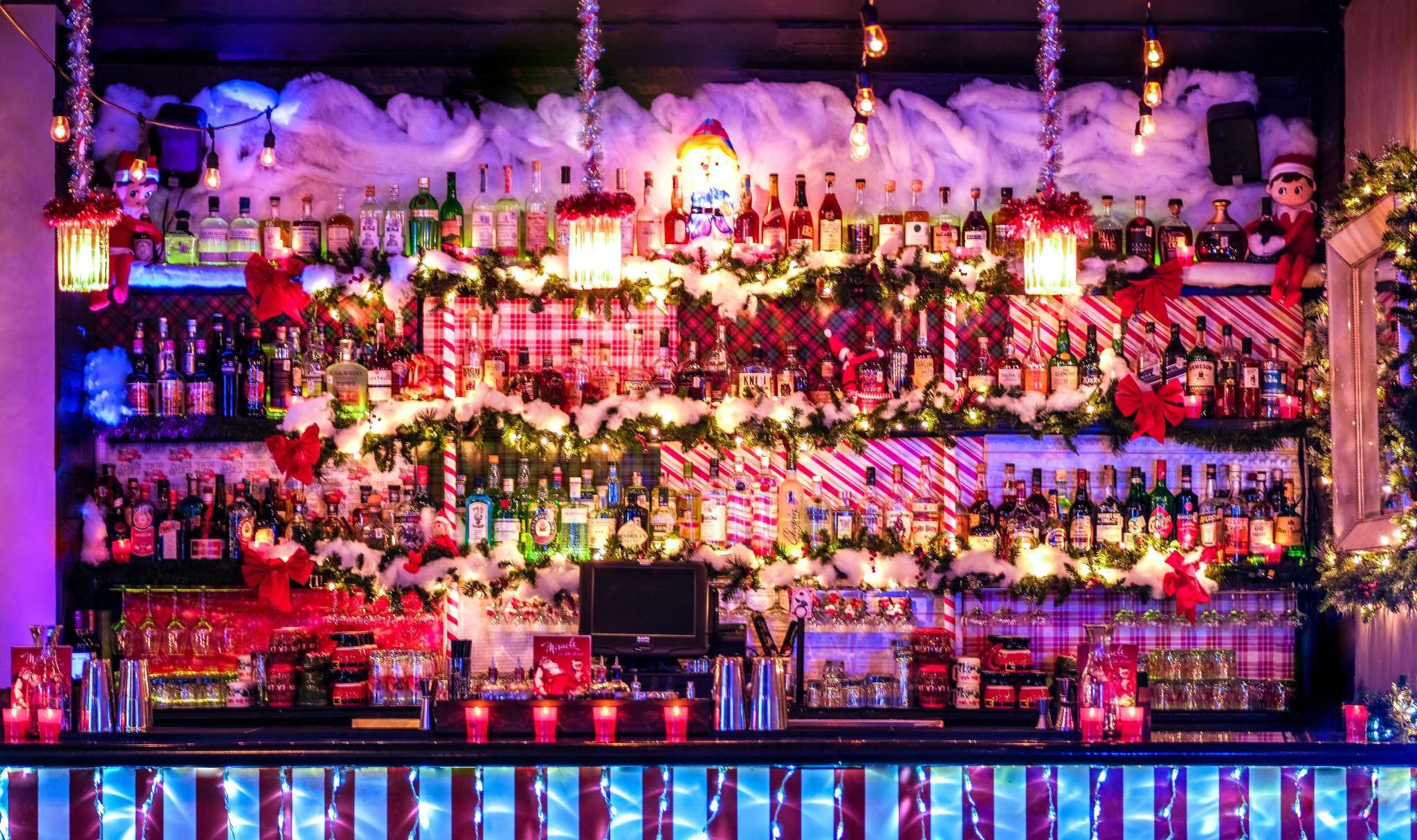 Menu
2022 COCKTAILS
Snowball Old Fashioned: Maker's Mark Bourbon, Gingerbread Syrup, Angostura Bitters, Wormwood Bitters, Orange Peel
Christmapolitan: Grey Goose Vodka, St. Germain Elderflower Liqueur, Noilly Prat Extra Dry Vermouth, Spiced Cranberry Sauce, Rosemary, Lime, Absinthe Mist
Elfing Around: Hendrick's Gin, Mulled Wine Reduction, Grapefruit, Segura Viudas Sparkling Cava
Santa's Little Helper: Botanist Islay Dry Gin, Marshmallow-Cardamom-Black Pepper Syrup, Hazelnut Liqueur, Caraway, Lemon, Egg white, Orange Flower Water, Seltzer *Contains Hazelnut & Egg*
Here's Johnny!: Johnny Walker High Rye Blended Scotch, Campari, Bénédictine, Blanc Vermouth, Lustau Pedro Ximenez Sherry, Mulled Wine Reduction, Vanilla, Mole, Lemon Oils
Chimney Cricket: Espolòn Blanco Tequila, Vanilla Liqueur, Branca Menta, Coconut, Pandan, Mole Bitters, Cream, Grated Nutmeg *Contains Dairy*
Carol Barrel: Flor de Caña 12 Dark Rum & Espresso Liqueur, Chai Syrup, Lustau Spanish Brandy & Oloroso Sherry, Almond Milk, Cream, Long Pepper, Mace, Powdered Cinnamon *Contains Dairy & Almonds*
Yippie Ki Yay Mother F****r!: Bacardi 8-yr Aged Rum, Plantation Xamayca & O.F.T.D., Purple Ube & Coconut Orgeat, Angostura Bitters, Pineapple, Lime, Cedar Sprig, Powdered Sugar
SanTaRex: Hornitos Reposado Tequila, Ilegal Joven Mezcal, Cointreau, Aloe Vera, Spiced Pomegranate Syrup, Lime, Grapefruit, Angostura Bitters, Absinthe, Mint, Powdered Sugar
Jingle Balls Nog: St-Rémy Signature Brandy, Lustau East India Cream Sherry, Almond Milk, Cream, Eggs, Vanilla, Nutmeg *Contains Almonds, Dairy, Eggs*
Hot Buttered Rum (Served Hot): Santa Teresa Dark Rum, Velvet Falernum, Winter Spiced Butter, Oat Milk, Nutmeg *Contains Dairy*
Mulled Wine (Served Hot): Mulled Red Wine, Mount Gay Black Barrel Rum, Cointreau, Dubonnet Rouge, Christmas Spices
2022 SHOTS
Nice Shot: Mount Gay Black Barrel Rum, Peppermint, Chocolate
Naughty Shot: Redemption Bourbon, Cinnamon, Spice
Mistletoe Shot: George Dickel Rye Whiskey, Gingerbread, Winter Spices
Drunk & Alone: Mystery Shot. Tastes better than coal.
WHERE: The Eleanor, 307 W. 5th St. – Unit A, Austin, TX 78701
WHEN: Thursday, November 17 – Tuesday, December 27
Hours subject to change due to private event buyouts. For the full pop-up schedule, hours and updates, view the Official Miracle on 5th Street 2022 Calendar on the pop-up's website and the Miracle on 5th Street Facebook page.
TICKETS: General Admission Tickets, Large Party Reservations and Dasher Passes are all available on Eventbrite.
ABOUT: The Roosevelt Room and its neighboring, kindred event space, The Eleanor in Austin, TX specialize in craft cocktails. The spaces are co-owned and operated by Justin Lavenue, Dennis Gobis, Matt Ross and Matthew Korzelius, award winning and master mixologists. Their hospitable team hosts a variety of events including corporate parties and functions, wedding ceremonies and receptions, marketing activations and product launches, birthday parties, and more. For more information about Miracle follow on Instagram @miracleon5thst or visit https://www.facebook.com/miracleon5thst/, or www.miracleon5thst.com for the full pop-up schedule. Follow The Eleanor on Instagram @theeleanoratx, The Roosevelt Room on Instagram @rooseveltroomatx  and like them both on Facebook at www.facebook.com/TheEleanorATX and www.facebook.com/TheRooseveltRoomATX/.
Featured Image Credit: Robert Lerma