Pacific Hospitality Group's Hotel Granduca Austin is proud to announce its signature restaurant and bar, Laurel, is now open. The menu at Laurel showcases ingredients from the Texas Hill Country while drawing inspiration from Italian coastal cuisine and adding a modern flair.
"In creating Laurel, we wanted to offer guests a relaxed yet elegant atmosphere leaving them with a memorable experience, from the food to the drinks to the atmosphere," said Hotel Granduca General Manager David Putnicki. "While our aesthetic is rooted in Italian beauty, we wanted the menu to be rooted in the deep bounty of the Texas Hill Country with a focus on wholesome menu items while keeping some of the classic Italian favorites so guests can truly live a sense of 'la dolce vita.'"
At the helm of Laurel is Executive Chef Tommy Suddeth Jr., who has extensive culinary experience working at legacy hotel groups including Marriott, Hyatt, Wyndham and Horseshoe Bay Resort. Suddeth brings decades of experience in the restaurant industry to oversee all aspects of the culinary operations at Hotel Granduca Austin to help provide an unrivaled guest experience. Suddeth is eager to take part and contribute to the rebranding of the hotel and restaurant.
"I have spent my career working in various hotels, but this is the most exciting project that I've been a part of. I'm proud to bring a new signature restaurant like Laurel from the ground up to the Austin community," says Chef Suddeth. "We've carefully crafted a mixture of the Italian coast and Texas cuisine with the freshest ingredients to create unique menu items and twists on traditional dishes for something really special."
Laurel offers breakfast, lunch and dinner with menu options focused on flavors to satisfy the cravings of all guests, from kids to adults. Breakfast has something for everyone, from various house-made juices for the health conscious, to stuffed french toast and chicken and waffles for those who want to indulge a little more. For lunch and dinner, Chef Suddeth and his team have crafted their own dough recipe to make authentic Italian-style pizzas with toppings like sambuca crab, tasso ham and blackened chicken for a more Texas twist. The menu is rounded out with dishes from land, like the veal chop and LHA reserve beef tenderloin, to the sea, with Chilean salmon and halibut, and vegetarian options including Impossible meatballs.
Guests can also enjoy a cocktail menu rooted in Austin but inspired by the best spirits around the globe with handcrafted libations such as The Old Thymer made with Still Austin Whiskey and house blueberry thyme syrup; La La Land that features Empress Gin, orgeat and oat milk; Shipwrecked with Bacardi Rum, Cruzan Pineapple Rum and turmeric-infused coconut cream; and the Hillside Garden, a signature zero-proof cocktail made with Seedlip Garden.
Behind the vision of Laurel is Dani Porter, director of food and beverage at Hotel Granduca Austin. She adds, "We want Laurel to be a neighborhood eatery for the community and hotel guests alike. We are committed to providing exemplary service with an inviting ambiance and are looking forward to being a staple for many guests to come!"
Guests will be greeted with a relaxed yet sophisticated atmosphere with highlights of natural decor and beautiful Hill Country scenery that evokes the feeling of the Amalfi coast. The interior of the restaurant reflects the property's natural surroundings, with a preserved olive tree located in the center of the restaurant and greenery throughout the space. The restaurant's patio is a serene, hilltop hangout, offering one of the best views in Austin to enjoy while dining. The 1,721-square-foot restaurant also boasts a private dining room that can accommodate up to 12 guests in an intimate 263-square-foot space.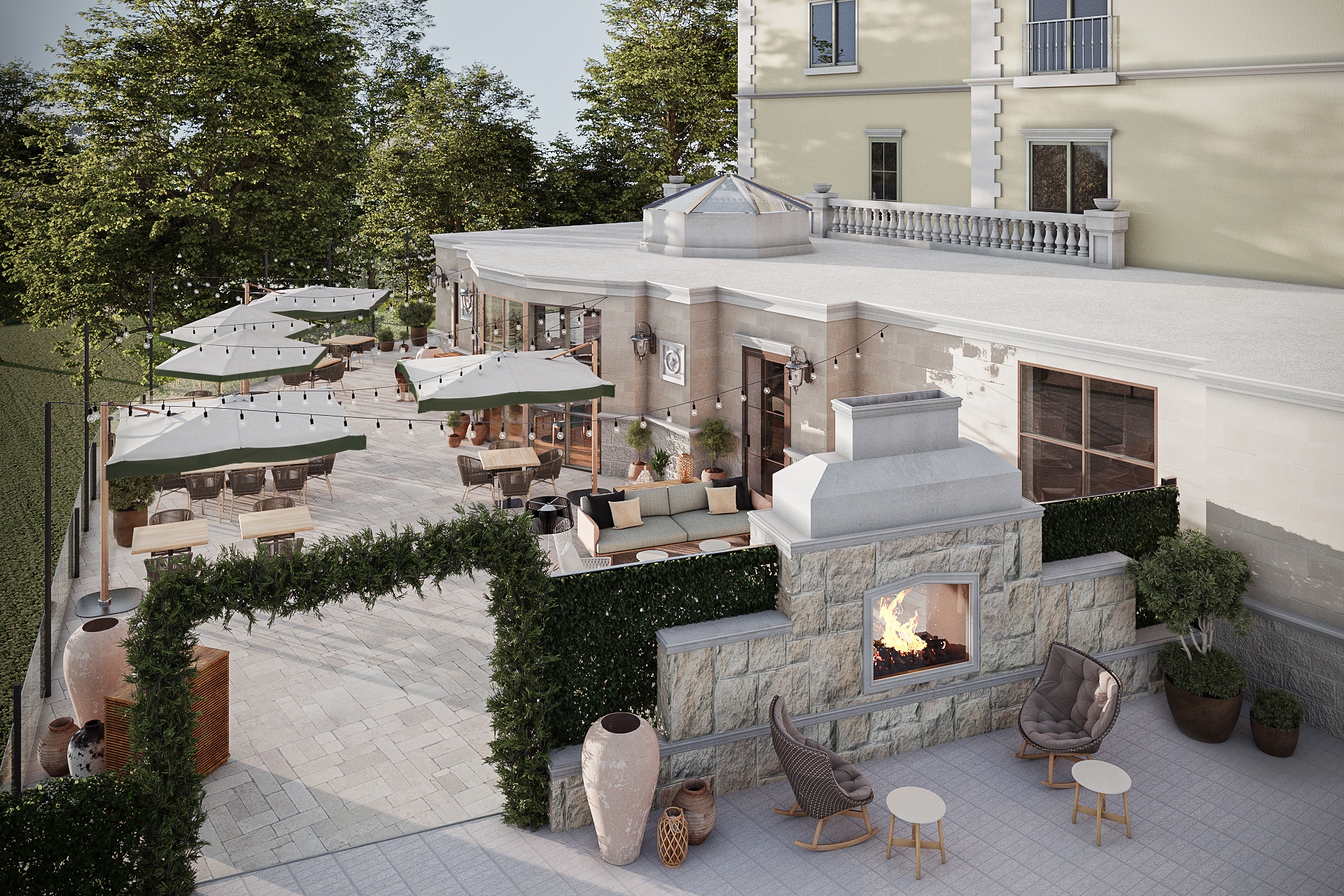 Currently, Hotel Granduca Austin is undergoing an exciting transformation with the addition of a brand-new spa with eight treatment rooms and extensive renovations throughout the hotel. Guests will be greeted in a renovated lobby and will be able to enjoy a renovated pool deck with reservable pool cabanas, an outdoor fireplace, a poolside cafe with special menu items, and more later this year. The renovation design and construction of the 190,000-square-foot retreat is being completed by interior design firm Hotel Studio, McCabe Architecture, Digney York Associates and PHG, with branding by local branding agency, Tenderling.
At Hotel Granduca Austin, guests can escape to the Hill Country while remaining only 10 miles outside of downtown Austin. With artisanal gelato by the sparkling pool to live music and more, Hotel Granduca helps guests feel worlds away. Hotel Granduca features 194 artfully designed rooms, including 38 suites with small kitchenettes and separate living room areas that are perfect for families. Hotel Granduca will continue to offer ample meeting space, including a newly designed chapel, perfect for weddings, conventions and events.
Austin restaurant Laurel is open every day with breakfast from 7 a.m. to 11 a.m. and lunch from 11:00 a.m. to 5 p.m. on Monday through Friday; breakfast from 7 a.m. to 2 p.m. and lunch from 2 p.m. to 5 p.m. on Saturday and Sunday; and dinner every day from 5 p.m. to 10 p.m. The bar and lounge at Laurel is open Monday to Friday from 2 p.m. to 10 p.m. and Saturday to Sunday from 10 a.m. to 10 p.m. Reservations can be made on OpenTable, and for more information, please visit www.granducaaustin.com, and follow along on Instagram at @laurel.atx and @hotelgranducaaustin.