Thanksgiving is right around the corner, and of course that means spending time with all our loved ones. But we can't forget the food! Let's face it, we all know cooking Thanksgiving dinner isn't the easiest. It can be incredibly fun and rewarding, but sometimes you just want to grab some amazing Thanksgiving takeout from a restaurant. We have compiled a list of the best restaurants in Austin that are open for Thanksgiving in 2020.
2406 Manor Rd, Austin, TX 78722
Dai Due is going to have one snazzy Thanksgiving feast this year. They don't have specific kits, so you can pick out all of your favorite things, and quickly finish cooking at home so everything is fresh! They have pretty much every Thanksgiving food you could ask for, and then some.
1900 University Ave, Austin, TX 78705
If you're wanting a cozy and traditional Thanksgiving dinner, look no further than the Carillon. This restaurant will be open and is offering a great package for 4, with turkey, potatoes, stuffing, pies, and so on. If you're expecting a bigger gathering, they also have add-ons so you'll be sure to have enough for everyone!
1911 Aldrich St STE 100, Austin, TX 78723
A classic, Southern Thanksgiving is probably the best way to describe the dinner available at Colleen's. There's turkey, gravy, buttermilk biscuits, casserole, and more! Not to mention their delicious made-from-scratch pecan pie. They have several different packages to fit all your needs.
SkyHouse, 51 Rainey St UNIT 110, Austin, TX 78701
Emmer & Rye is offering a delicious Thanksgiving dinner to families in Austin. Though you won't find any turkey here, you will savor a whole roasted freedom ranger chicken, tons of sides, and dessert if you order their pre-made dinner kit. 
4827 E Cesar Chavez St, Austin, TX 78702
At Sawyer & Co. in Austin, Thanksgiving takeout meets Cajun. They have all the classic sides, but they've opted to make Cajun fried turkey breast complete with gravy. We can't forget dessert either! They have five pies to choose from and all of them are amazing.

View the Best Greek Restaurants in Austin
It may not be Thanksgiving takeout but Austin is known for some of the best Greek cuisine in America.
View the Best Greek Restaurants in Austin
---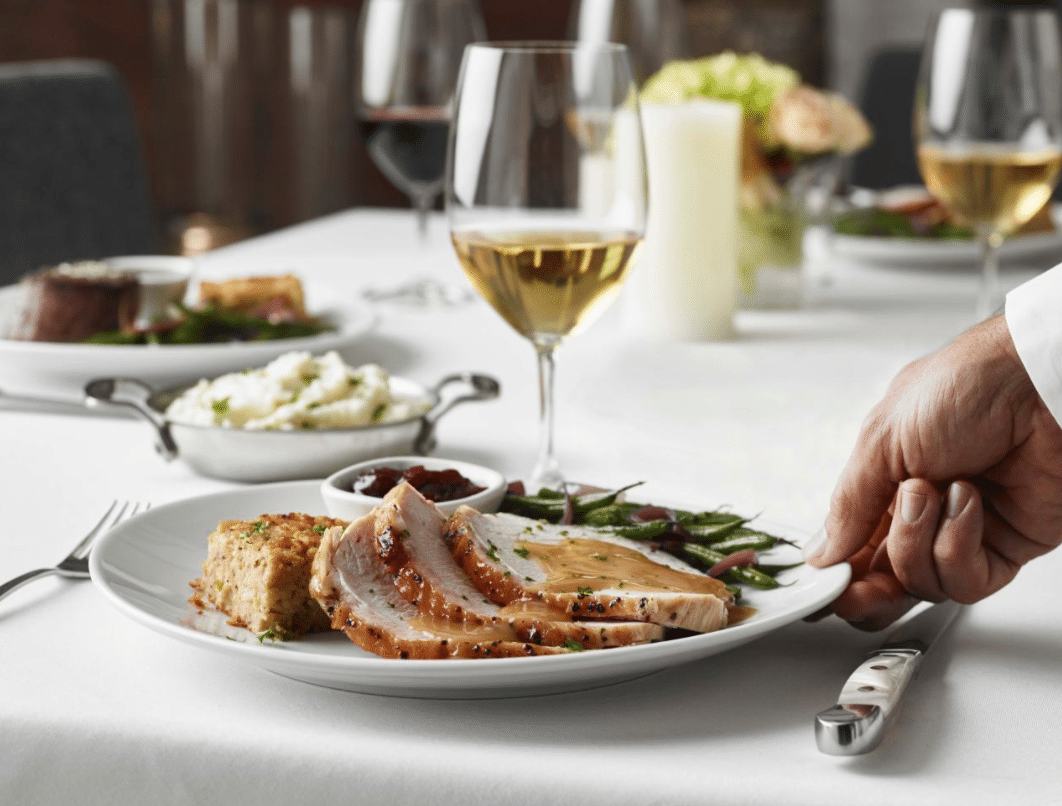 320 E 2nd St, Austin, TX 78701  |  The Domain, 11600 Century Oaks Terrace Suite 140, Austin, TX 78758
Both of Fleming's Austin restaurants will be open from 11 am – 8 pm on Thanksgiving Day and will be serving a special 3-course menu. Guests can opt to enjoy the traditional Herb-Roasted Turkey, or they can adventure beyond and choose a classic Filet Mignon or Prime Bone-In Ribeye instead. There will also be a 3-course children's menu available for just $23 per child under 12. But the best part is that all of these Thanksgiving meals are also available for pre-order for curbside pickup or delivery.
Fleming's is donating 10,000 meals to Food Donation Connection this Thanksgiving, and every Thanksgiving dinner booked with them will help support their goal. Fleming's has an ongoing partnership with Food Donation Connection, and to date this year, they have donated 23 tons of food across all locations; they anticipate donating another two tons of food in November in addition to their 10k meal donation for Thanksgiving!
Featured Image Credit: Ashiq Raazz on Pixabay