Camelback Candle Company brings the inspiring aromas of local hiking trails into the comfort of our homes. Based in Phoenix, Camelback hand pours their candles using natural soy wax that is paraffin-free and phthalates-free. All candles for sale are made with lead-free paper and cotton core wicks. Customers can also purchase wax melts. The founders of Camelback Candle Company want their candles to reflect the Arizona mountain landscape, so they have designed candles that mirror the natural scents found while hiking our numerous mountain trails. In return, these candles bring positive energy to homes across the country.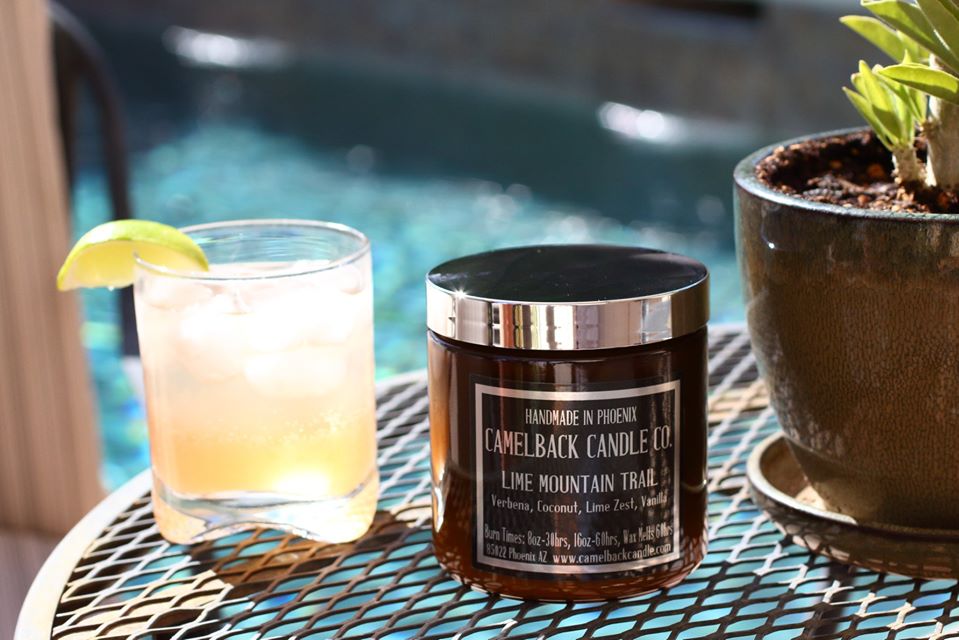 Each of Camelback Candle Company's 10 unique candle scents is named for a local hiking trail. Pine Creek Trail, one of their lighter scents, features the crisp fragrance of pinecones, citrus peel, balsam, peppermint, and redwood embers. The Lime Mountain Trail candle for sale was inspired by blossoms from lime trees bringing to life the scents of verbena, coconut, lime zest, and vanilla, along with a euphoric aroma. The bold scents of sandalwood, tobacco flowers, patchouli, cedar, and vanilla in the Piestewa Peak Trail fragrance creates an energizing mood that allows us to close our eyes and feel like we are in the middle of our majestic Valley mountains. Balancing Rock Trail blends the tranquil aromas of guava, coconut, violet, and blood orange. This is a perfect scent for Phoenix's hot summer days.
Camelback Candle Company's 16-ounce candles for sale typically burn for 60 hours, while the 8-ounce candles burn for 30 hours. These delightful, locally made candles usher peace and serenity, along with the fragrances of the outdoors, into our homes. Prices range from $15 for wax melts to $35 for a 16-ounce candle. There is nothing better than a clean, fresh-smelling home. Orders can be made online, with free next-day shipping.