Get excited for National Tequila Day (July 24) with the best tequila drinks in the Valley! Below is a list of places with the best tequila cocktails you don't want to miss this upcoming holiday.
4801 E. Cactus Road, Scottsdale, AZ
Home of the build-your-own margarita bar, The Mexicano is the perfect place to spend this holiday. Enjoy a margarita just how you like it at the BYO margarita bar ($15) with over 30 craft ingredients to create a sweet, sour, spicy or savory margarita. The toppings to choose from include jalapenos, edible flowers, boba, cotton candy, fresh fruit like mango or guava, and an assortment of Mexican candy. Elevate the experience by building it pinata style ($32) with the same 30 options, as well as Mexican candy and a pinata tequila shot. If you don't know which to choose, enjoy one of The Mexicano's unique signature margaritas. The Spicy Mango ($13) uses a mix of Don Julio Blanco, El Tequilieno Reposado, cointreau, fresh mango purée, and Hellfire habanero bitters for a fiery flavor. A sweeter option is the Prickly Pear Margarita ($13) that combines Cimarron Blanco, almond syrup, and prickly pear purée for a smooth, fruity, and refreshing drink. If you still can't decide, order the frozen margarita flight ($18), where you get four different margaritas to enjoy. With all these exclusive margarita options, The Mexicano is sure to deliver for National Tequila Day!
Photo courtesy of The Mexicano

7501 E. Frank Lloyd Wright Boulevard, Scottsdale, AZ
Drive-thru margaritas? Yes, please! Take your National Tequila Day to the next level with margaritas from Someburros, a quick and casual Mexican restaurant concept with delicious, authentic, and quality Mexican food. Mention the code "CHEERS" to enjoy $2 off ALL drive-thru margaritas! Enjoy a refreshing traditional or strawberry frozen margarita (normally $5.65) for take-out at any time of the day! Equally as good as the traditional margarita, try a fan favorite with the fruity, and fresh strawberry. The family-owned business has been committed to delivering authentic Sonoran-style Mexican food across Arizona with locations in Phoenix, Scottsdale, Tempe, Gilbert, Mesa, Queen Creek, Chandler, and more, so don't wait and stop by one of these locations to celebrate Tequila Day! The margarita drive-thru special applies at all locations except Flagstaff and the Mill Ave. and Baseline Road locations.
Photo courtesy of Someburros

7042 E. Indian School Road., Scottsdale, AZ
This holiday, sit back, relax, and sip on a hand-crafted tequila cocktail at Blue Clover Distillery. Although it's Oldtown Scottsdale's first and only micro-distillery producing small batch gin and vodka, the distillery did not forget about tequila when crafting its menu. The Giggle Water ($10) is a sweet and sour concoction of Silver Tequila, prickly pear soda, lime, POM juice, and a splash of orange liquor. Pair it with a build-your-own pizza ($10) and enjoy the casual ambiance and environment of the indoor-outdoor bar and outdoor dining patio.

3961 E. Camelback Road, Phoenix, AZ
Nothing says Tequila Day better than elevated street-style tacos and handcrafted margaritas. Luckily, at CRUjiente Tacos, you get both. This modern taqueria delivers non-traditional and re-imagined renditions of the classic Mexican street taco. It also uses a carefully-curated selection of the finest tequilas to make unique margaritas from passion fruit serrano to coconut. The Passion Fruit Serrano Margarita ($10) uses 100% blue agave tequila mixed with passion fruit, serrano peppers, and agave syrup, and topped with a slice of lime. The sweet house-made agave balances out the heat of the serranos and creates the perfect combination of flavors. Try this unique margarita or others like the Cinnamon Margarita ($10), Coconut Margarita ($10), or Grand Cru Margarita ($11). There's also an extensive selection of tequilas for a tequila flight – from Tequila Corcel to Casamigos, G4 Tequila, and Tierra Noble, guests can create their dream tequila flight with 1-ounce or 2-ounce pours.
Photo courtesy of CRUjiente Tacos

14838 N. Frank Lloyd Wright Boulevard, Scottsdale, AZ
9780 W. Northern Avenue, #1110, Peoria, AZ
8777 N. Scottsdale Road, Scottsdale, AZ
2855 W. Ray Road #4, Chandler, AZ
4315 E. Indian School Road, Phoenix, AZ
Celebrate National Tequila Day all day with brunch and "The GOLDfish" ($14) from Hash Kitchen, Phoenix's buzzy brunch spot. This gold-dusted drink includes lime High Noon, tequila blanco, lychee, guava, and a hint of lime for a tropical twist of flavor. For a summer refresher, try The Kendall ($14), a hand-crafted cocktail using Kendall Jenner's 818 tequila, fresh strawberry puree, pineapple High Noon, and a hint of lime juice. Pair your drink with Hash Kitchen's creative daytime dishes like delectable hashes, over-the-top pancakes, and unique brunch eats like cream puffs and cannoli donuts presented in a Ferris wheel ($20) or the loaded baked potato hash ($18).
Photo courtesy of Hash Kitchen

15530 N. Tatum Boulevard, Suite 160, Phoenix, AZ
3151 W. Frye Road, Chandler, AZ
9780 W. Northern Ave #1100, Peoria, AZ
Celebrate National Tequila Day, the Italian way with hand-rolled meatballs and a tequila cocktails at The Sicilian Butcher. This modern-casual meatball and charcuterie-inspired restaurant serves a unique and refreshing tequila cocktail, perfect for a summer day. Known as the Unnamed Tequila Cocktail ($12), this drink combines Tosco Blanco Tequila, Aperol, grapefruit bitters, lemon, and hints of basil to create a citrus and earthy concoction. The cocktail has a playful name card as part of the presentation where guests can create a clever name for this Unnamed Tequila drink.
Photo courtesy of The Sicilian Butcher

4712 N. Goldwater Boulevard, Suite 110, Scottsdale, AZ
Zinqué, a French-inspired cafe, bistro, and wine bar at Scottsdale Fashion Square has upscale tequila cocktails that pair perfectly with its posh eats and Parisian-style plates. Enjoy the simple and slightly spicy L'Amante Margarita ($15), and a tartine or Le Bowl for a light and refreshing lunch. This vibrant yellow drink includes a combination of tequila, Fresno chile, and lime, giving a bright and explosive flavor. For a citrus refreshment, order the Lune du Rouge ($17), a cocktail featuring tequila reposado, orgeat, Solano blood orange sphere, and a hint of lime.
Photo courtesy of Zinqué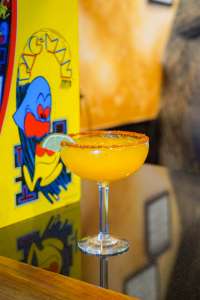 21001 N. Tatum Boulevard, Suite 95, Phoenix, AZ
Indulge in the classics like a Tequila Sunset, or experiment with a unique signature cocktail at ComicX, a superhero, and comic book-inspired restaurant, bar, and store at Desert Ridge Marketplace. ComicX's house margarita ($12) combines Herradura Silver Tequila, triple sec, lime juice, and a splash of sweet and sour to be enjoyed frozen or on the rocks. Sip on a Tequila Sunset ($12) featuring Herradura Silver Tequila, fresh squeezed orange juice, and a splash of Italian grenadine for a bright and cool summer classic. For a unique twist, order the Big Blue Wave ($12), which combines Herradura Silver Tequila, blue curacao, orgeat, a hint of lime, and a splash of pineapple juice. Enjoy these on-theme tequila cocktails in the bar area, amongst character memorabilia, cinematic displays, and life-sized comic book figurines!
Photo courtesy of ComicX

3205 E. Camelback Road, Phoenix, AZ
If you're looking to make your own margaritas or tequila cocktails at home, stop by Tarbell's Wine Store to choose from the best selection of the highest quality tequila in the Valley. Its wide variety of tequila includes El Tesoro de Don Felipe Platinum Tequila Blanco from Jalisco ($43.99), Corcel Reposado Tequila from Mexico ($64.99), Codigo 1530 Tequila Blanco Jalisco from Mexico ($68.99), and many more! This locally-owned shop by Chef Mark Tarbell, diligently sources and creates the finest, top-of-the-line selection for each member's cellar, portfolio and palate. The shop also offers The TWS Club (annual membership for $199.99) which gives members 20% off all premium liquor like the ones previously mentioned and 25% off all wine. This great neighborhood business is the perfect place to stop for National Tequila Day or any of your spirit needs!