Brisket is a Southern staple that's classic comfort food and a hallmark of the defining Texan culinary scene. Though Texas already produces the best barbeque in the country, Austin dazzles with its award-winning brisket offerings that are mouthwateringly good. Driven by unmistakable excellence and culinary traditions passed down through generations, here are the 6 best spots to get brisket in Austin, Texas. Get out there and get eating!
2027 E Cesar Chavez St, Austin, TX 78702
Founded in a trailer on the south side of Austin, this team prides itself on offering all-natural prime beef made even better by their quality seasonings. A savory fan, this joint offers a variety of savory and salty rubs that will make each plate of brisket taste better than the last, all having been cooked "low'n'slow" for fourteen hours over a classic smoker. You're sure to drool as soon as you walk in!
900 E 11th St, Austin, TX 78702
Owner Aaron Franklin made his name as one of the most influential and renowned pitmasters in the U.S over his brisket, which rounds out a wide array of options available at his restaurant in downtown Austin. His award-winning barbecue churns out most weekdays from open to sell-out, and it's more often than not that he sells out rather than closes. Cooking each brisket for 16 hours and hand-making and bottling their own sauce, it's no wonder their food is praised by Austinians and Presidents alike!
11500 Manchaca Rd, Austin, TX 78748
If you're looking for the best locally sourced brisket in Austin, Valentina's is a family business that offers delicious smoked brisket. Starting as a husband and wife team, Valentina's quickly grew to include their whole family, serving traditional Texan brisket and family values up side by side. Their popular and delicious brisket is organically grown and sourced and is sure to melt in your mouth!
Kerlin's BBQ made its name as an easygoing trailer dishing up homemade brisket in Austin using family recipes and Texas traditions to keep their food tasty and fatty, melt-in-your-mouth soft. Their peppery brisket has dazzled since 2013, offering a consistently excellent street food experience that will surely leave you wanting more brisket ASAP.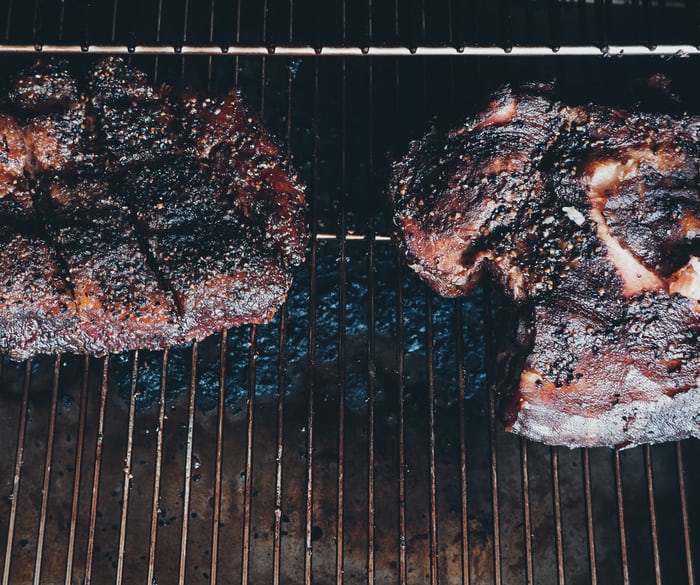 1309 Rosewood Ave, Austin, TX 78702
The name may be a mouthful, but their hand-crafted oak-smoked brisket is too! Micklethwait Craft Meats offers oak-fired Central Texas barbecue served from a vintage Comet trailer nestled in the heart of East Austin. Micklethwait prides itself on serving high-quality smoked meats, inventive sausages, made-from-scratch sides, and fresh baked goods. Pitmaster Tom invented his own menu from scratch and now proudly serves his food every day with the hope of bringing quality brisket to more Texans than ever!
---

View the Best Golf Courses in Austin
Want to work up an appetite for some tasty brisket? Try one of these 6 golf courses in the Austin area.
Find the Best Golf Courses in Austin
---
6610 N Lamar Blvd, Austin, TX 78752
If you're searching searching for the best craft beer and brisket in Austin, we recommend traveling to Stiles Switch BBQ in the historic art deco 1950s Violet Crown Shopping Center. This BBQ destination features a nostalgic atmosphere that transcends back to the old Austin neighborhood-style eateries . Their award-winning brisket is a slow-smoked success at every meal!
Featured Image Credit: Unsplash