Bull & Bowl rode into Austin in February as a new bar, bistro, and venue on West 6th Street, serving up vibrant tastes of the American Southwest and outfitted with private karaoke rooms, billiards, Skee-ball games, duckpin bowling, and a fearsome mechanical bull. So saddle up, cowboy; let's see how long you can rodeo at Bull & Bowl, the newest mechanical bull bar in Austin.
View this post on Instagram

Before you ride, you're gonna wanna eat. Executive Chef Jeremiah Levy curates a flawless dinner menu full of crowd favorite comfort foods, like a cornbread pie, Buffalo Shrimp, and the absolute best chicken sammie we've ever tasted, the Honey Butter Crispy Chicken Sandwich. Also on the menu are surprising additions like the Mushroom and Foie Burger, comprised of foie gras, mushrooms, gruyere, shallot jam, and, believe it or not, a 24-karat gold leaf. Vegetarians will enjoy the Chili Brussels, a spicy, yet nutritious shareable for the whole table. And if you're stopping in for brunch, the Pumpkin French Toast Sticks, Maple Sausage Sandwich, and Bull-Rito will surely indulge your cravings.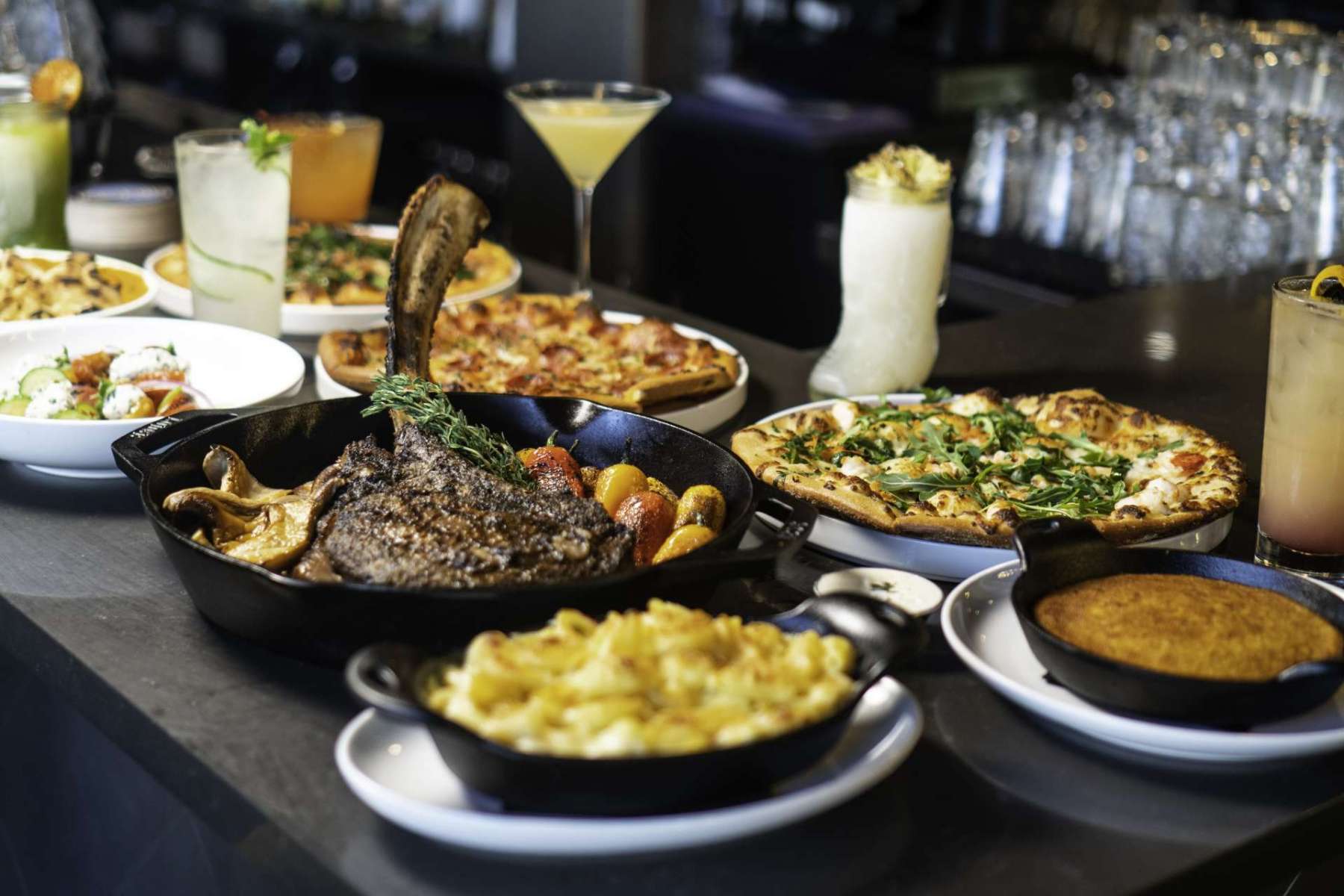 Dessert is a tough choice—but we went with chef's pick and ordered the Adult Milkshakes. All you have to do is decide between Bourbon Chocolate Peanut Butter or White Russian, which is just as hard as it looks. They've also got a Chocolate Skillet Brownie, Red Velvet Cake, and Fried Peach Pie on the menu.
When you're ready to let the night take you away, spy the cocktail menu, where Bull & Bowl bartenders put in their best work. We had the Black Cherry Sling, a delicious blend of Deep Eddy Vodka, ginger beer, blueberry puree, and lemon, for those who seem sweet, but like to live dangerously. Popular choice goes to the King Pin Kicker, a mango & habanero infused tequila, aperol, lime, agave, orange, and tajin margarita, for a spicy-sweet mixture you'll order again. Bull & Bowl also shares a deep wellspring of beer, wine, and spirits, plus non-alcoholic beverages.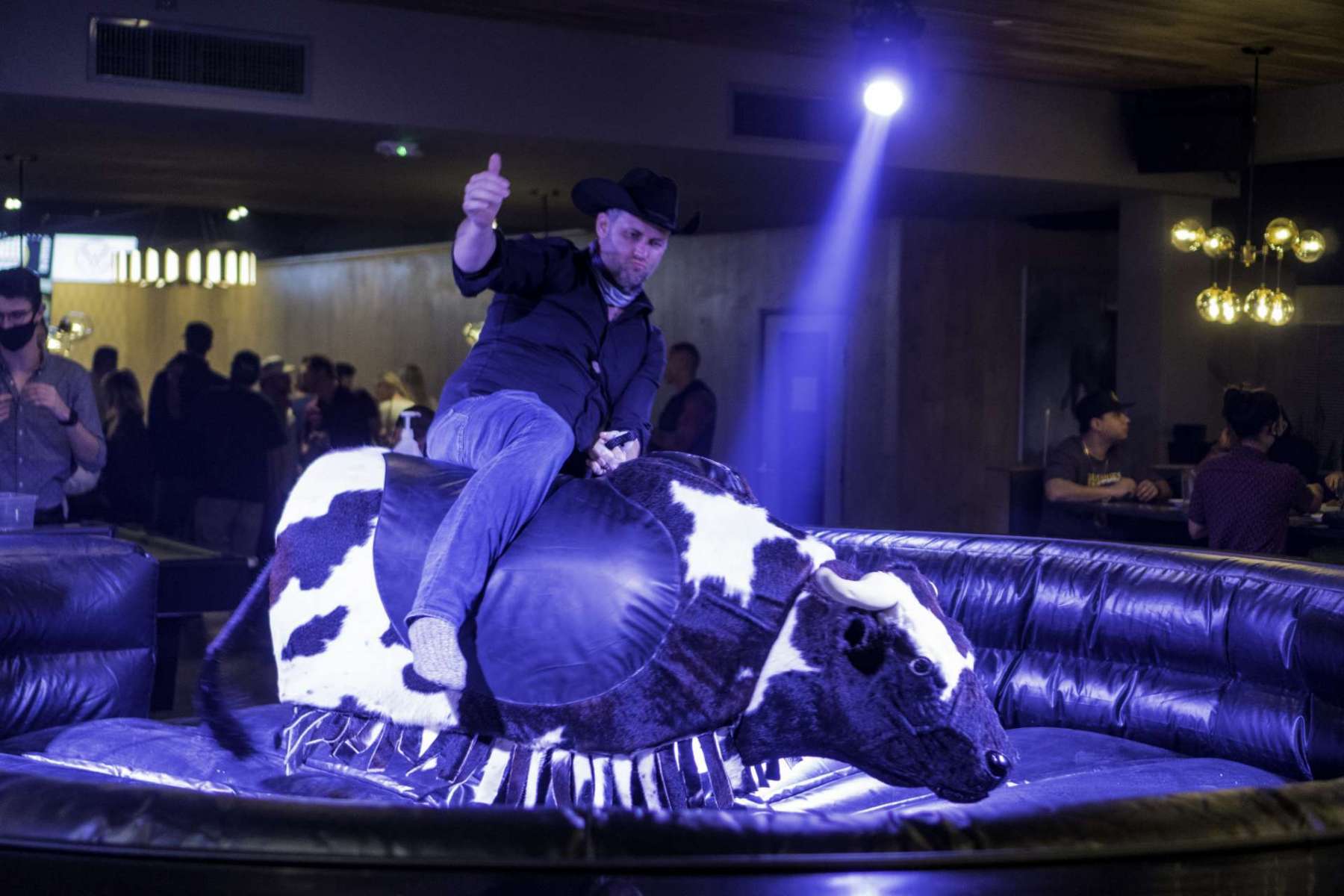 But we know why you're really here. You've been eyeing that mechanical bull—or has it been eyeing you?—all night long, so after a few drinks, it's time to get in the saddle. This ain't no ordinary mechanical bull, though; it's been custom-designed by the Professional Bull Riders Association, so you know it's legit. While it seems like a good idea to keep both hands on the rope strap, you'll balance better with one hand waving in the air, rodeo-style. With a server attending, you can start easy, move into intermediate, or brave the highest setting for a truly wild ride and see how long you can mount the beast.
Bull & Bowl is open Monday through Wednesday, 5 pm – 12 am, Thursday and Friday, 5 pm – 2 am, Saturday, 11 am – 2 am, and Sunday, 11 am – 12 am. Guests can make reservations on Bull & Bowl's website via Resy. Bowling alleys and private karaoke rooms are available first-come, first-serve unless you book a private event in advance.