Picture this. You're surrounded by vast, arid desert terrain, and then, bam! Towering mountains pop up on the horizon, making for a mesmerizing contrast. That's what the Phoenix area is all about – a natural paradise famous for its adventure tours.
Let's get into the nitty-gritty of four of the most incredible adventure tours this desert oasis has to offer. From heart-pounding hikes to exhilarating mountain bike rides and the magic of sunset tours, there's something for everyone in a Phoenix adventure tour. You can also sneak in a little side trip to Colorado for some hiking in the mesmerizing red rock landscapes of Sedona and the grandeur of the Grand Canyon.
So, buckle up, adventurers! It's time to answer the call of the wild!
1.     Hiking Tours in Phoenix & Scottsdale
Whether you're a novice hiker or a seasoned pro, there's a trail that suits your skill level. One of the all-time favorite hiking spots around here is Camelback Mountain. It's a bit of a challenge, but the payoff is totally worth it. As you make your way up, the whole Valley of the Sun unveils itself right before your eyes. It's like nature's grand surprise, and the feeling of accomplishment is like no other.
However, we know not everyone's up for heart-pounding adventures during a Phoenix adventure tour. If you're more into a relaxed, easygoing stroll, then the Scottsdale hiking trails may be an excellent choice for you. Opt for guided tours that'll take you on a journey through the South Mountain Preserve's trails.
2.     Mountain Bike Tour
If you're looking to add some adrenaline to your adventure, consider a mountain bike tour in the Phoenix area. Beginner-friendly routes wind through serene desert landscapes, while more advanced trails provide technical challenges that will test your skills.
One standout trail is the McDowell Mountain Competitive Track, a 15-mile loop that offers a bit of everything – flowy descents, tight corners, and technical climbs. It's not just about the thrill of pedaling through the trails. It's about the breathtaking views of the McDowell Mountains and the surrounding Sonoran Desert.
3.     Sunset Hiking & Mountain Bike Tours
Now, let's talk about one of the most enchanting experiences you can have in the Phoenix area – sunset tours. Whether you choose to hike or bike, the magic happens as the sun paints the sky with shades of orange, pink, and purple. The desert landscape takes on a whole new dimension under the soft glow of twilight.
Imagine hiking up Pinnacle Peak, a moderate trail that takes you through Sonoran Desert terrain. As the sun descends, you'll have the perfect opportunity to snap some awe-inspiring photos or simply soak in the serene atmosphere.
For mountain biking enthusiasts, guided sunset tours take you along trails with spectacular views of the setting sun. The cool evening air and the play of light on the desert landscape create a surreal experience that's not to be missed.
4.     Colorado Hiking Tours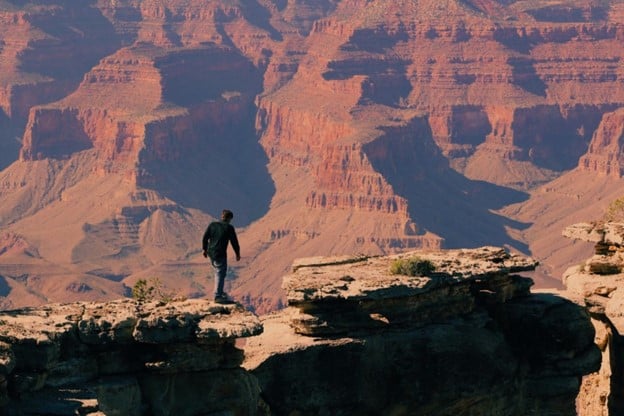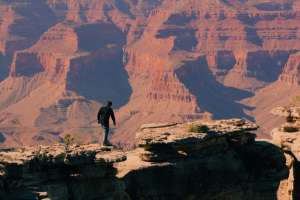 While not within the city limits of Phoenix, the nearby Colorado Plateau is a treasure trove of natural wonders that should be on your adventure radar. A relatively short drive from Phoenix, you can explore the striking red rock formations of Sedona or stand on the edge of the awe-inspiring Grand Canyon.
Sedona's Red Rock State Park offers a range of hiking trails through surreal red rock formations and canyons. The Cathedral Rock Trail is particularly famous for its stunning vistas. But keep in mind that it is equally challenging.
On the other hand, the Grand Canyon needs no introduction. This iconic destination offers hiking opportunities for every level of adventurer. Whether you're feeling ambitious and planning a rim-to-rim trek or just want to chill and soak in the jaw-dropping views from the South Rim, this place is the ideal choice.
If you're thinking about taking one of those Colorado hiking tours, here's the scoop: not only do they make life easy by handling transportation, but those guides are like walking encyclopedias of the area. They'll tell you all about the geology, the cool flora, and the fascinating fauna you'll encounter. It's a golden chance to level up your appreciation for these mind-blowing landscapes.
Whether you're an adrenaline junkie or just want to be one with nature, you won't be disappointed either way. According to the Arizona Office of Tourism, over 40 million people visit Arizona every year, and you should too!
So, gear up and get ready to make your next trip to the Valley of the Sun.