Ah, summer. You can't beat summertime when it comes to food. It's a time of year when the love of flavor really wins out. That's right — it's National Salsa Month in May, and a border state like Arizona can't really escape something as pervasive as the idea of salsa. It's everywhere. With Mexico only a few hours south of the Valley, it's only right that Phoenix has a plethora of places with astounding, flavorful salsas. So, if you're looking to celebrate salsa the right way — by dousing it, dipping it, or some other form of eating, you're in the right place. Let's get you familiar with the places known for their salsa.
4117 N 16th St, Phoenix, AZ 85016
La Santisima is a gourmet taco shop using local ingredients, and it exudes a coolness you want to be a part of. With dozens of taco types to choose from, anyone who's familiar with Mexican food will know that gluten-free is an option for everyone, as long as you stay away from the bread and the flour tortillas. There are even vegan options for tacos and dishes alike. What really takes the cake here, though, is their salsa bar, hailed for its variety and its taste alike. 
3433 N 56th St, Phoenix, AZ 85018
This modern American eatery located in Arcadia Lou Malnati's Pizzeria has a spirit of its own, and that spirit is Latin-inspired. From their spin on elotes to their pork belly tacos, there's a lot of Latin cuisine influence in every dish. Don't forget to do what you came here to do: try their salsa trio, appetizer chips & dip experience that includes a salsa cruda, a roasted tomato salsa, and a habanero salsa. You can also enjoy many salsa variations depending on the dish you get, like their Adobo Grilled Duroc Pork, which comes with a salsa aguacate!
2637 N 16th St, Phoenix, AZ 85006
Delicious things are sure to come your way at Casa Corazon, where the carne asada tacos are made with a gluten-free homemade green salsa, and where the enormous Camarones Cucaracha are served grilled and whole with a spicy dipping sauce all their own. At the end of the day, salsa just means "sauce", so don't split hairs — just eat! This rustic-chic eatery with seafood and tacos has your name written all over it! 
928 E Pierce St, Phoenix, AZ 85006
Whether it's a fire-roasted salsa on your breakfast burrito or chilaquiles salsa on your huevos rancheros, you can start your day off with salsa at Gallo Blanco! Better yet, La Charola is a platter featuring chips you can dip into a total of four salsas, including their Gallo Guacamole — a special house blend of avocado mixed with red onion, serrano peppers, fire-roasted tomatoes, pieces of orange, salt, lime, cilantro, and cotija cheese.
3961 E. Camelback Road, Phoenix, AZ
Get your chips ready for dipping at Arcadia's hotspot for all your Mexican cuisine needs! Start off with the Salsa Trio ($6) which comes with three different flavors including Verde, pasilla, and habanero, and is accompanied by fresh and crunchy tortilla chips. Pick from their wide selection of taco options tacos such as the Crispy  Sweet Potato Taco ($8) which comes with almond salsa drizzled on top for all the flavors.
4801 E. Cactus Road, Phoenix, AZ
Phoenix's latest Mexican restaurant features an extensive Mexican menu, made-to-order agave-based cocktails and margaritas, an expansive build-your-own Michelada bar, and a vibrant social ambiance to properly celebrate National Salsa Month this year. Dine in and try the Guacamole and salsa Ferris Wheel ($18) which comes with a sampling of three guacamoles and three house salsas along with fresh corn tortilla chips. Try tacos such as the carne asada or al pastor tacos which are both topped with an avocado salsa for $5.50 each.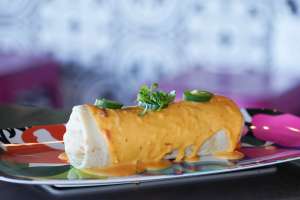 1155 W Ocotillo Rd Ste #1, Chandler, AZ
K-38 Beach Mex Cantina is a socially vibrant and unique Mexican restaurant in Chandler that offers an array of specialty south-of-the-border foods and beverages. Start off with the Classic Chips appetizer ($3) which comes with roasted tomato salsa. Indulge in dishes including the Klassico Burrito ($11) which is wrapped in a warm tortilla and includes beans, rice, salsa Roja and a three cheese blend.
101 E. Baseline Rd., Tempe, AZ
Stop by Someburros to celebrate all of the Sonoran-style, traditional dishes the restaurant has to offer during National Salsa Month. Whether you're on the go or want to have a dine-in meal, Someburros has you covered! Someburros features a delicious and mouthwatering veggie salsa ($1.45) that is perfect for dipping with Someburros' famous fresh tortilla chips.