November is Gluten-Free Awareness Month, so what better way to kick things off than with some amazing gluten-free dishes? Below you'll find a list of restaurants with gluten-free menu options around the Valley.
9780 W. Northern Ave #1100, Peoria, AZ
Enjoy a delicious dinner at The Sicilian Butcher, even if you are gluten-free! Start a visit to The Sicilian Butcher off right with their Burrata Caprese ($16), made with heirloom tomatoes, basil, and balsamic caviar, drizzled with e.v.o.o. The Sicilian Butcher is centered around their over-the-top build-your-own pasta dish experience, where guests can choose from a selection of hand-rolled meatballs, along with daily made-from-scratch, gluten-free pasta, and house-made sauces. Beyond the build-your-own experience, The Sicilian Butcher features other signature pasta dishes that can be made gluten-free like the Frutti Di Mare ($26) made with jumbo shrimp, scallops, calamari, roasted garlic, blistered tomato, saffron, wine, and gluten-free spaghetti.
Photo courtesy of The Sicilian Butcher
23655 N. Scottsdale Road, Suite #120, Scottsdale, AZ
This delightful piano bar and restaurant offers a wide selection of Italian dishes, including gluten-free pasta dishes and stone-fired pizzas. While you can't go wrong with any of the restaurant's 15 pasta dishes that can be made with gluten-free noodles, one of the best pasta dish highlights includes the Spaghetti Carbonara ($22) made with fresh spaghetti pasta, pancetta, English peas, Grana Padano and an organic egg yolk. There are a number of gluten-free stone-fired pizzas to choose from, including The Daughter's White Pie ($17), created with herbed ricotta, fresh mozzarella, Parmigiano, garlic confit, and EVOO, and the classic Margherita ($16), which uses san Marzano tomato sauce, mozzarella, basil, and a drizzle of e.v.o.o.
Photo by Carrie Willis
4712 N. Goldwater Boulevard, Suite 110, Scottsdale, AZ
Enjoy some Euro-inspired cuisine at Zinqué with its extensive menu that boasts several delicious gluten-free options. The timeless Le Bowl ($17) is the perfect choice to enjoy at lunch, crafted with brown or cauliflower rice, avocado, tomatoes, arugula, Comté, Parmigiano Reggiano, Sriracha mayo and chicken or frittata. The Grass-Fed Beef Burger in a lettuce wrap ($17) is another good gluten-free choice, assembled with lettuce, tomato, gruyère, pickled cucumber, and Sriracha "Thousand Island." Zinqué is known for its healthy offerings, so gluten-free options are plentiful here!
Photo courtesy of Zinqué
3961 E. Camelback Road, Phoenix, AZ
CRUjiente Tacos' namesake tacos that inspired the modern taqueria concept are gluten-free. The crujiente, or crunchy-style tacos, are handcrafted with crisp hard taco shells that are made with fried-to-order corn tortillas and brimming with meat fillings such as beef ($7), pork ($6) and birria-inspired lamb ($7.50) that are braised for hours until meltingly tender. Each bite of their crunchy tacos has a depth of flavor and are dietary-friendly.
Photo by Debby Wolvos
3225 E. Camelback Road, Phoenix, AZ
Named after and established by legendary Italian chef and the patriarch of the Maggiore family,  Tomaso Maggiore, this upscale Italian restaurant features a wide variety of pasta dishes that can be made gluten-free with the restaurant's handcrafted penne. Guests can dine in the elegant atmosphere of Tomaso's while trying signature pasta dishes made with gluten-free penne noodles such as Linguini (or penne in this case) with Clam Sauce ($26) with little neck clams, roasted garlic, white wine, and parsley, and Seafood Medley Cioppino ($46) with shrimp, calamari, sea scallops, clams, mussels, sea bass, and saffron herb tomato wine sauce.
Photo courtesy of The Maggiore Group
4801 E. Cactus Road, Scottsdale, AZ
Get a next-level dining experience with plenty of gluten-free options at The Mexicano! The restaurant offers gluten-free tacos made with corn tortillas, such as the Carne Asada taco ($5.50/each) with green onions, avocado, and Morita salsa or the Agave Shrimp ($5.50/each) with blackened shrimp, fajita peppers, and escabeche. Among the many delicious gluten-free options at this trendy Mexican restaurant are the Tamalitos ($14) another fan favorite of regular guests. They are made with mini tamales, green chili chicken, and panela cheese, wrapped in a banana leaf, and served with housemade salsa.
Photo courtesy of The Maggiore Group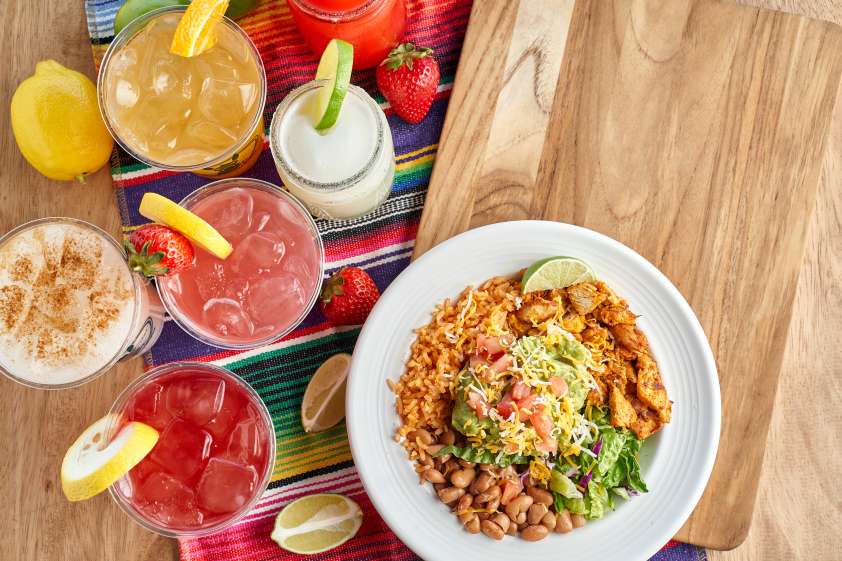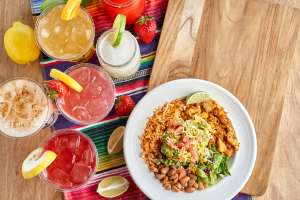 101 E. Baseline Road, Tempe, AZ
7501 E. Frank Lloyd Wright Blvd, Scottsdale, AZ
At Someburros, you can enjoy time-tested, made-from-scratch tacos with homemade corn tortillas that are gluten-free. The fast-casual restaurant's bestsellers include the Pollo Asado, carne asada, and fish taco ($3.75), as well as Cody's Vegan Taco ($3.55) made with a corn tortilla, whole beans, guacamole, lettuce, and tomato. A few other standout gluten-free options include the beef and green chile tamales ($3.95/each) and the Someburros Bowl ($9.95) made with the choice of green chili beef, carne asada or Pollo Asado and rice, whole beans, lettuce, guacamole, cheese, and tomato.
Photo courtesy of Someburros
3213 E. Camelback Road, Phoenix, AZ
This contemporary restaurant specializes in customizing dishes to fit dietary needs and caters to gluten-free requests based upon guest needs! The restaurant's Wood Oven Veggie Plate, which is a part of their menu items that change seasonally, features a gourmet and gluten-free spaghetti squash, with grilled portobellos, salsa verde, and shaved fennel! There are plenty of other standout options on their seasonal menu like its Sea Bass served with butternut squash risotto, caramelized onion, and green apple chutney.
Photo courtesy of Tarbell's
8777 N. Scottsdale Road, Scottsdale, AZ
What better way to start the day than with Hash Kitchen? Gluten-free pancakes or waffles can be made at this over-the-top breakfast joint for an additional $0.99! They serve classic Buttermilk Pancakes ($8) with a warm maple reduction and sweet vanilla cream! They also offer a Fresh Berries Waffle ($12), which uses local berries like strawberries and blueberries along with fresh whipped cream!
Photo courtesy of The Maggiore Group