Looking for the best weekend brunch spots in Scottsdale? We've rounded up everything from a boozy breakfast to a relaxing Sunday brunch and even a brand new spot in town! And don't forget to check out the best places to order pancakes & breakfast in Tucson!
6501 E Greenway Pkwy UNIT 159, Scottsdale, AZ 85254
Perk Eatery is a family-owned restaurant that has a cozy vibe and prioritizes crafting a brunch menu made with fresh, organic ingredients. It's the perfect place to unwind before going to Scottsdale's most exciting landmarks. Start your day right with Outlaw Scramble, Mediterranean Omelet, Florentine Benny, or Corned Beef Country Style Hash. And, don't forget to order their St. Tropez Mimosa, Perk-Fect Bloody Mary, or Peachy Keen cocktail to complete your brunch in Scottsdale.
4400 N Scottsdale Rd, Scottsdale, AZ 85251
'Start your day off right with the power of breakfast!' The minimalist and modern interior design gives Breakfast Club a bold look for anyone seeking a chill place to try their best brunch options. From classic brunch dishes to Southwest cuisine, you're bound to find something to satisfy your weekend hunger. A personal favorite, they serve the best Avocado Toast, Lean and Green Omelet, Tinga Chicken Frittata, and French Toast near the Arizona Canal. Don't forget to sample their fresh grapefruit juice, Iced Coffee, or pineapple breakfast sodas with any dish.
7051 E 5th Ave J, Scottsdale, AZ 85251
Fresh, seasonal and locally sourced ingredients are the hallmarks of dining at The Herb Box, and brunch is no exception. If you're powering up for an activity-filled afternoon, check out the Baja Bowl, a nutrient-dense mix of roasted sweet potatoes, rainbow quinoa, black beans, and jalapeño-avocado dressing. And if you're feeling splurgy, try the Short Rib Enchiladas with ancho pasilla sauce or Cinnamon Buckwheat Pancakes topped with honey butter, maple syrup, and wild berries. Located on Old Town's famed Fifth Avenue, The Herb Box even offers both indoor and patio seating for your brunch in Scottsdale!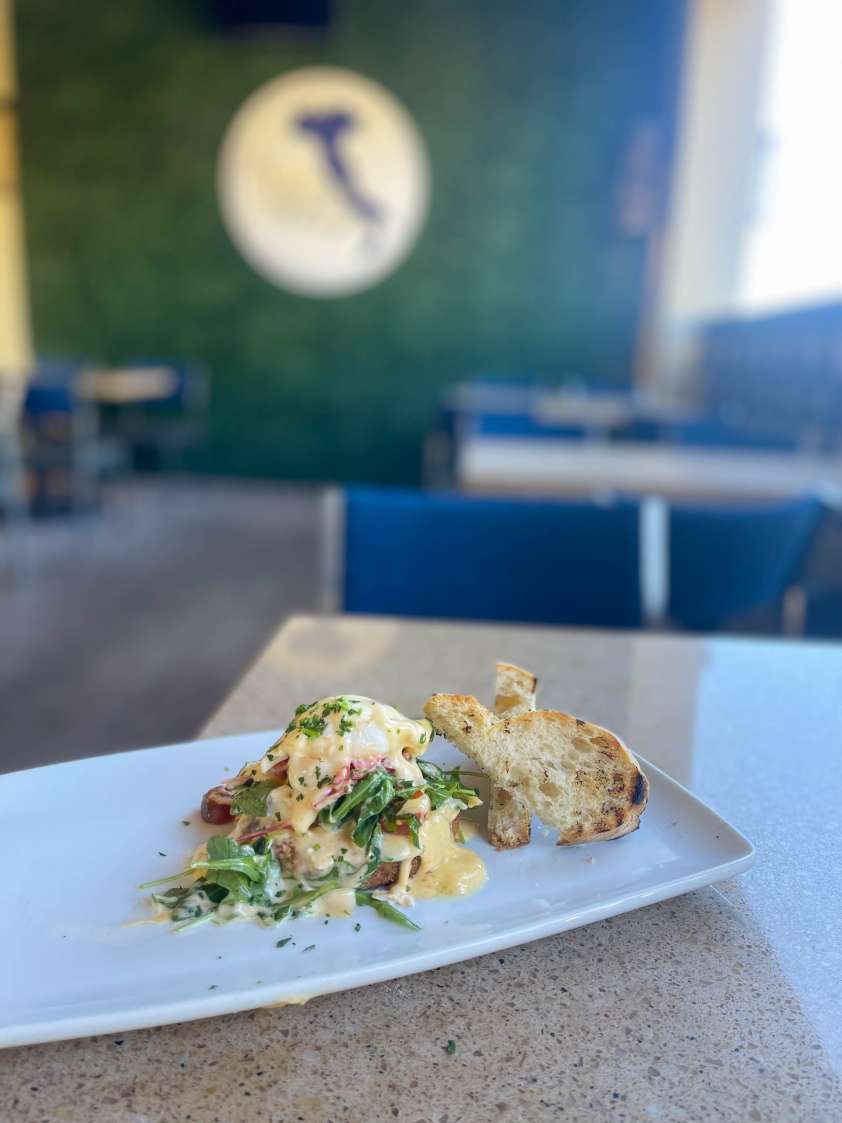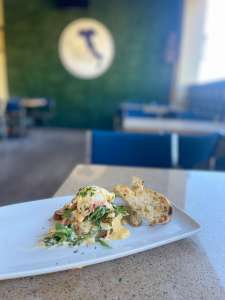 23655 N. Scottsdale Rd, Suite #120, Scottsdale, AZ 85255
It's time to get excited, The Italian Daughter is adding brunch to its extensive and delicious menu! Starting March 5, 2022, enjoy brunch every Saturday and Sunday from 10:30 a.m to 2:30 p.m. in The Italian Daughter's elegant indoor dining area or on the peaceful outdoor patio. The authentic Italian restaurant will be serving mouth-watering dishes like the lobster crab cake benedict ($22). This dish comes on grilled ciabatta topped with a lobster cake, poached egg, lobster bisque hollandaise, and crab meat. Stop in on March 5 to see what other delicious brunch items are on the menu at this lively piano bar and restaurant!
7042 E. Indian School Road, Scottsdale, AZ 85251
Start the party and your weekend mornings with Blue Clover Distillery! Old Town Scottsdale's first microdistillery, tasting room, and bar offer a $10 brunch menu on Saturday and Sunday from 12 a.m. to 3 p.m. Taste breakfast items like the Smothered Green Chile Breakfast Burrito and the Farm Eggs and Bacon Grilled Cheese. The brunch menu also features bottomless mimosas with refills for $2 and Blue Clover's signature Bloody Mary made with the microdistillery's artisanal spicy vodka! This bar and restaurant is vibrant and lively to match the energy of customers seeking a party brunch experience in the heart of Old Town Scottsdale.
8777 North Scottsdale Road, Scottsdale, AZ 85253
14838 North Frank Lloyd Wright Boulevard, Scottsdale, Scottsdale, AZ 85260
This brunch-only restaurant concept has an extensive menu that offers a variety for all brunch goers! This restaurant offers an energetic atmosphere with its over-the-top, creative brunch. It also remains the home of the original build-your-own Bloody Mary bar ($14) with over 50 craft toppings. Start with the hot glazed donuts, which are hashtag-shaped and covered in warm sugar glaze ($13). For the main course try one of Hash's specialty brunch items such as Maso's Breakfast Potato Tacos ($15-18) with four potato tacos filled with lettuce, avocado, tomato, queso fresco, fried egg, green chili, cream, cilantro, and the option to add chicken tinga, pork carnitas or birria for an extra $3. Other popular options include Coconut and Almond Encrusted French toast ($13), the Hangover Hash ($19), and Breakfast Sliders ($15).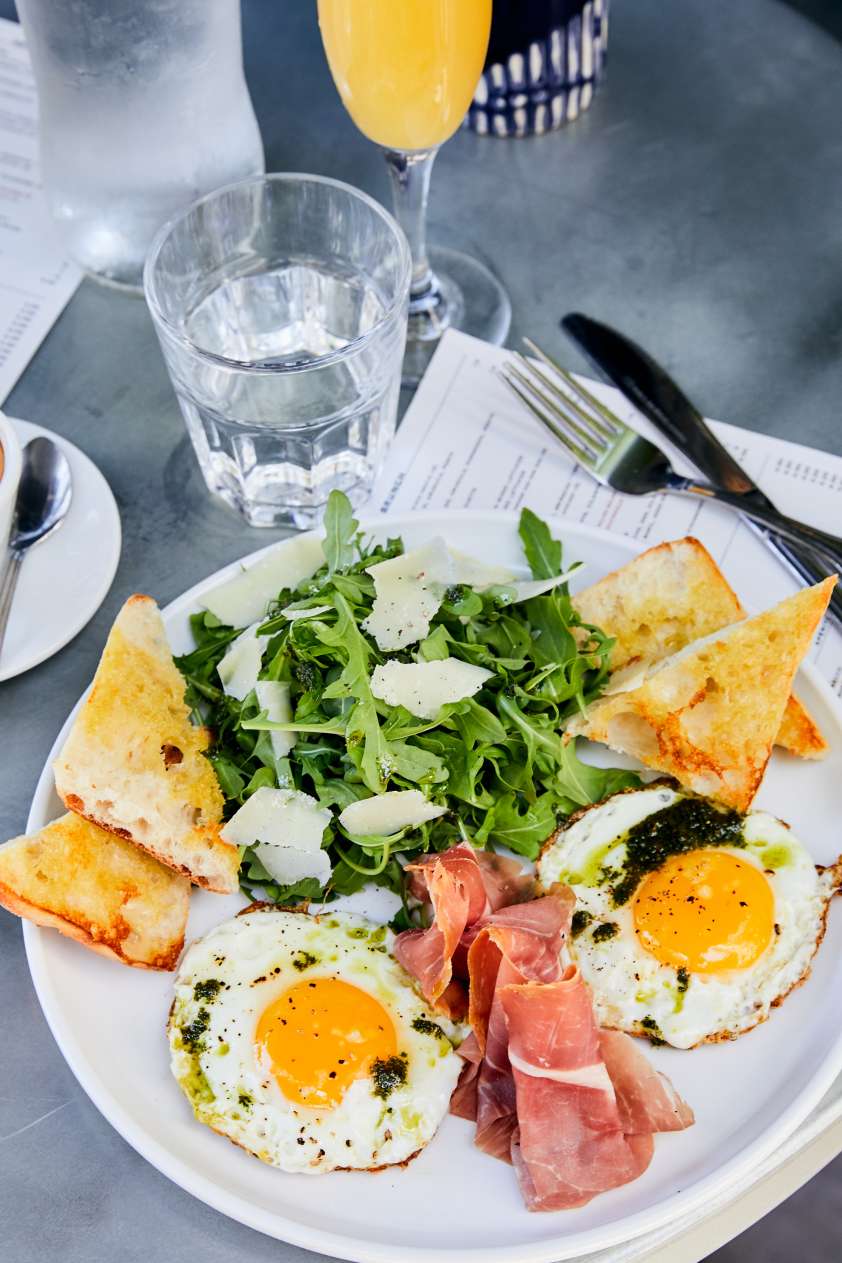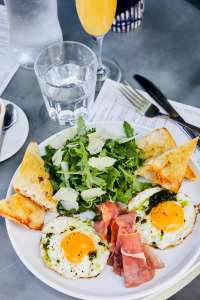 4712 N. Goldwater Blvd. Suite 110, Scottsdale, AZ 85251
This Parisian-inspired bistro has an extensive brunch menu available Monday through Friday from 7 a.m. to 12 p.m. and Saturday and Sunday from 7 a.m. to 4 p.m. Not only does this Parisian-inspired cafe and bistro have delicious food options, but the indoor and outdoor atmospheres are chic, comfortable, and idyllic to enjoy your meal! Try brunch items such as the Crispy Sunny Eggs ($15) with prosciutto, parmesan, arugula, and pesto or the Brioche French Toast ($13) topped with garden-fresh berries. Finish your meal with a little something sweet such as the delectably rich chocolate croissant ($5) paired with an ellini ($13) or Zinqué's bottomless mimosas ($22), only offered on the weekends!
Featured Image Credit: Hash Kitchen