Things are heating up in the Valley– cool down and beat the heat with these refreshing summer cocktails!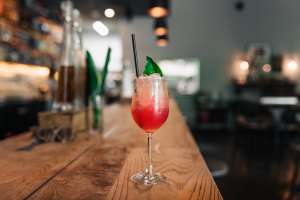 4712 N. Goldwater Boulevard, Suite 110, Scottsdale, AZ
High in antioxidants, Zinque's "Innerbloom" cocktail ($16) gives you a healthier alternative to classic sugary drinks while showcasing a refreshing fruit-forward flavor profile. This vibrant, pink cocktail features basil-infused vodka, the sweet taste of hibiscus, blackberry, and pomegranate. It is topped with a dash of prosecco to allow the full-bodied flavors to dance on your palate! Colorful, zingy, and downright delicious, the Innerbloom cocktail is made from fresh ingredients and packs a flavorful punch with fruity, sweet, and astringent notes.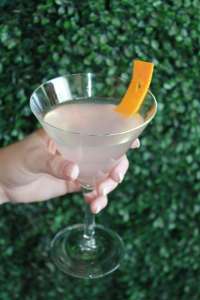 23687 N Scottsdale Rd, Scottsdale, AZ 85255
An interesting twist on a Cosmopolitan, The Italian Daughter's White Fig Cosmo ($14) is made with Figenza, triple sec, white cranberry, and lime. This light white cocktail is fruit-forward, easy to drink, and refreshing in taste. The rich, robust flavor of Figenza vodka complements the sweet, mild taste of white cranberries picked before they are fully matured into a familiar red cranberry. A unique fruit to use in cocktails, beyond adding a subtle sweet taste, white cranberries aid in digestion, provide a rich source of Vitamin C, and can boost your immunity during your summer sipping!
8777 N. Scottsdale Road, Scottsdale, AZ
14838 N. Frank Lloyd Wright Blvd., Scottsdale, AZ
The Kendall ($14) cocktail, named after American socialite and supermodel Kendall Jenner, features Jenner's acclaimed and handcrafted 818 Tequila mixed with tangy lime juice, pineapple High Noon seltzer, and a fresh strawberry puree and is presented in an ombré pineapple-shaped glass and garnished with fresh fruit slices. This cocktail highlights 818 Tequila for its subtle notes of vanilla, honey, and fruit that complement the sparkling vodka-based seltzer and vibrant tropical flavors brought forth through the addition of fruit and citrus.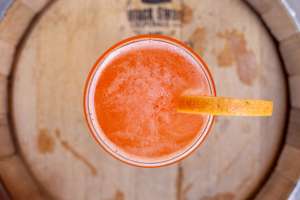 7042 E Indian School Rd, Scottsdale, AZ
Oldtown Scottsdale's first-ever microdistillery, Blue Clover Distillery produces small-batch vodka and gin highlighted in its summertime cocktails! Blue Clover's signature Scottsdale Sunset ($13) showcases a refreshing and vibrant taste. Featuring Blue Clover's grapefruit vodka made with authentic fruit flavors, this cocktail showcases citrus notes balanced with a subtle bitterness from the combination of freshly squeezed lemons and lavender bitters; to complete the craft cocktail, Blue Clover adds a splash of bubbly prosecco for a tasty zing!

3961 E. Camelback Road, Phoenix, AZ
CRUjiente Tacos' summertime Back in Black ($13) cocktail features smoky Longbranch Bourbon to provide a complex flavor profile combined with sweet blackberries, strawberry purée, orgeat, bitters, and tangy lemon juice. This new cocktail at CRUjiente Tacos is an unexpected fruity favorite perfect for summer sipping.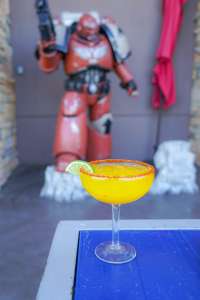 21001 N. Tatum Blvd #95, Phoenix, AZ
Embark on a superhero and comic book-inspired cocktail experience with ComicX's fruity Torched Margarita ($12). This bright yellow cocktail features Tanteo Tequila, triple sec, fresh fruit purée, sweet agave nectar, and tangy lime juice. Spice it up with hot and fruity enhancements like mango habanero or strawberry jalapeño for a sensational and enriching margarita experience this summer!

4801 E. Cactus Road, Phoenix, AZ
When choosing your favorite fruit-forward cocktails this summer, don't forget about the unique taste of Arizona's own cactus fruit–prickly pear! The Mexicano's The Prickly Pear Margarita ($13) features cimarron blanco, almond syrup, fresh lime, and housemade prickly pear purée to bring you a compelling twist on a classic margarita!

15530 N. Tatum Blvd. Suite 160, Phoenix, AZ
Named the Amalfi Spritz ($12) for its beautiful and summery blue color, reminiscent of the turquoise water of the Amalfi Coast, this drink was created to be a bright, vibrant, refreshing, easy-to-drink spritz for the long hot summers. A combination of Italian elderflower and Italian prosecco ignites the floral effervescence and is then rounded out by fruit-forward flavors of pear and orange, and finally balanced out with tonic water featuring flavors from the Mediterranean coast. Amalfi Spritz will transport you to summertime on the Amalfi Coast with its sparkling prosecco, Fiorente Elderflower, Orchard Pear Liqueur, Combier Le Bleu, and Mediterranean Tonic Water. Combier Le Bleu creates a bright citrus aroma and achieves a bold turquoise color that mimics the seascapes of Southern Italy.