Quarantine is finally coming to an end and these 10 Phoenix restaurants have reopened their doors for dine-in while asking customers to be cautious and smart.
So get your mask on, bring some gloves and hand sanitizer. Watch the size of your party, and let's go back to one of your favorite spots in town for a meal!
This famous Phoenix winery is one of the first restaurants near you to open, with a cautious implementation of safety rules. If you've been dying to get a sip of some of the best wines in Phoenix in their beautiful, artistic dining room, then the time has finally come.
QuartHaus is a restaurant in Phoenix near you that is now open for dine-in customers.This establishment includes  25 beer taps and 8 wine taps. You can find sanitizers placed across the establishment for a safe food experience. While their kitchen is not open yet, QuartHaus has collaborated with neighboring restaurants to provide unique light bites and small plates to satisfy your food craving.
How many of you are dying for a glass of genuine margarita accompanied by some beans and chips? Well, here's the good news: CASA Tempe has reopened! Grab their famous 20-dollar nachos, or indulge in their signature green chili mac + cheese burritos!
---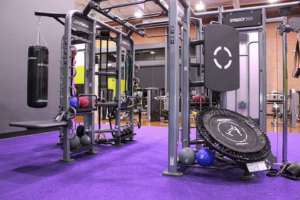 These Gyms Are Reopened in Pheonix
Aching to get back to the gym? These gyms in Phoenix are reopened with precautions.
Find a Gym in Phoenix
---
After moving their seats apart to suit social distancing requirements, this Fired Pie location is ready to bring you the familiar flavors of your favorite customized pizza accompanied by a fresh-chopped salad! What's your best pizza recipe?
If you are missing sitting down with your besties for a Korean barbeque party, wait no more! This restaurant in Phoenix is now open to dine-in guests. Whether you are in the mood for a tableful of meat or prefer the lighter craft sushis, Ohya's got you covered.
Voted the number-one Mexican Restaurant in the US for years in a row, Abuelo's is back for real! We don't even know what to recommend you to try first — just go down there, grab the menu, and order to your heart's content!
Carly has always been one of the coolest art + dining experiences in Phoenix, and it's good news for both artists and foodies that they are reopening! They will be seating guests at least 10 feet apart on their patio for your peace of mind.
Clever Koi has always been known for its unique interior design. And finally, we can satisfy ourselves with their signature steam buns while admiring the beautiful decorations they have while chatting with our dinner date — doesn't that sound divine?
Keyword: the most elegant and romantic dinner date you can imagine.
Result: Dominick's Steakhouse.
Candle-lit dinner, perfectly cooked steaks, amazing and diverse appetizers… When it comes to the beauty and intricacy of meals offered by Dominick's Steakhouse, we are out of words!
Interested in a brunch showering in the beautiful sunlight of Arizona in a cozy, elegant, and air-conditioned space? Fellow Osteria is your choice. Remember, they have a sweet lunch deal for 1/2 pizza and 1/2 salad combo at an amazing price of $9.99!
Featured Image Credit: Abuelo's Mexican Restaurants