Who doesn't like a good cocktail challenge? The spirit of competition highlighted by handcrafted spirits with a little spice to boot. You can't beat it. This September, Old Town Scottsdale's Blue Clover Distillery is teaming up with local AJ's Fine Foods to celebrate Hatch Green Chili season with a two-day roasting party ending with a Hatch Chili cocktail competition centered on their passion for great spirits, cocktails, food, and fun.
The Third Annual Hatch Green Chile Roast at Blue Clover Distillery will bring Hatch Green Chiles straight from the farms in Hatch Valley, New Mexico — the chile capital of the World! — to Scottsdale to celebrate the Hatch Green Chile season. During the special event, the craft distillery will roast a year-long supply of authentic Hatch Green Chiles and feature them on an all-day dedicated menu. Alongside the brunch menu at Blue Clover Distillery, there will be Hatch Green Chile pork stew ($5), Hatch Green Chile shredded pork tacos (two tacos/$8), Hatch Green Chile burgers ($12), Hatch Green Chile cheese fries ($12) and spicy Bloody Marys ($10) made with Blue Clover's own Hatch Green Chile-infused vodka. Guests can enjoy live music and purchase 2.5-pound bags of roasted chiles right on the distillery's patio for $7.
On Saturday, Sept. 25, Blue Clover Distillery will be bringing the heat for a first-of-its-kind Hatch Green Chile cocktail competition, in partnership with AJ's Fine Foods, to see who can create the top craft cocktail using Blue Clover's Hatch Green Chile vodka. The Valley's best bartenders from local restaurants and bars like Tarbell's, The Italian Daughter, Tucked Away Craft Kitchen & Bar, Baby Boy at The Pemberton, The Kaz Bar ​​and more will compete to be the Judge's Choice winner, selected by a panel of judges and the People's Choice winner, selected by the guests in attendance. The winner of AJ's Fine Foods' #HatchAtHomeAZ social media contest and at-home cocktail competition will move on to the finals for a chance to compete with the professionals at the Third Annual Hatch Green Chile Roast cocktail competition.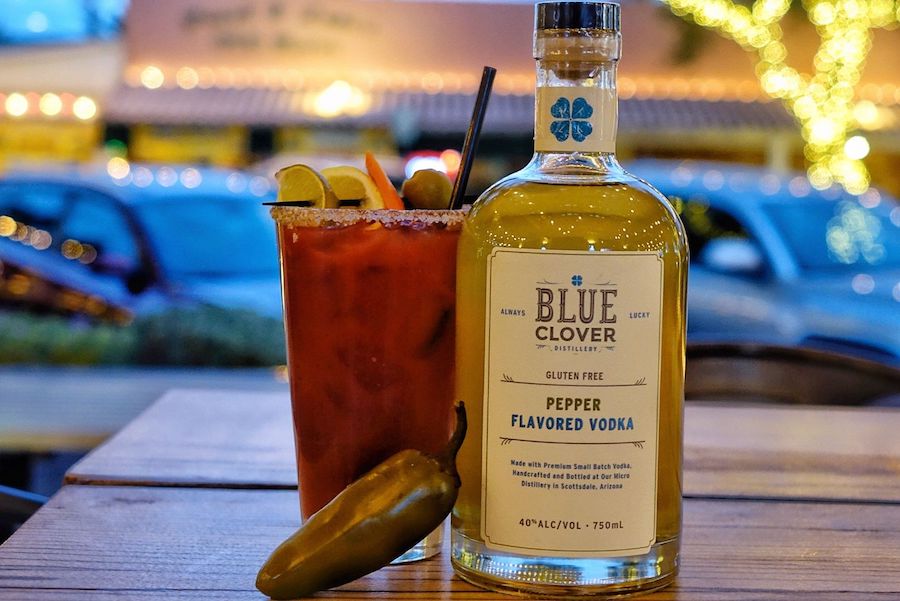 All You Need Basic Info
What Is It?: Third Annual Hatch Green Chile Roast September 24-25, 2021; 1:00-7:00 p.m. | Live Cocktail Competition at Third Annual Hatch Green Chile Roast Saturday, Sept. 25; 1:00-4:00 p.m. |
Where Is It?: 7042 E. Indian School Road, Scottsdale
The Price: Admission is free. Tickets for the cocktail competition on Saturday, Sept. 25 are $20 per person and will be available to purchase at the door. These tickets include four craft cocktails to sample during the cocktail competition. Food and roasted Hatch Green Chiles will be sold separately.
Other Info: Blue Clover Distillery, the first and only microdistillery in Old Town Scottsdale, was founded in 2017 by co-owner, distiller, and New Mexico native, Weston Holm, with the vision to create well-crafted artisanal spirits with high quality ingredients and a special farm-to-bottle process. Blue Clover Distillery has a tasting room and cocktail bar where guests can experience hand-crafted cocktails made with spirits distilled on the premises. Blue Clover's line of premium small-batch gin and vodka are available for retail at stores in Arizona including AJ's Fine Foods. Blue Clover Distillery's vodka is 80 proof, heart cut and made with gluten-free corn. Gin produced by Blue Clover Distillery is 85 proof, also heart cut and distilled from corn with infused flavors inspired by the Southwest including blood orange, rose, peach and prickly pear.
Featured Image Credit: The Knight Agency