Soup is an appropriate meal to order at restaurants during any season of the year. We have created a list of the best places to get soup near Phoenix. Trust me, they won't disappoint!
4712 N. Goldwater Blvd., Suite 110, Scottsdale, AZ 85251
There's nowhere better to have a low-key winter afternoon than at the Euro-inspired restaurant, Zinqué at Scottsdale Fashion Square. The broccoli, spinach, and green curry soup ($11) is an excellent choice if you want a lightweight but fulfilling meal when dining. This creamy vegetarian soup has spice, vitamin-packed, healthy greens, and savory curry that will make sure to add some kick to your lunch or dinner. As the weather cools down, this flavor-packed soup pairs perfectly with Zinqué's beautiful outdoor patio and warm ambiance. This combination of feel-good greens and creamy curry is a must-have.
3961 E. Camelback Road, Phoenix, AZ 85018
The Posole Rojo ($9) may be the best slow-simmered soup to order at CRUjiente Tacos. The soup features a spicy kick and soul with rich flavorful Latin layers from the charred tomato and roasted chile-based broth, pork, hominy, lime, jalapeno, onion, and cilantro. This rich and brothy soup will be sure to warm you up and make for a great dining experience. Dried chile peppers including ancho, guajillo, and chiles de arbol are soaked and reconstituted to make the chile paste which is used to simmer bite-size pieces of pork until tender in this traditional-style soup. This soup is commonly used to celebrate the holidays in Mexican culture, so it cannot help but make you feel like you're in the spirit. 
3213 E. Camelback Road, Phoenix, AZ 85018
Tarbells's contemporary space is the perfect place to dine if you are searching for fresh soup in Phoenix, AZ. Their Damn Good Bowl of Noodles ($19-$25) is perfect for anyone wanting a good hearty meal. It is filled with nutritious seasonal vegetables, warm and soothing mushroom dashi broth, wholesome rice noodles, and a six-minute egg. It's also customizable where you can add chicken, shrimp, or vegetables to the dish. The stars of the dish, pickled shallots, and a hint of ginger bring this soup to life.
3461 W Frye Rd, Chandler, AZ 85226
101 E Baseline Rd, Tempe, AZ 85283
5115 N 7th St, Phoenix, AZ 85014
This fast-casual, Sonoran-style Mexican restaurant brings the Flavor of Familia to a new level. If you are searching for the best soup near Phoenix, AZ, Albondigas is their star-studded soup that is served seasonally from October through April. The soup is available in a cup for $4.95 or a bowl for $7.55. In a rich, savory broth served with rice and tortilla on the side, this soup will be begging you asking for seconds and thirds.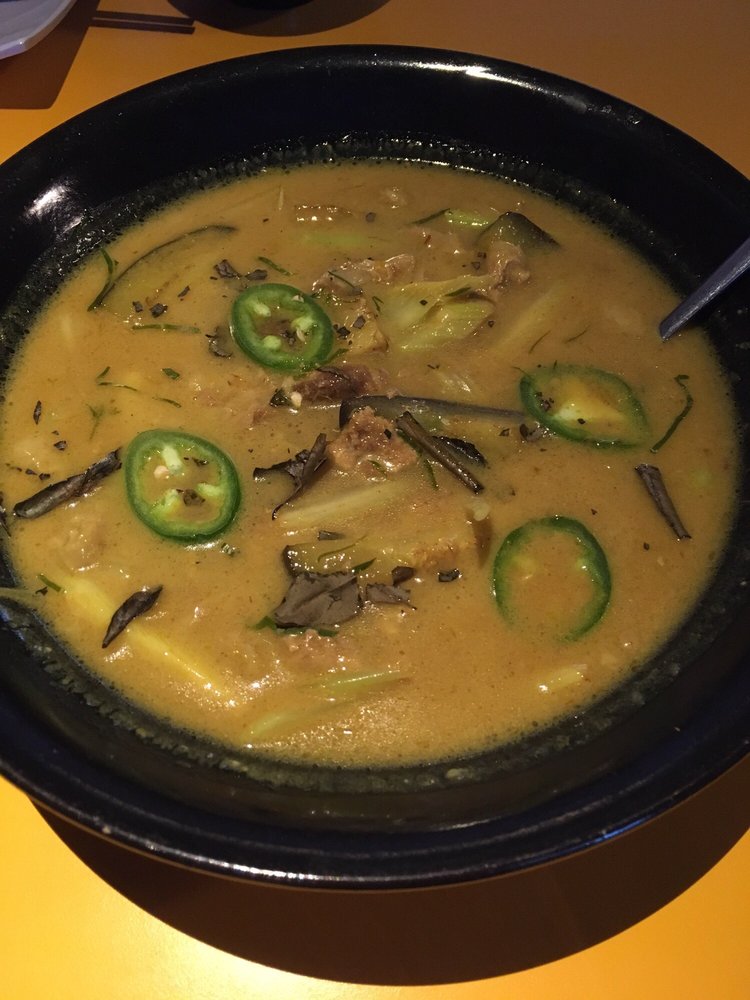 1312 E Indian School Rd, Phoenix, AZ 85014
Signature Soup: Lemongrass soup, pineapple soup
If you are a fan of Asian cuisine, Reathrey Sekong is a must-try. This is one of the only Cambodian restaurants in Phoenix, and they have a wide variety of soups and noodle bowls, and Pho. If you love spices, try their lemongrass soup for sure!
616 W Indian School Rd, Phoenix, AZ 85013
Signature Soup: Tom Yum
Sour, spicy, savory… Is it possible to not talk about Thai soup when looking for the best soups in Phoenix? We don't think so. They're most famous for their fire-lit Tom Yum Soup, but also have other options available.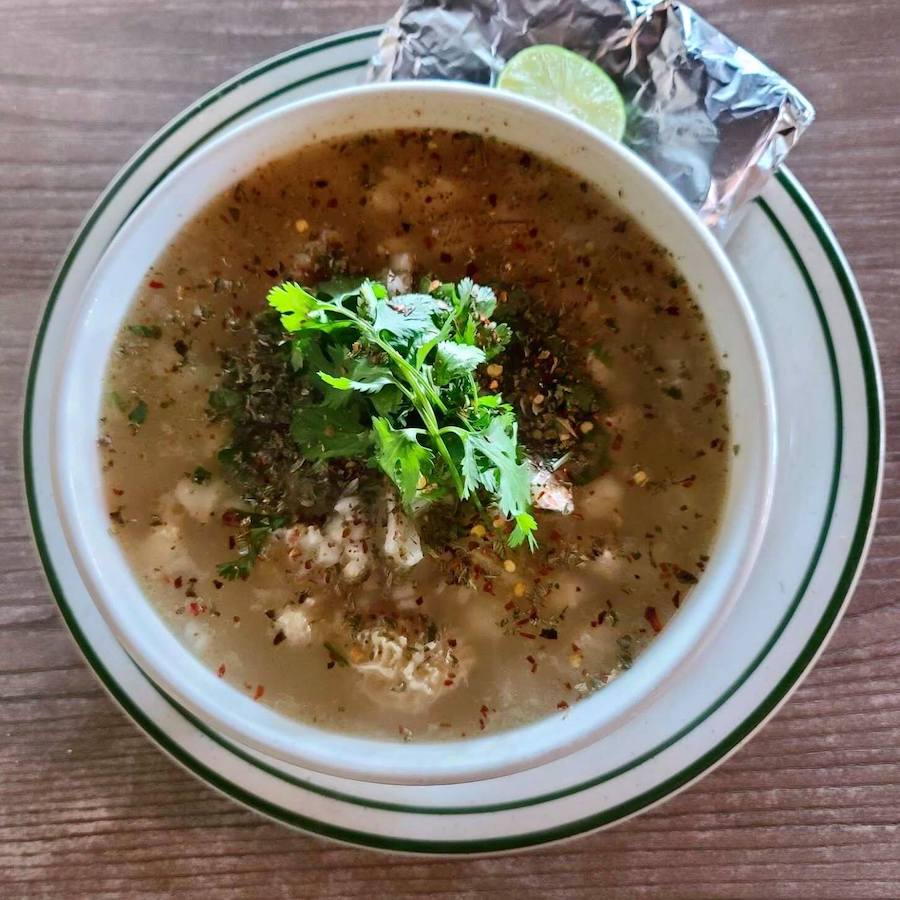 5521 N 7th Ave, Phoenix, AZ 85013
Signature Soup: Menudo (Red or White)
Some of their items are only available Friday through Sunday, including their most famous Menudo soup with fresh hot tortillas. They also have one of the most authentic albondigas soups in Phoenix. Trust us when we say La Piñatais a hidden gem in Phoenix when it comes to Mexican food.
3141 E Indian School Rd, Phoenix, AZ 85016
Signature Soup: Original Tonkotsu
Do ramen bowls count as soups? We think so. If you're looking for the best authentic Japanese soups in Phoenix, we recommend traveling to Nishikawa Ramen. Besides signature classic flavors, it also comes up with weekly specialty ramens. Nishikawa is also one of the only places where you can get authentic Japanese appetizer — Tapas!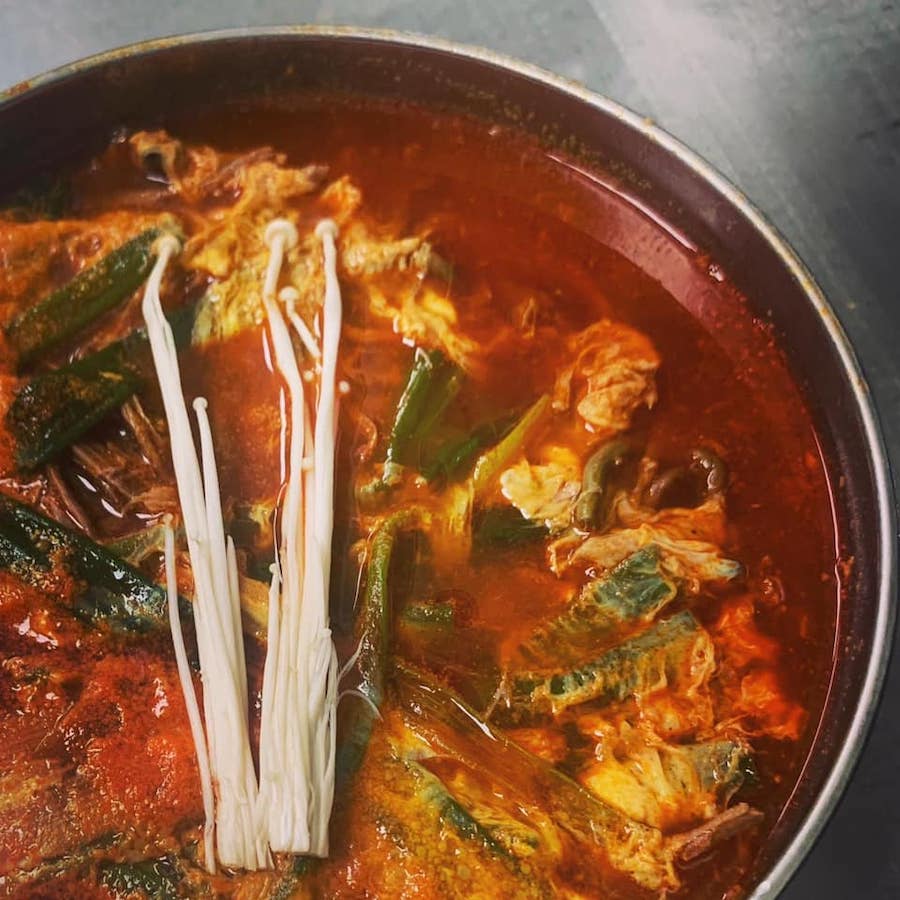 11025 N Black Canyon Hwy, Phoenix, AZ 85029
Signature Soup: Tofu Soup, Korean Hot Pots
Look at the sizzling bubbles, how could you say no to an authentic Korean rock-pot when it's freezing outside? There are so many things about Seoul BBQ & Sushi. Its soup and pots are only a small fraction of it. If you are craving meat, flavor, and heartiness, you should plan a family night out at Seoul BBQ & Sushi.
4031 E Camelback Rd, Phoenix, AZ 85018
Signature soup: Linda's Homemade Tortilla Soup
While most people know Gadzooks for their customizable enchiladas, did you know they also have one of the most soulful soups in Phoenix? If you are looking for the best soup to order at this destination, the tortilla soup comes with a tomato-based broth and fresh vegetables. Then you get to choose your additions to make your unique bowl of warmth and healing.